*if you're looking for a linked list of each week's row post for the cal, please =scroll to the end of this post for a handy calendar feature to access everything.
I am excited to finally announce to you what the 2023 Filet CAL will be:
a TEMPERATURE filet blanket
This sample was stitched by Kim Severin for the year 2020.
If you're like me, you like to know what's coming before you commit to something, so I've decided to share the complete layout of 2023's blanket. Depending on your hemisphere, your layout will be one of these two: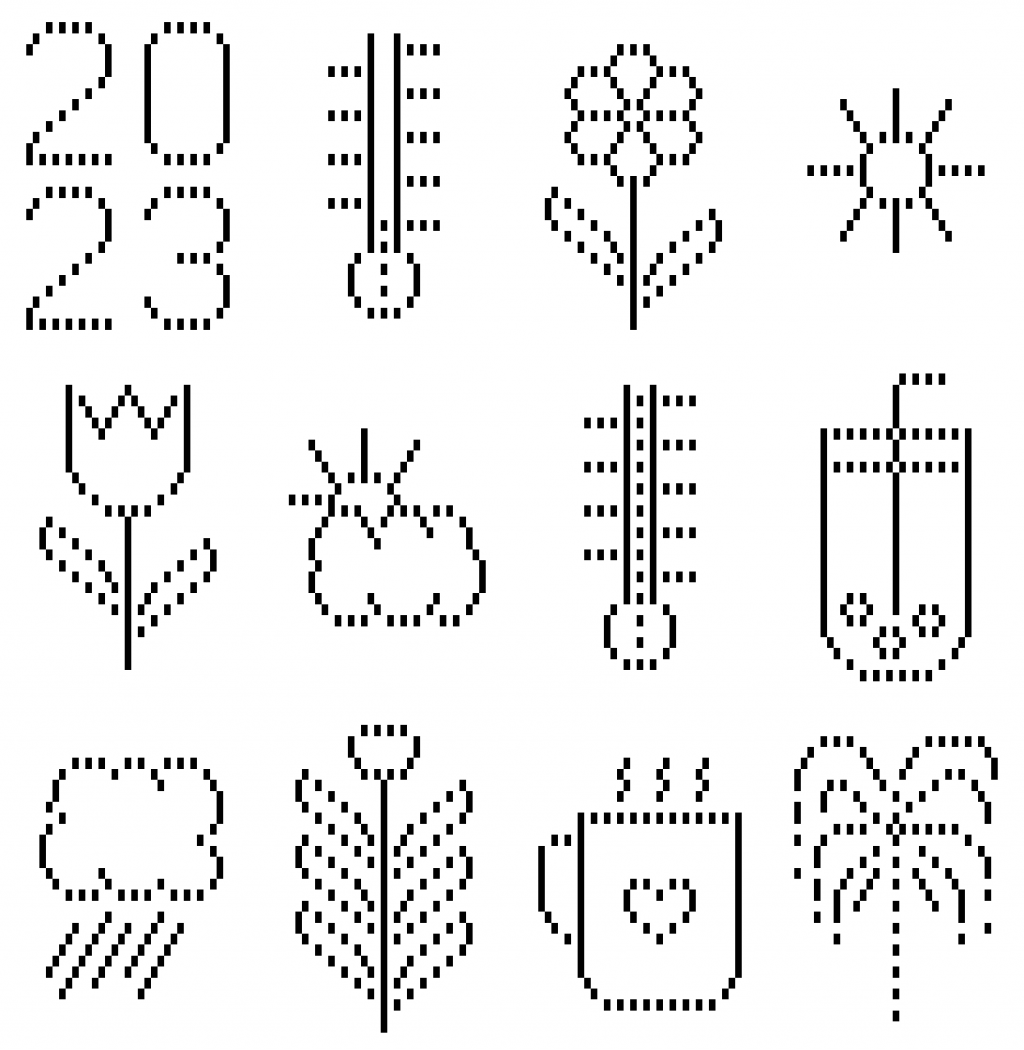 Northern Hemisphere Layout
Jan – 2023
Feb – Cold Thermometer
March – Daisy
April – Sun
May – Tulip
June – Party Sunny
July – Hot Thermometer
Aug – Iced Drink
Sept -Rain Cloud
Oct – Thistle
Nov – Hot Drink
Dec – Firework
Southern Hemisphere Layout
Jan – 2023
Feb – Hot Thermometer
March – Daisy
April – Sun
May – Tulip
June – Party Sunny
July – Cold Thermometer
Aug – Hot Drink
Sept -Rain Cloud
Oct – Thistle
Nov – Iced Drink
Dec – Firework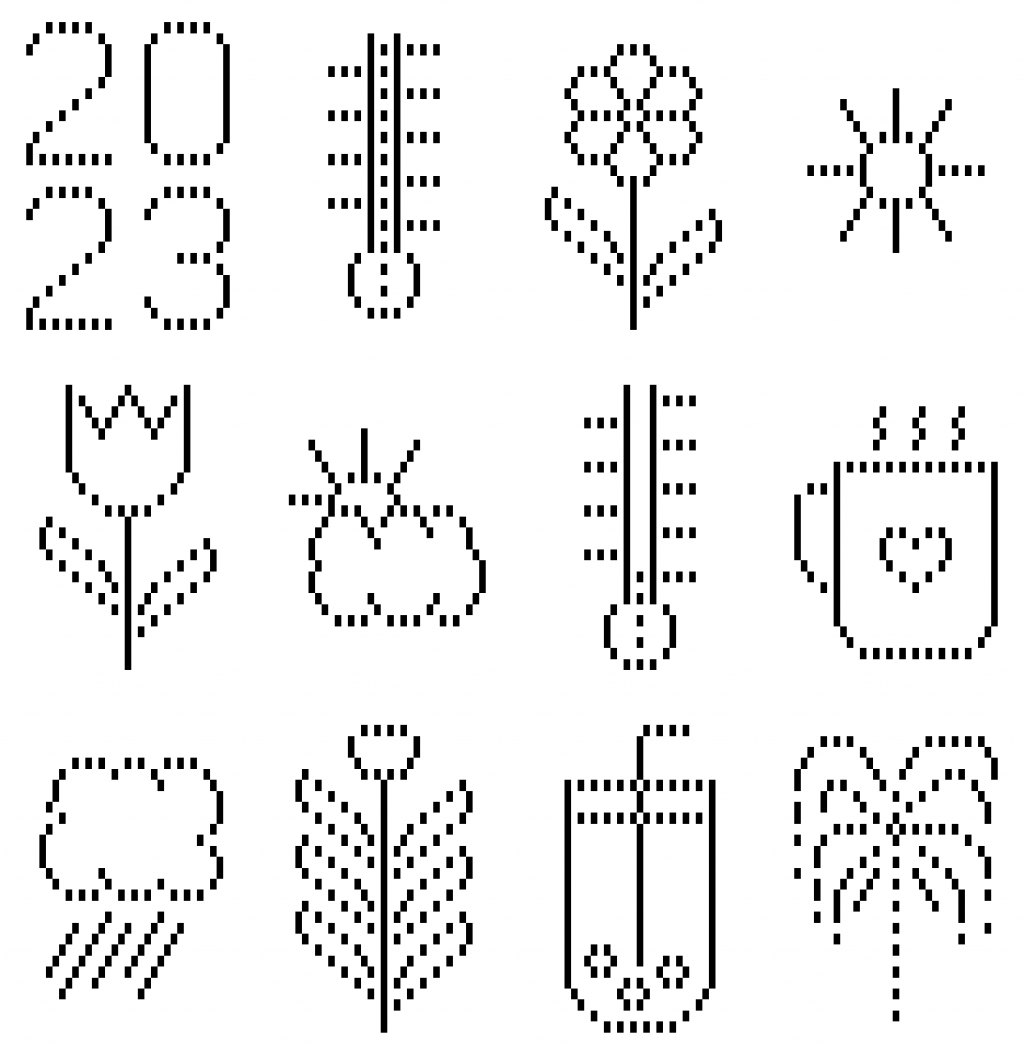 How does the 2023 CAL work?
I will share the rows week by week, with the first 7 rows of January's design posting on December 31st.
Week one will also come with more information on HOW the blocks are constructed. Each block is 33 rows, so there are some "filler rows" we'll do at the beginning and end of each month to center our temperature rows and make all the blocks uniform. It will make the most sense once you can actually start crocheting, so I am not going to try and explain more until we begin.
In the meantime, YOU need to decide on your colors and temperature increments before then, and you can use the printable worksheet below to record your colors and also record the temp each day (in case you get behind).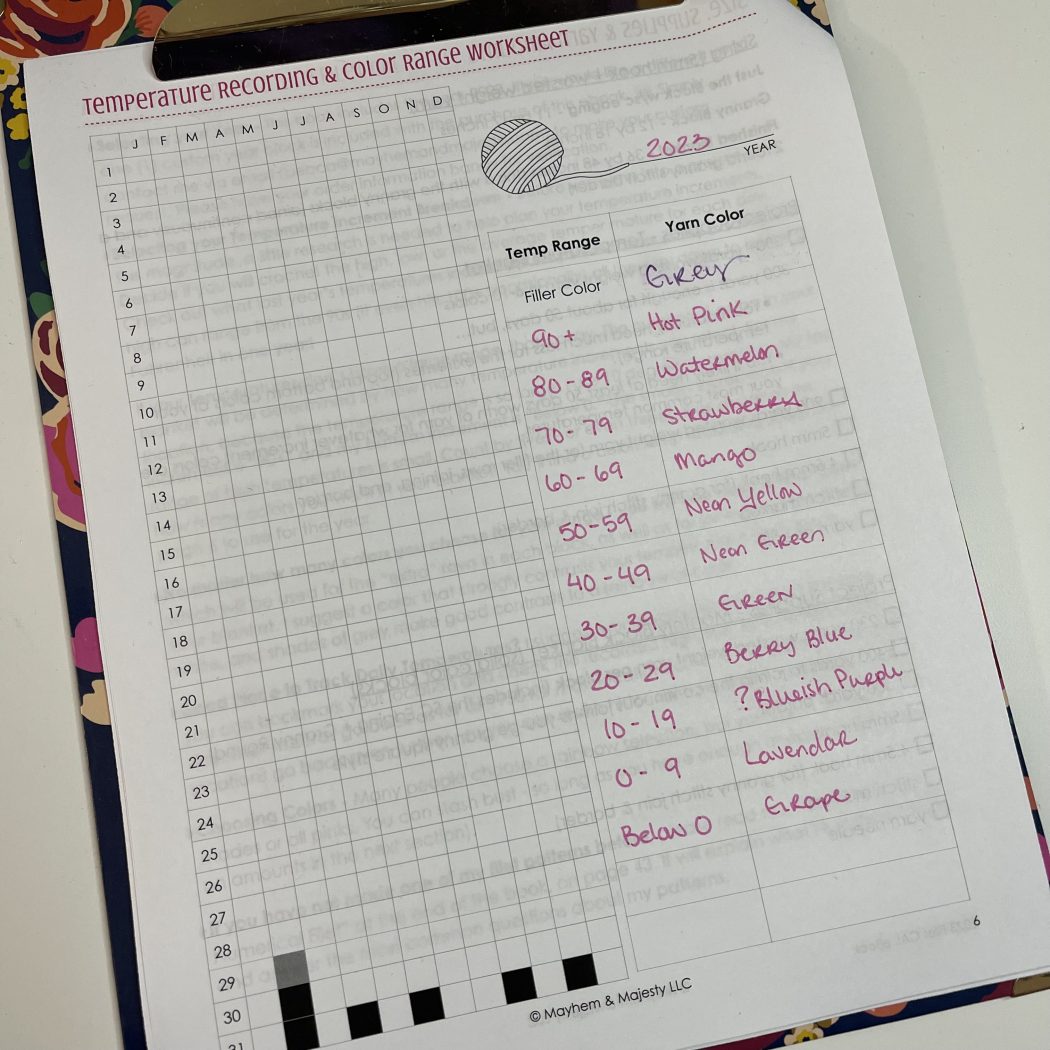 After you get your recording sheet printed, you can decide on what increments you'll use to count by and the color for each range. Confused? Here's a picture of MY sheet for 2023. I'm using stash Caron Simply Soft yarn.
Don't tell anyone, but I had to purchase my grey filler/border color. I know. SO CLOSE to a no spend yarn year, too. I didn't have black, white or grey Simply Soft in my stash. I almost tried using a brown, but I knew I wouldn't like it – and you don't want to commit to a project this big when you don't love the colors! I suppose I could have waited until the calendar rolled over to 2023, but I needed to be ready to start on January 1st. Can't be behind in my own CAL 🤣 Even still, I think I get kudos for only purchasing four balls of yarn this year. Right?!
Selecting your Temperature Increment Breakdown – Decide if you will crochet the high, low, or the average temper mature for each day. Check out what last year's temperatures looked like for your location.
In my location the high can range from the 90s (it even hits 100+ occasionally) all the way down to below 0 Fahrenheit in one year! For my location, because the temperature range is so large, I use 10 degree increments. My top increment is "90+" and my bottom increment is "Below 0."
If your temperatures don't have a large range, that's okay. The number of colors in your blanket will be determined by how many temperature increments you select. Use smaller increments if your range of high temperatures is small. Count by fives – or even threes. It all depends on what kind or temperature range you have in your area and how many colors you want in your blanket.
No matter how many colors you choose for your range – you will also need a Filler Color, which will be used for the "extra" rows in each block, as well as for joining and bordering your blanket. I suggest a color that strongly contrasts your temperature colors. Black, white, and shades of grey make good contrasts to a rainbow of color.
This bold and bright version was stitched by Jackie Moore for the year 2015 in Hempstead, England. The dark grey is an excellent contrast to her awesome color choices!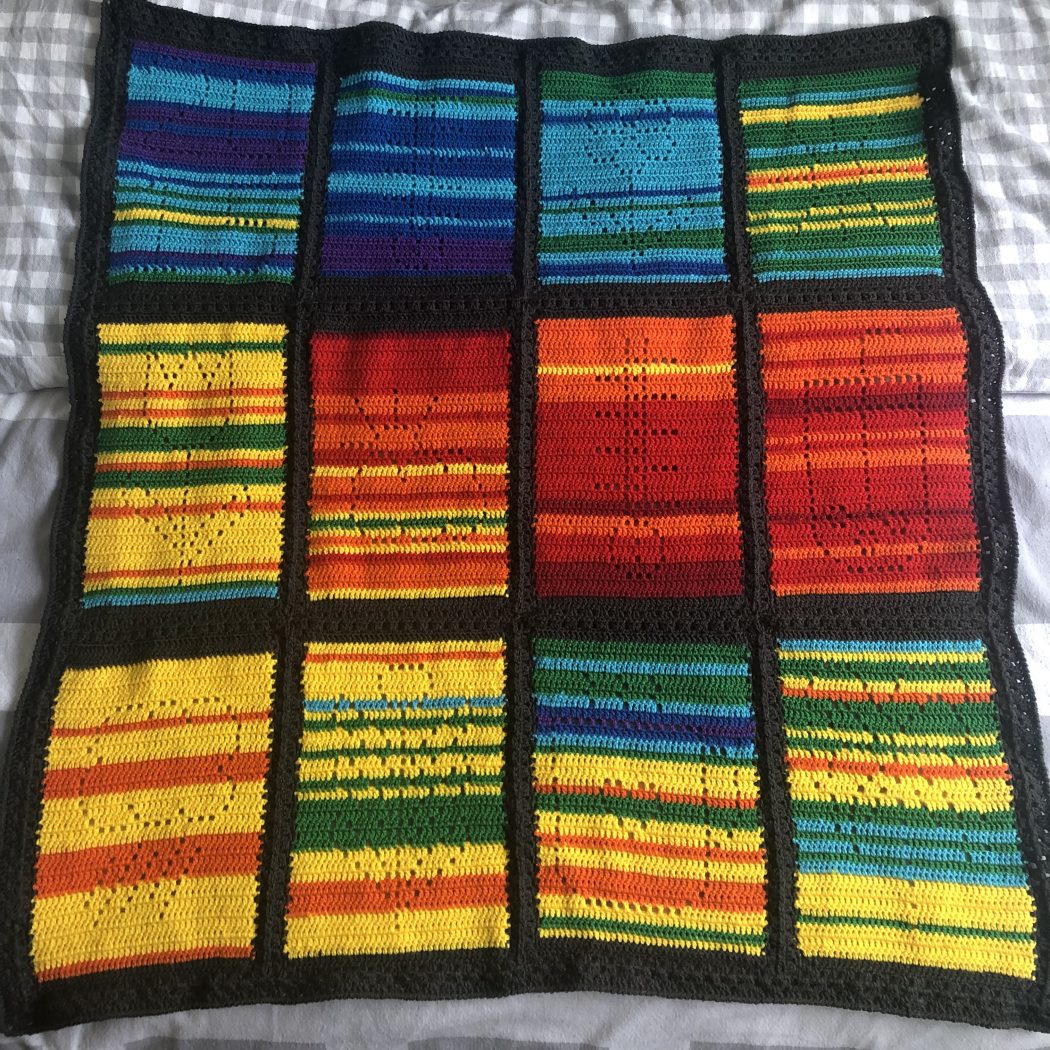 Yarn & Supplies for the 2023 Temperature Filet CAL
in actual yards, you need about 7 yards per row/day
Keep in mind, you'll probably need at least 50 days worth of yarn (350 yards) for whatever 2-3 increment colors are your most common temperatures.
300+ yards worsted weight yarn in 6-10 colors
900 yards worsted weight yarn for the filler rows, joining, and border
5mm hook
4.5mm hook (for granny stitch join & border)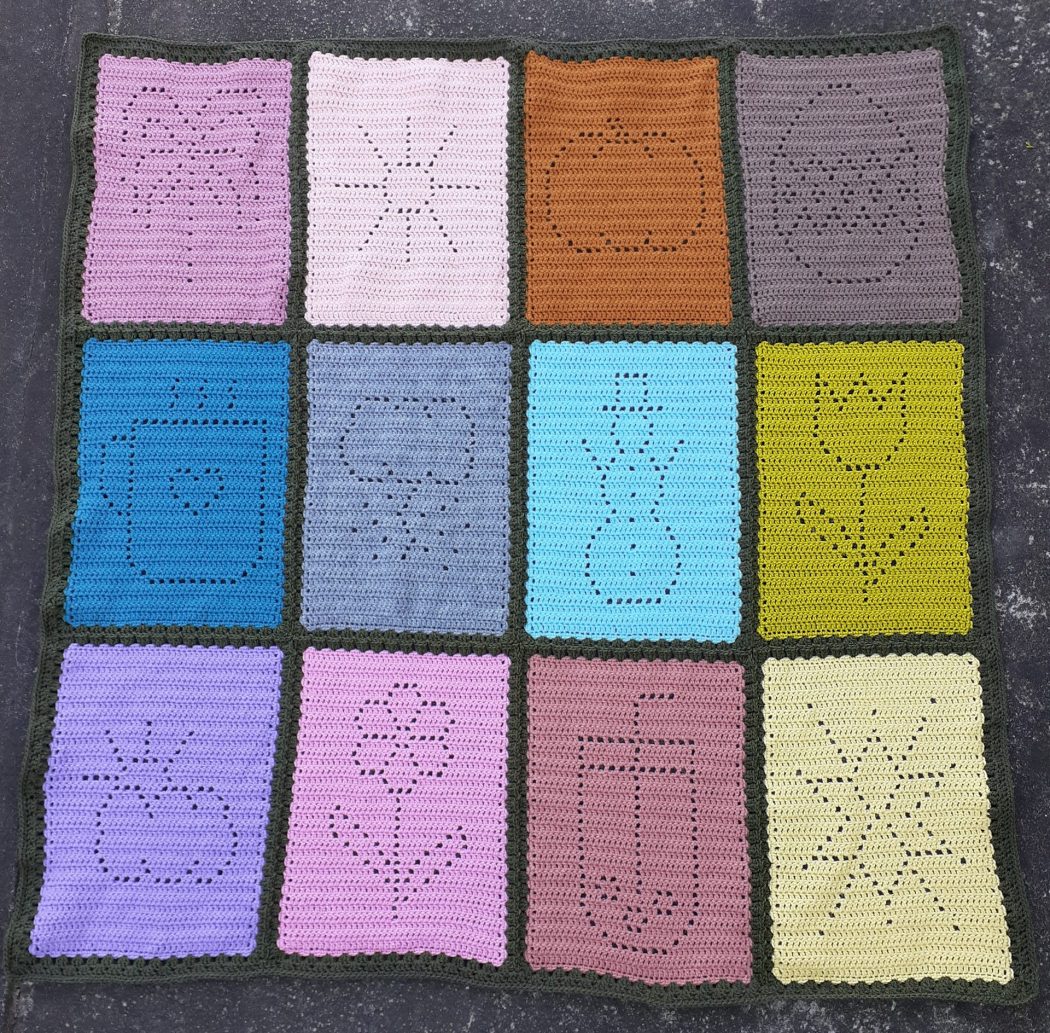 Don't worry if temperature blankets aren't your cup of tea!
You can still crochet along with everyone in 2023 – just make solid color monthly bocks instead. Each month will be posted week by week. You can easily crochet a little each day right along with everyone and make a stunning solid color block each month!
This solid color blanket sample was stitched by Sharon Dodd. She used a mix of the free blocks and the extras available in the Temperature Blanket Filet Crochet Book (more on that below).
Project Supplies – Monthly Block Blanket (solid color blocks)
240 yards worsted weight yarn per block
600 for granny joining + border
5mm hook
4.5mm hook (for granny stitch join & border)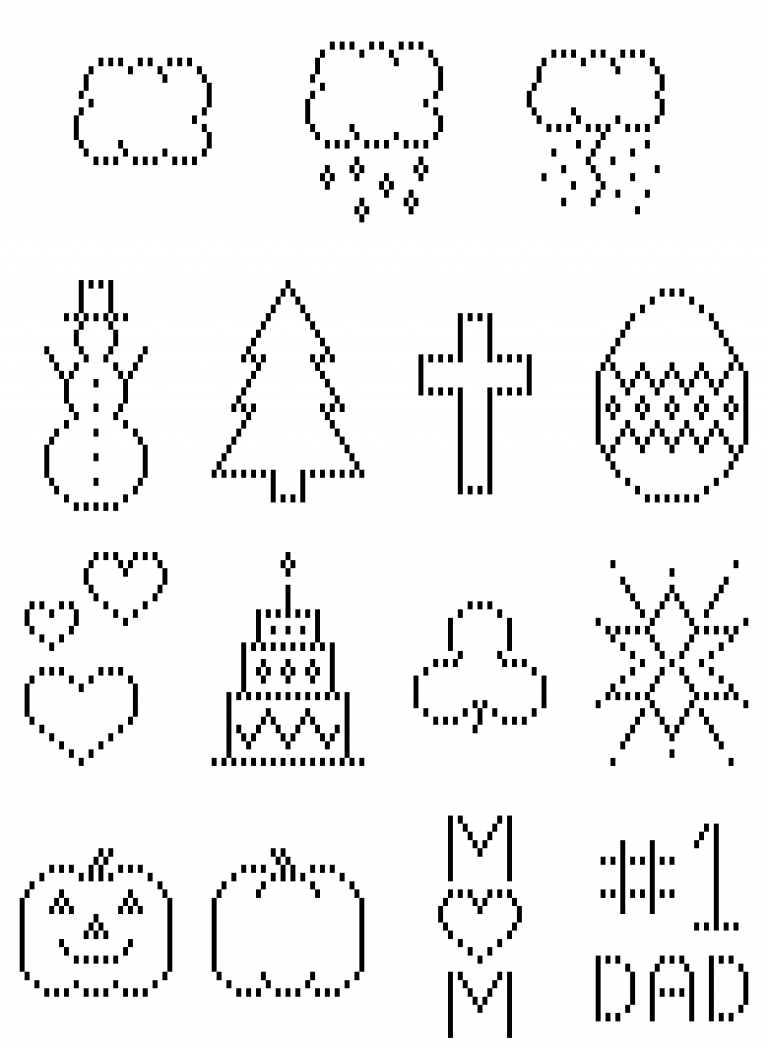 You do NOT need this book to enjoy the 2023 Filet CAL. The two shown hemisphere layouts will be completely free – here on my blog – forever.
The Temperature Blanket Filet Crochet Book is simply offered because I first designed this CAL with holiday blocks, but I changed my mind. I didn't want these designs to go to waste!
Why would you want the Book? Well, you'll get the following things in a beautifully laid out PDF eBook, formatted for double-sided printing and binding:
12 monthly CAL blocks & joining/border pattern for the complete 2023 Temperature Blanket project.
15 additional holiday & weather blocks to mix and match with the free blocks or make whatever other blankets you'd like!
1 CUSTOM year block – so you can make a historical/memory temperature blanket.
graphs for all 32 blocks – on the page next to the numerical pattern for easy checking!
a warm fuzzy feeling because you helped me send my kids to Special Ed Sports, fencing, ballet, and Taekwondo for the coming year.
Okay, that last one isn't in the book 😆 I am so thankful for those who are able, and willing, to support my business (and thus my family) through your pattern purchases.
Some lovely versions created by my testers using a mix of the free and ebook extra blocks!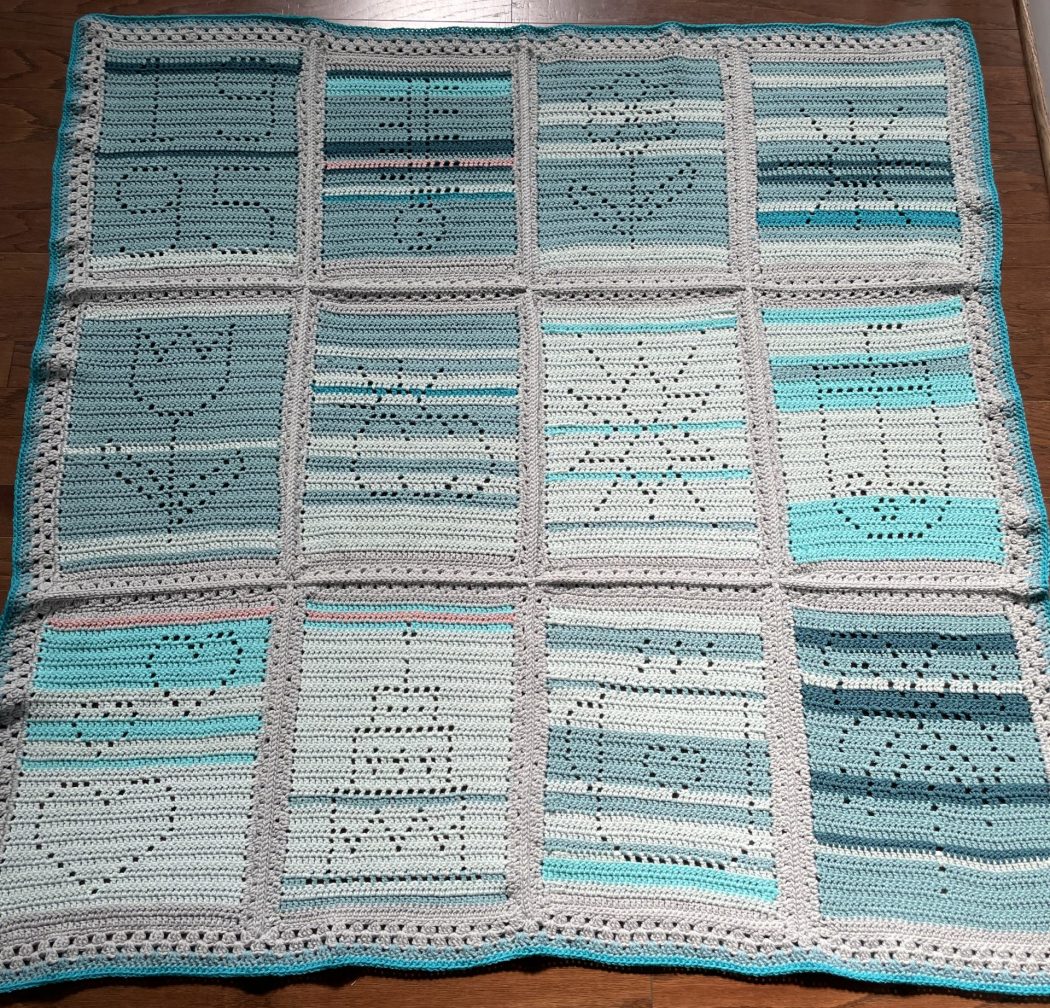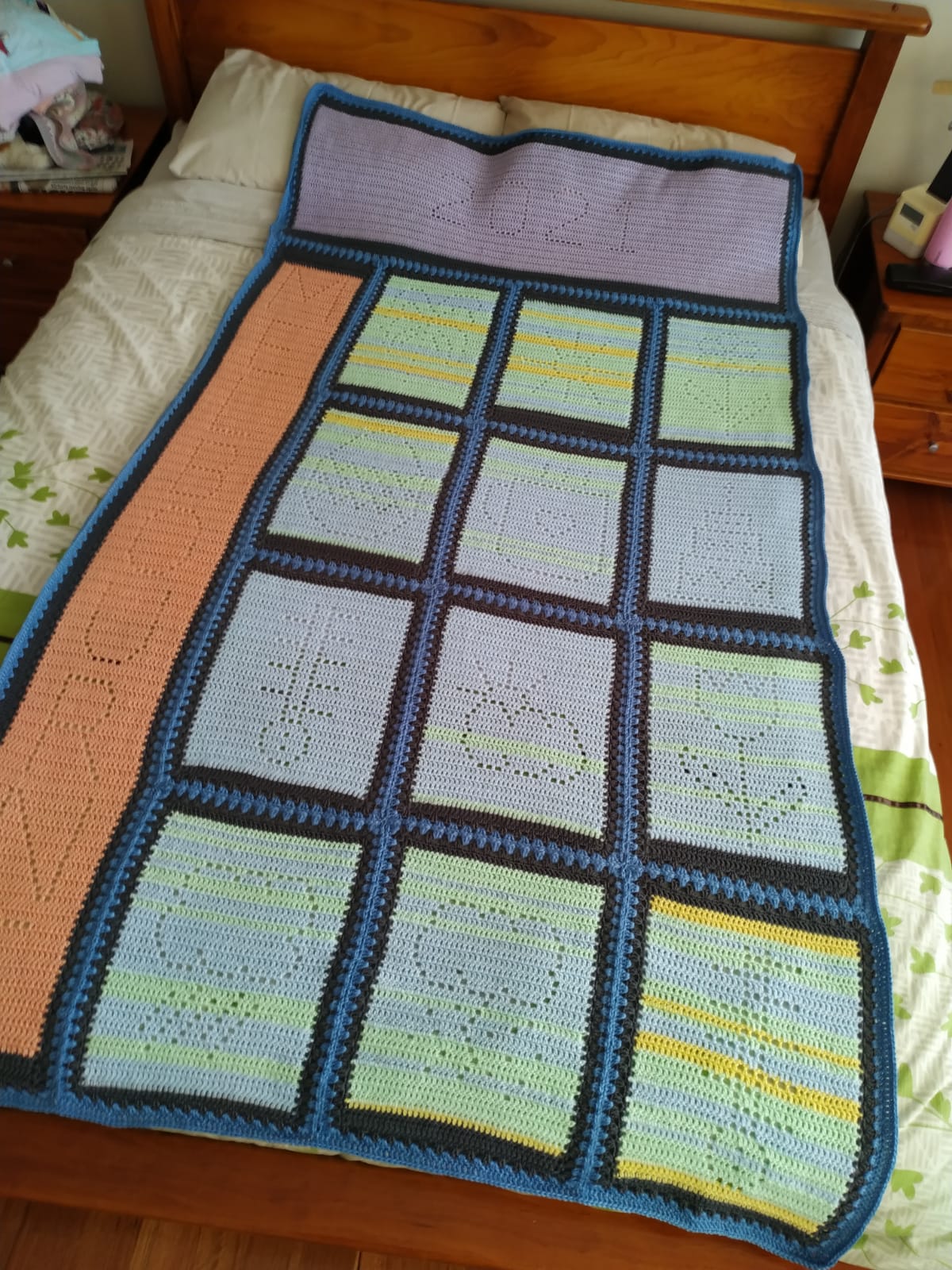 CAL Post Locator-
Use this Calendar to find the CAL post for the week you're working on – 2023 CAL posts are always posted on Sundays, around noon (CST) and include the rows for the week (Sun-Sat).