I have been realizing the temperature filet CAL is not as popular as previous year's free CALs. Maybe you are as filet-ed out as I am? More likely it's people's fear of ends to sew that have effected the popularity of the CAL this year. I know this because I didn't get last Sunday's post up and I didn't have anyone messaging me asking where the rows were! 😆 I'm not sure how I feel about this, but I am felling fine with changing up the post timeline so I can make my rows FIRST and then give you yours.
If you are just finding this CAL, please check out the details post for all the usual pattern information.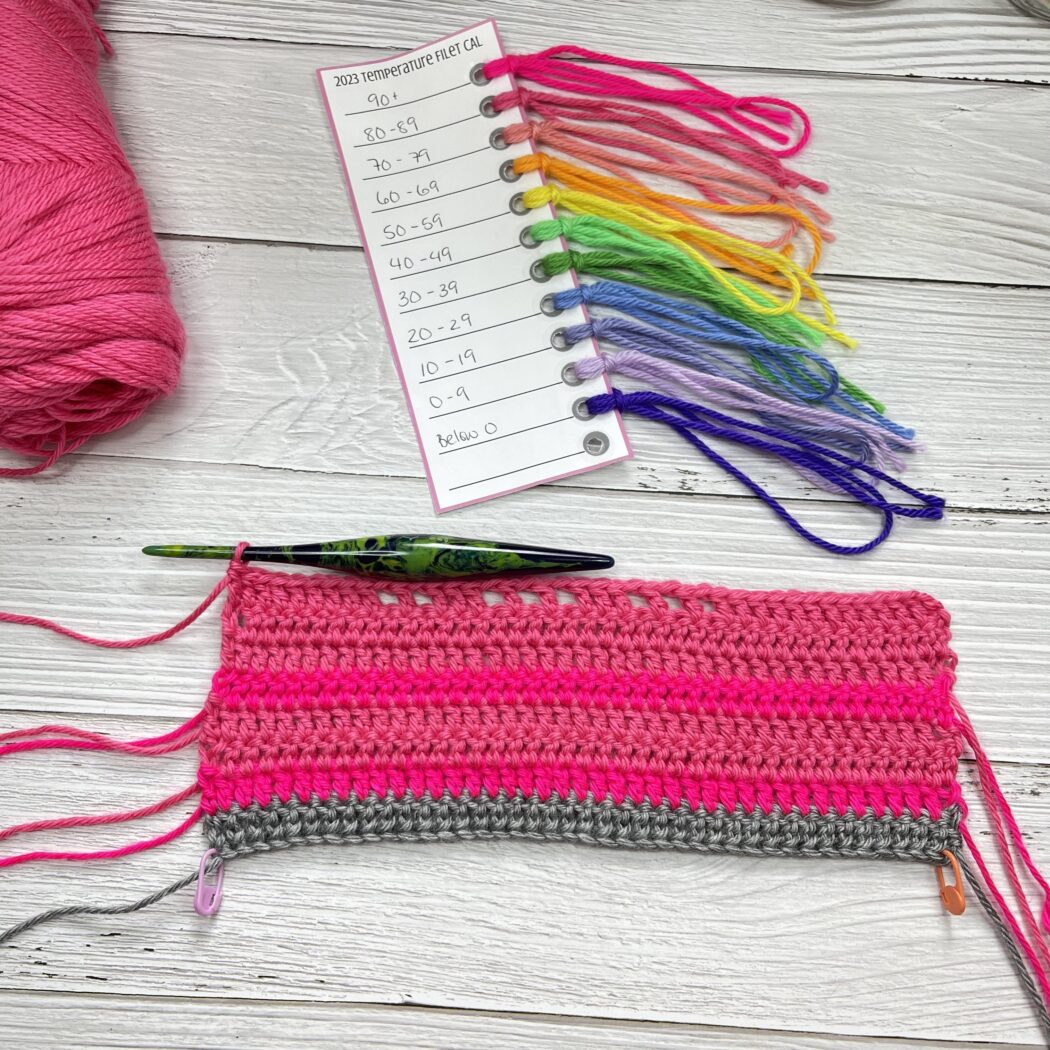 June 1-7
Row 1: (in filler color) FDC 41
Chain Start Method: Ch43, dc in 4th ch from hook and in each ch across. Ch3 at beginning counts as the base ch and first dc – 41 sts.
Rows 2 (June 1): dc across
Row 3: dc across
Row 4: dc across
Row 5: dc across
Row 6: dc across
Row 7: dc across
Row 8: 13 , 1 , 1 , 3 , 1 , 1 , 3 , 1 , 9
❀ ❀ ❀ ❀ ❀
Share your makes! Tag #mayhemandmajestydesigns & mention @mayhemandmajesty on Instagram so I can easily see your projects.
Shop my library of patterns.
Follow @mayhemandmajesty on IG and Facebook 
Join our FB Group Mayhem & Majesty Makers for crochet community!
Sign Up for my newsletter so you never miss a new pattern coupon, giveaway or freebie.
❀ ❀ ❀ ❀ ❀
Please respect my creative rights! You are welcome to sell finished physical crochet items you make from my patterns online or locally. You MAY NOT create for sale or free any patterns which use my designs in any way (in whole or parts). This pattern cannot be resold, rewritten or shared in any way, in whole or in parts, including YouTube tutorials. Thank you!
October 2023
M
T
W
T
F
S
S
1
2
3
4
5
6
7
8
9
10
11
12
13
14
15
16
17
18
19
20
21
22
23
24
25
26
27
28
29
30
31