Harry Potter
Showing all 4 results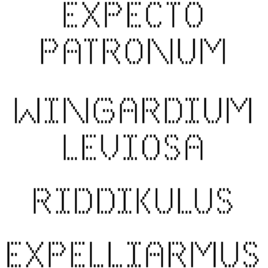 HP Blanket Mod: Spell Phrases & Words
⚠️YOU WILL NEED THE
HP MISCHIEF MANAGED BLANKET
TO USE THESE LETTERING PANEL MODS⚠️ Pictures are just EXAMPLES using this HP Blanket Mod Pattern
AND
the
original HP Blanket
.
Pattern Notes
You will need the Mischief Managed (Harry Potter) Blanket pattern to use these wording panels as show on the cover examples.
All the word panels are worked from the bottom up.
Spell phrases (ex. 'Expecto Patromun') are meant to be kept together as one panel.
Make sure to turn the blanket so you can read the words as you work the initial sc edging to set up for the border.
Right Hand Hook Holders
Using more than spell word/phrase in a blanket: Make sure you can read your first lettered panel when you start each following lettered panel.
Left Hand Hook Holders In the pattern, the [RS] rows (odd rows) will actually end up being the [WS] of your finished blanket. This means the words will be correctly facing you when you are working a [WS] row (even row).
You can work the panels exactly as written.
Just remember - if you choose to read the charts - be sure you read the odd rows right to left, and the even rows left to right, because that is how the numerical rows are written out. Please trust me - it will work.
Using more than one word in a blanket: This gets a little hard for me to explain well. Basically, you need to note during Row 1 of 'your first word which side is the [RS] according to the pattern markings. Then you need to be sure an begin each following word panel with the same side facing you so that each new word will face the same direction as the others.
$

5.00
Add to cart