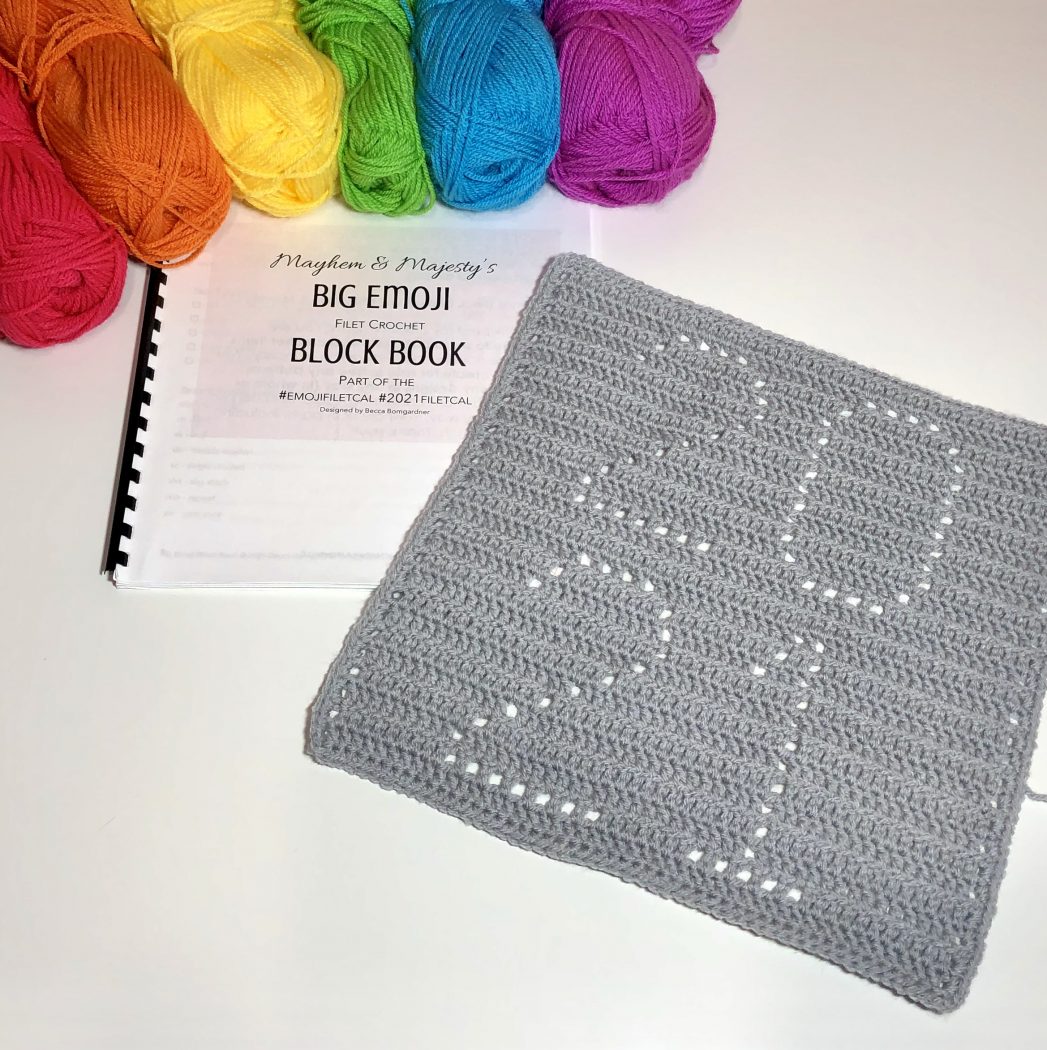 As 2020 draws to a close it's time to reveal the theme for 2021's filet crochet along: Emojis!
#2021emojifiletcal
Each month, 2 new Emoji block patterns will be released here on my blog. The Patterns will release on the 1st & 3rd Monday of each month -all year long!
You might want to sign up for blog updates so you get notified when a new Emoji is released! You'll also want to join the Mayhem & Majesty Makers Facebook community to see what others are making with their Emoji blocks and other M&M designs.
By December 20, you'll have 24 Emoji blocks + a 2021 block you can join into a giant blanket or make a few smaller blankets….or make pillows, bags, put an emoji on a sweater- the things you can do with these emojis is totally up to your imagination!
Yarn & Supplies
Big Emoji Block Book (optional – includes graphs, granny square directions, and exclusive 2021 block)
Emoji Block (11 inches): 142 yards DK yarn
Emoji Granny Square (12 inches, ebook only): 18 additional yards – 160 yards total
3 balls each of Stylecraft Special DK, as follows:

Pomegranate 1083,
Spice 1711,
Citron 1263,
Grass Green 1821,
Turquoise 1068,
Magenta 1084,
and Silver 1203.

4mm Hook
Stitch Markers
Yarn Needle
I won't spoil the CAL by showing you all of the Emojis, but I wanted to show off my color scheme! (as the new Emoji release, I'll add the link below for you as well)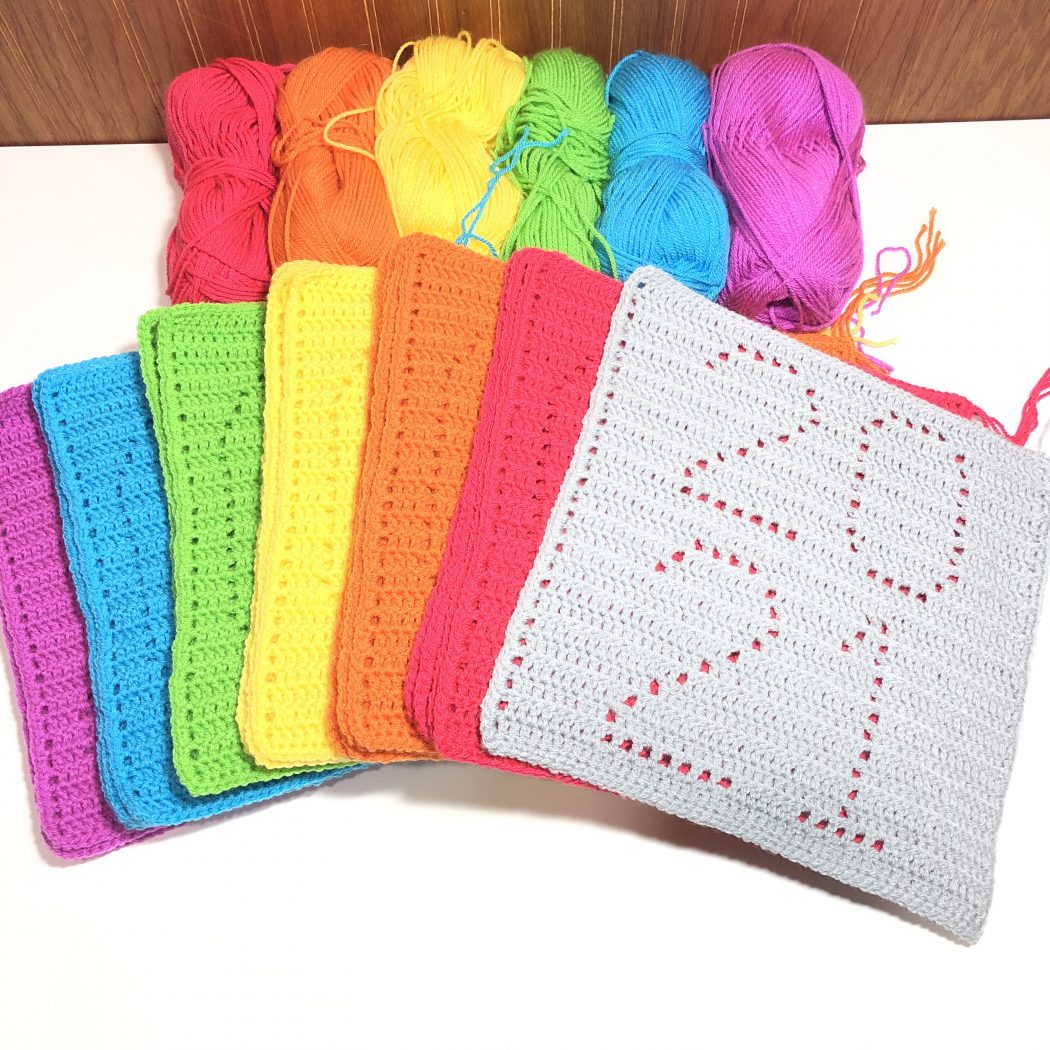 While all the Emoji blocks will be free here on my blog, you can get the patterns side-by-side with their graphs and pattern for turning all your blocks into granny squares – in the Big Emoji Block Book. This beautifully formatted E-book can be read in your favorite reading app or you can print the PDF version double-sided and bind it into a book.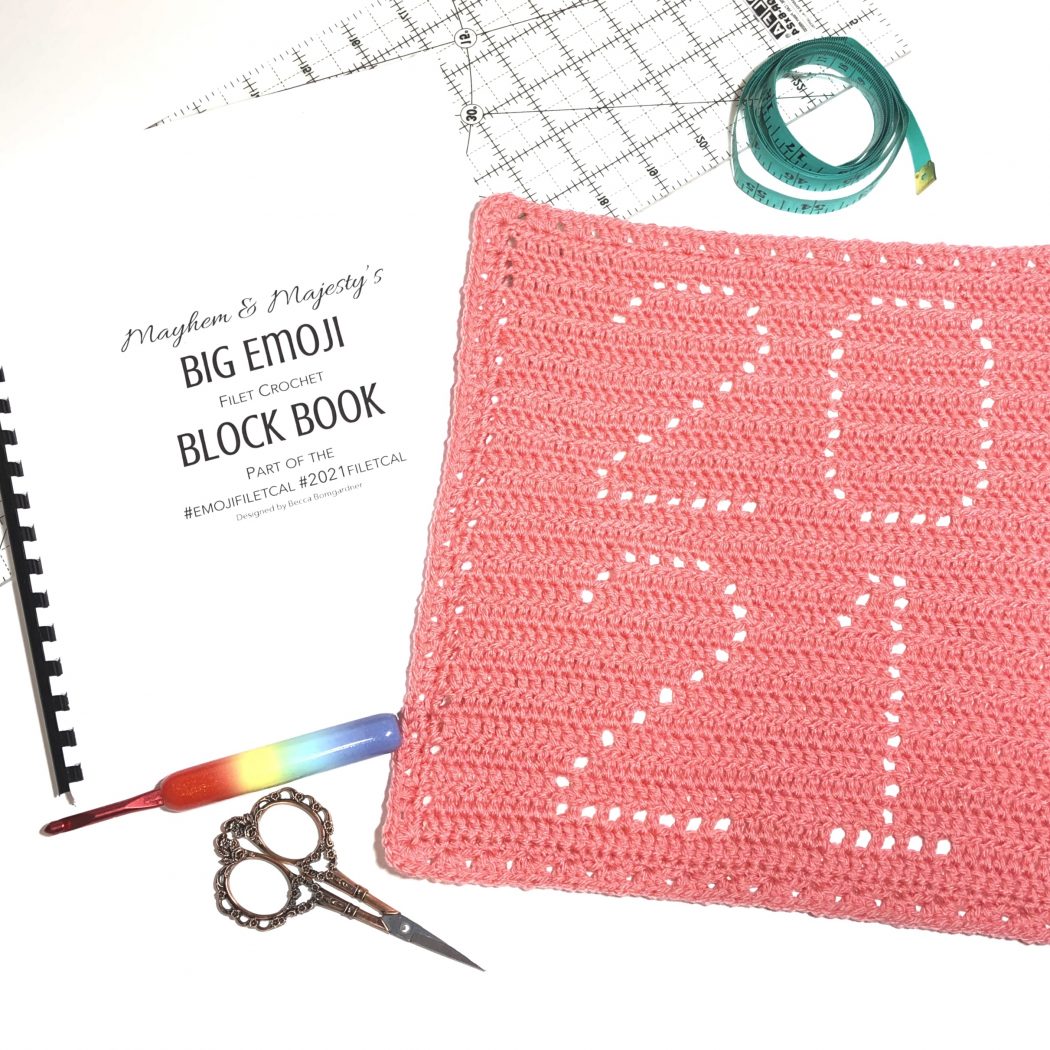 The E-book comes in PDF and EPUB formats (both with hyperlinked table of contents) so you can read it however you like best! You can even pull it into your favorite note taking app (like Noteshelf or Goodnotes) to easily mark off your row progress.
Having the Big Emoji Block Book also allows you to see all the designs ahead of time. This way, you can choose make a one-piece blanket instead of joining blocks. You can alternate Emojis within a panel, or make a panel of all the same Emoji.
The directions to make a one-piece blanket are included in the book (as well as the color changing technique to change colors within a panel so you can make it look like color blocks).
Emoji Blocks are released on the 5th & 19th every month of 2021-
Emoji 6: 😱
Emoji 7:
Emoji 8:
Emoji 9:
Emoji 10:
Emoji 11:
Emoji 12:
Emoji 13:
Emoji 14:
Emoji 15:
Emoji 16:
Emoji 17:
Emoji 18:
Emoji 19:
Emoji 20:
Emoji 21:
Emoji 22:
Emoji 23:
Emoji 24:
Whether you chose to get the book or simply follow the free block patterns here on my blog – 2021 is sure to be an AWESOME year of super fun filet blocks!
❀ ❀ ❀ ❀ ❀
Share your makes! Tag #mayhemandmajestydesigns & @mayhemandmajesty on Instagram so I can see your projects.
Shop my library of patterns.
Follow @mayhemandmajesty on IG, Pinterest and Facebook
Join our FB Group Mayhem & Majesty Makers for crochet community!
Sign Up for my newsletter so you never miss a new pattern coupon, tester call, giveaway or freebie.
❀ ❀ ❀ ❀ ❀
Please respect my creative rights! You are welcome to sell finished physical crochet items you make from my patterns online or locally. You MAY NOT create for sale or free any patterns which use my designs in any way (in whole or parts). This pattern cannot be resold, rewritten or shared in any way, in whole or in parts, including YouTube tutorials. Thank you!