Happy New Year! Almost – it's still New Year's Eve on my side of the world – but I wanted to get January's first week of rows posted so no matter where you are in the world, you can get started on January first!
I hope you will be gracious with me through this year's CAL. I really wanted to enjoy making the CAL along with everyone for the actual year of 2023. Because of this, I won't have week-by-week row pictures to share until AFTER the week is complete.
If not having a picture makes it difficult you, then you will want to start your blanket a week late. I will edit each week to include a picture of my crocheted rows/days once that week is complete. Each daily row is only 41 sts, so you can crochet a week at a time rather quickly.
Starting in February I will have a finished tester block to share at the start of the month, but for January…you'll just have to trust me 😁 and follow along with the rows. Think of it as a really exciting crochet adventure!
Lastly, if you would prefer each block all at once + graph, along with 15 additional designs and one custom year block (to make a memory temperature blanket), you can purchase the Filet Crochet Temperature Blanket book in my shop.
Ready to begin?
Important Things to Remember:
Miss the details post with yarn amounts & sizing? I recommend reading it before you begin!
Do NOT cut your yarn color until you know what the next day's temperature will be. Why? Because you can save on end sewing if the next day is in the same color range.
Remember to ALWAYS TURN your block with each row – even if you are using a new color.
With the exception of February, Row 2 will always begin the month's colored temperature rows.
New to my filet pattern writing style? Please read this guide before you attempt to begin.
Row 1: (in your filler color) FDC 41
Chain Start Method: Ch43, dc in 4th ch from hook and in each ch across. Ch3 at beginning counts as the base ch and first dc – 41 sts.
Row 2 (January 1): dc across
Row 3: 8 , ( 1 , ) x3 then 8 , ( 1 , ) x6 then 5
Row 4: 5 , 18 , 9 , 6
Row 5: 5 , 11 , 16 , 6
Row 6: 8 , 26 , 5
Row 7: 5 , 24 , 10
Row 8: 12 , 21 , 6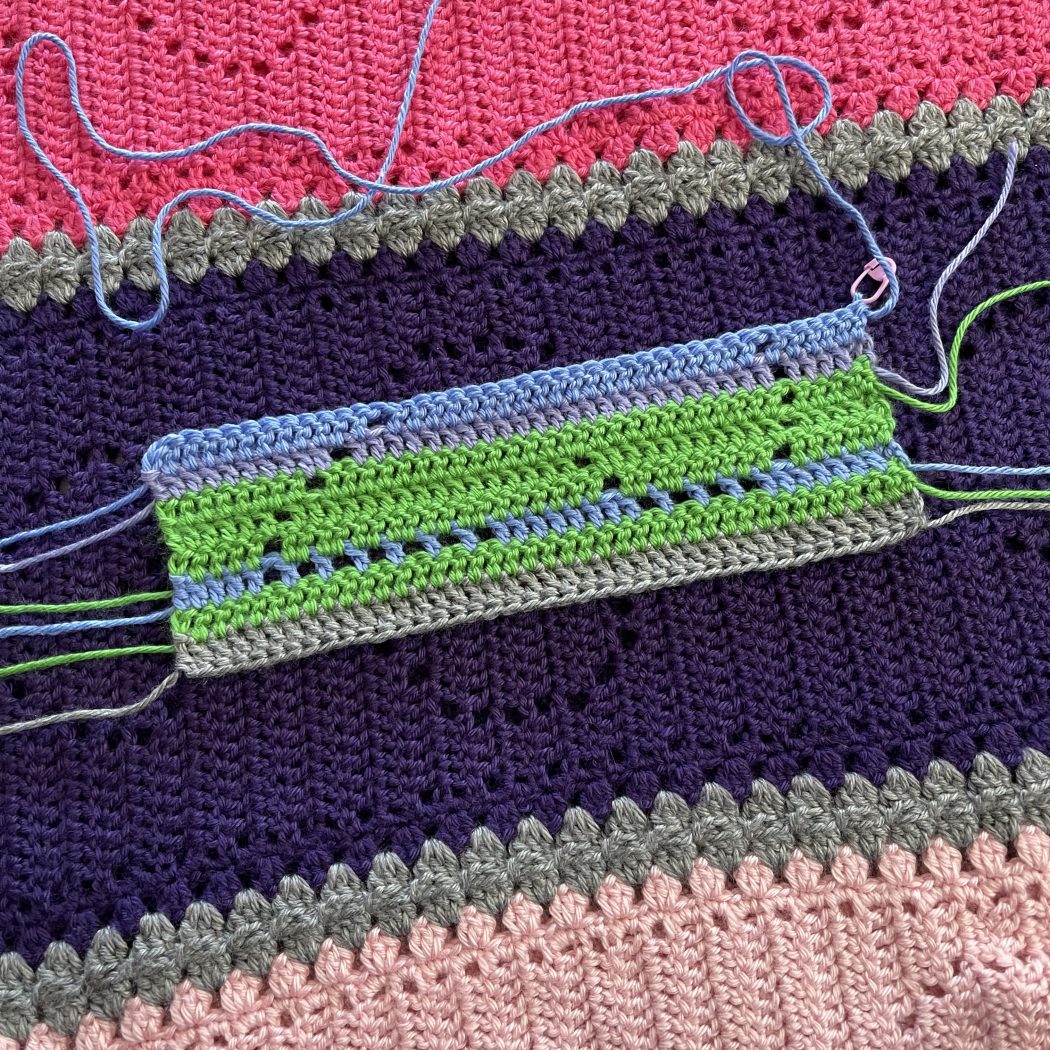 CAL Post Locator-
Use this Calendar to find the CAL post for the week you're working on – 2023 CAL posts are always posted on Sundays, around noon (CST) and include the rows for the week (Sun-Sat).
December 2023
M
T
W
T
F
S
S
1
2
3
4
5
6
7
8
9
10
11
12
13
14
15
16
17
18
19
20
21
22
23
24
25
26
27
28
29
30
31
❀ ❀ ❀ ❀ ❀
Share your makes! Tag #mayhemandmajestydesigns & mention @mayhemandmajesty on Instagram so I can easily see your projects.
Shop my library of patterns.
Follow @mayhemandmajesty on IG and Facebook 
Join our FB Group Mayhem & Majesty Makers for crochet community!
Sign Up for my newsletter so you never miss a new pattern coupon, giveaway or freebie.
❀ ❀ ❀ ❀ ❀
Please respect my creative rights! You are welcome to sell finished physical crochet items you make from my patterns online or locally. You MAY NOT create for sale or free any patterns which use my designs in any way (in whole or parts). This pattern cannot be resold, rewritten or shared in any way, in whole or in parts, including YouTube tutorials. Thank you!