After adding the SC Edging, the blocks are ready to be converted into Granny Blocks. Below I give the "Granny Formula" for one whole block. The formula can be used two ways:
one – granny the blocks AS YOU JOIN them with a join-as-you-go method (either continuous or not)
two – granny all blocks FIRST and then join them in a method of your choosing
I used the "continuous-join-as-you-go" method as I converted my monthly blocks into grannies. The below video shows how to do the continuous join the first row of blocks. In August, I will share how to join up the next row. I suggest watching the video before you begin your joining so you know how it works. If you want to work along with the video to learn the join, you'll want to first crochet Granny Clusters into the top and down the left side of your April block – down to the first half of the bottom left corner cluster – then you'll be ready to go right along with the video tutorial.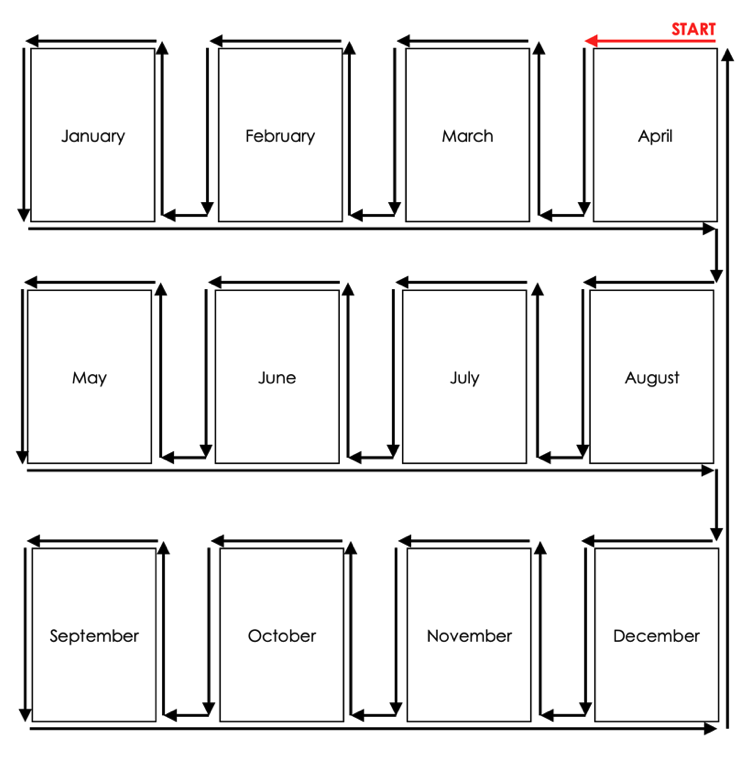 For those who aren't into videos (or who already know the continuous join method) you can simply skip the video and use the Granny Formal below to border/join your blocks as desired.
I know some people avoid videos whenever possible, but it really was easier for me to show the joining in a video rather than in bunches of pictures and words! It's short and to the point – just under 9 minutes of your time.
If you'd like to see a word/picture tutorial for join-as-you-go I recommend The Patchwork Heart's Photo Tutorial of this method. No need for me to reinvent the wheel. 😄 Heather's tutorial is where I learned this method many years ago – so I know it is a GREAT tutorial!
To avoid rippling in the border, you ,may want to change to a smaller hook for the granny stitch. I changed from a 5mm to a 4.5mm hook.
Granny Formula (for one entire block): Join Filler Color in the top right corner of your block. Make a GC in this corner (this is half a Corner Cluster). * SK 2 sts, work (GC, sk 2 sts) across. Corner Cluster in corner st. Sk 2 sts, work (GC, sk 2 sts)x10, GCD, sk 2 sts, then (GC, sk 2 sts)x10 * Corner Cluster in corner st. Repeat between the * around the rest of your block. Finish the starting Corner Cluster by doing a GC, ch1, and then slst to your starting dc to join the round.
Cluster Count per side-
Top/Bottom: 15 clusters (1/2 corner cluster + 13 GC + 1/2 Corner Cluster = 15 total clusters)
Sides: 23 clusters (1/2 Corner Cluster + 10 GC + 1GCD + 10GC + 1/2Corner Cluster = 23 total clusters)