Have you ever worked with a Ribbon yarn? Sometimes it's also called 't-shirt' yarn because the make up of the strand is just like the tiny weave of t-shirt fiber. I have always wanted to give this kind of yarn a try. So when Hobbii offered me the chance to review any of their yarns – I jumped at the chance to test out their Ribbon yarn! I made some sweet little baskets and will definitely be making other projects with this yarn. For this review I'm sharing all my likes (and dislikes) of Ribbon yarn so you can get a good idea of what this yarn is like – and why it's pretty darn cool!
🧶Fiber Characteristics: 100% Cotton – soft and a little stretchy. The wide, flat strand has a unique 'hollow' construction. The length of yarn is a flat tube of woven fiber. Think of it as a really long and tiny t-shirt sleeve! 🤣 It even feels like my favorite t-shirt – you know the one that's been washed over and over, and is now super soft and comfy?
📏How Much is in a Roll? 136 yards (125m) – this may not sound like a lot of yardage, but it goes a long way due to the bulky weight class.
🪝Hooks: Hobbii recommends a 5-6mm crochet hook on the label.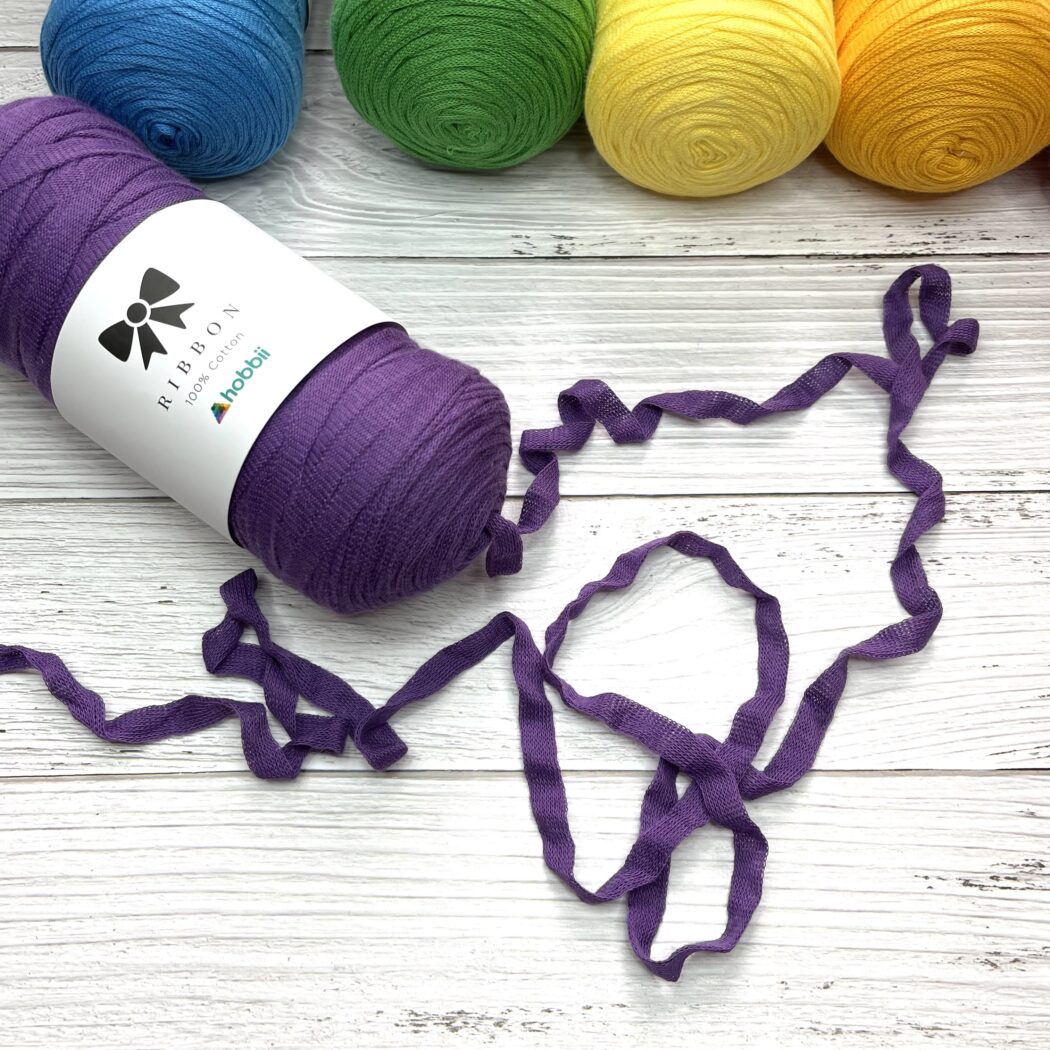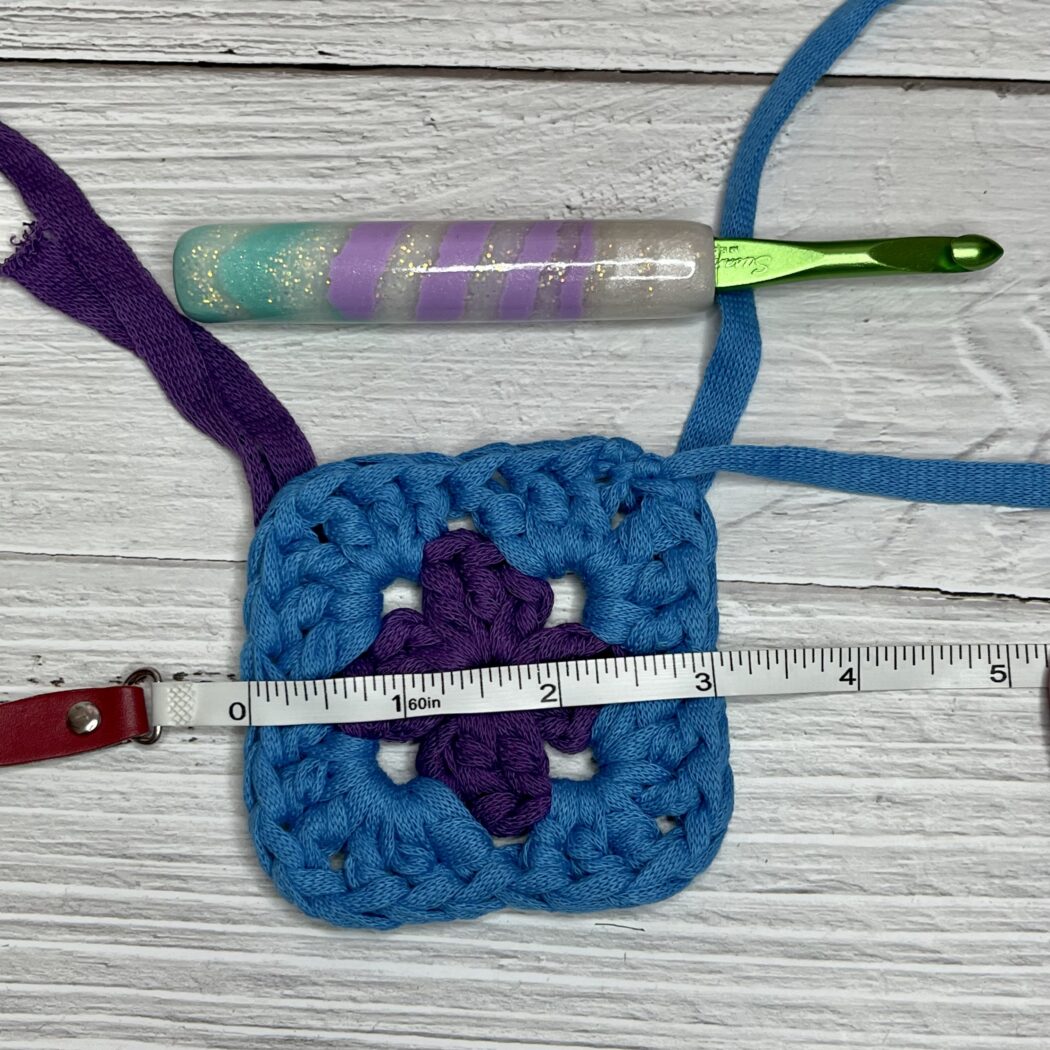 I worked up a little granny square using a 6.5mm hook.
After only two rounds it's already 3 inches! Needless to say, this yarn definitely works up as bulky! It's also pretty stiff worked up into stitches, so I don't think this would be an ideal yarn for blankets or wearables.
But for accessories like purses, coasters, chunky coffee cozies, baskets, and rugs – it's PERFECT!
Making a crochet basket has been on my project bucket list for quite some time.
Hobbii was kind enough to send along some of their Wooden Basket Bottoms, too. Hobbii did not disappoint here either – the wood is super smooth on both sides. The holes are perfectly spaced and large enough for a up to a 6.5mm hook to easily work into with even the thick Ribbon yarn.
I played with a few hook sizes, finally settling on a 5.5mm paired with the Moss Stitch.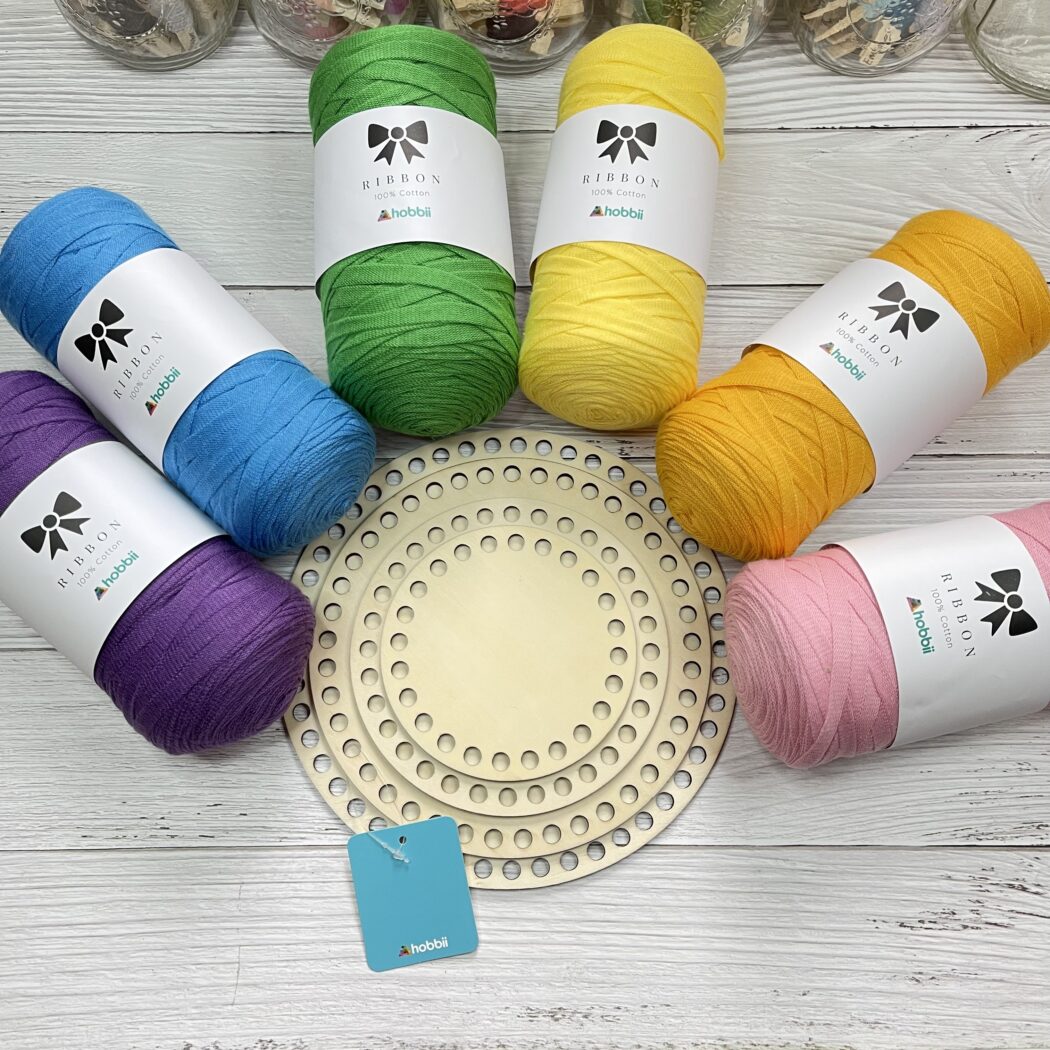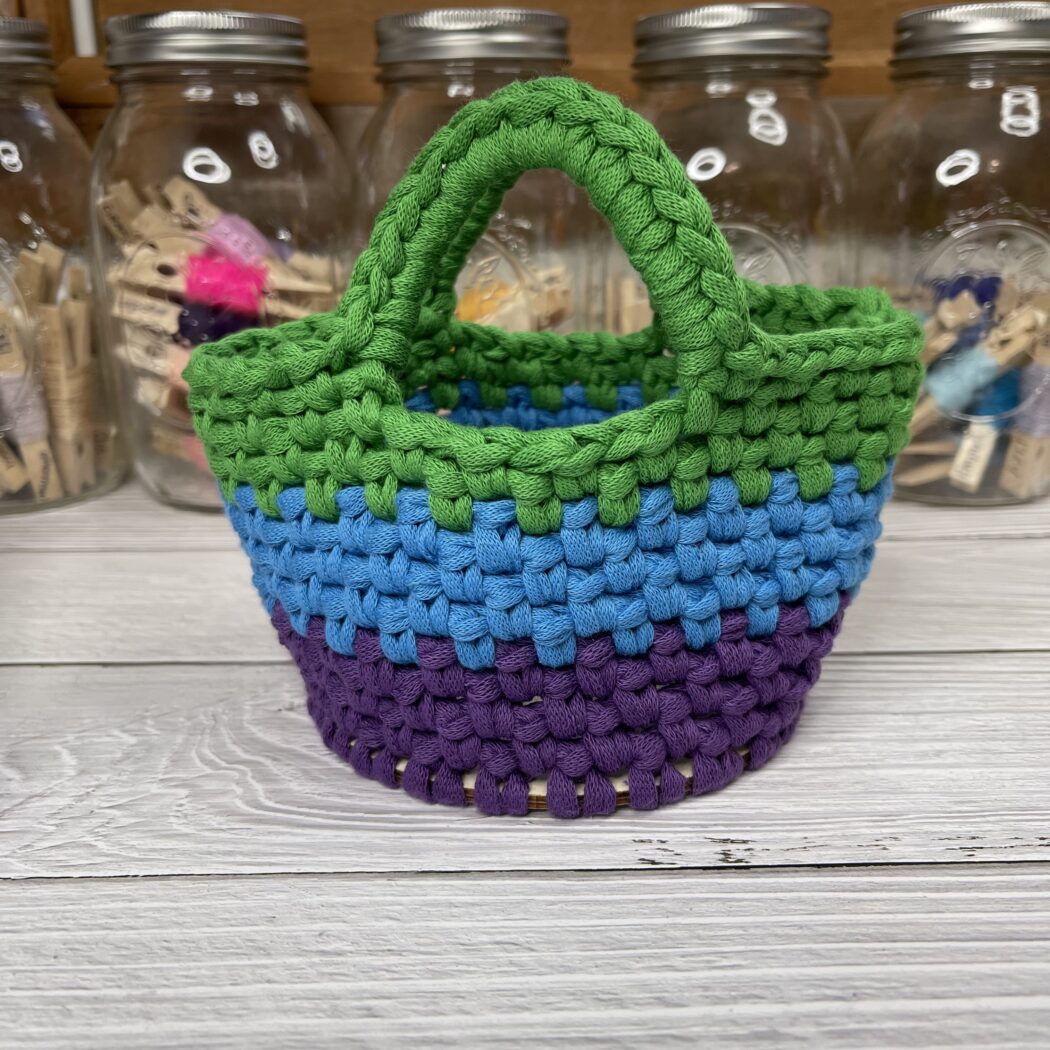 Check out that stitch definition 🤤 it's fabulous!
I have to say, Ribbon exceeded my expectations. I was worried it would be hard to work with because it is so wide.
At first, it did slow my normal crochet pace. Sometimes the hook would get stuck in the yarn when I pulled through.
However, once I found the 'rhythm' of crocheting with the wider fiber, that stopped happening. I worked up a second small basket in about 30 minutes!
🪡One Con for Ribbon Yarn: sewing in the ends (you can't)!
You can't sew ends in the 'traditional' way. If you try, the needle goes through the other yarn strands as you weave it under stitches…but the fiber itself is too wide to follow after the needle through the small hole it pokes into yarn. It is best to deal with ends by crocheting over them as you go. I didn't realize this until after I make my baskets, so learn from my mistake!😫This yarn would not be good for something like a granny square, because you'd need to sew over more than just a corner amount of space to secure an end properly.
I ended up going very slowly and carefully under 1-2 stitches at a time, so I could get under without poking the needle into the yarn. Then I tied it off with a couple knots to another end.
It is not the prettiest finish…but it's inside the basket and my kids don't even notice that sort of thing. And as they're just baskets, I feel certain this will be enough to ensure they won't come apart. I wouldn't want to knot off like that if it was something I'd want to be able to wash – I wouldn't trust the knots to hold over time.
These are the three small baskets I designed for my girls.
There was much squealing and excitement. They had all sorts of ideas for how they'd play with their pretty little baskets! Some of their favorite tiny stuffed animals fit in perfectly.
A small basket like this would make a cute teacher gift, too – fill it with candy and maybe a coffee shop gift card!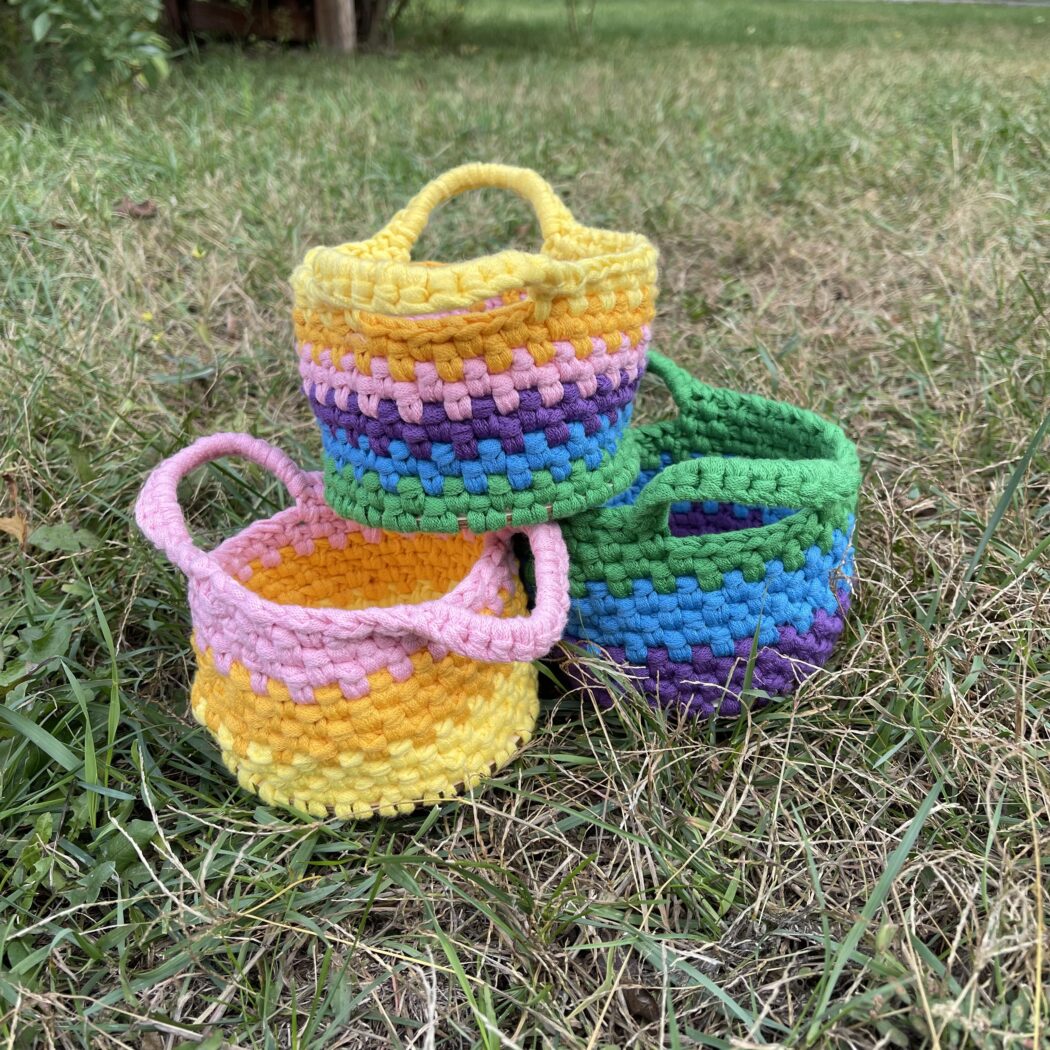 I think Hobbii's Ribbon yarn would also make an awesome rug as it's 100% Cotton. So awesome in fact, that I think a rug may be my next experiment with this yarn. I'll use a solid kind of stitch pattern/texture so I can easily hide the ends as I go.
Let me know in the comments if you'd like to see a post with the free pattern for my Ribbon yarn baskets…or the forthcoming rug!
💗Becca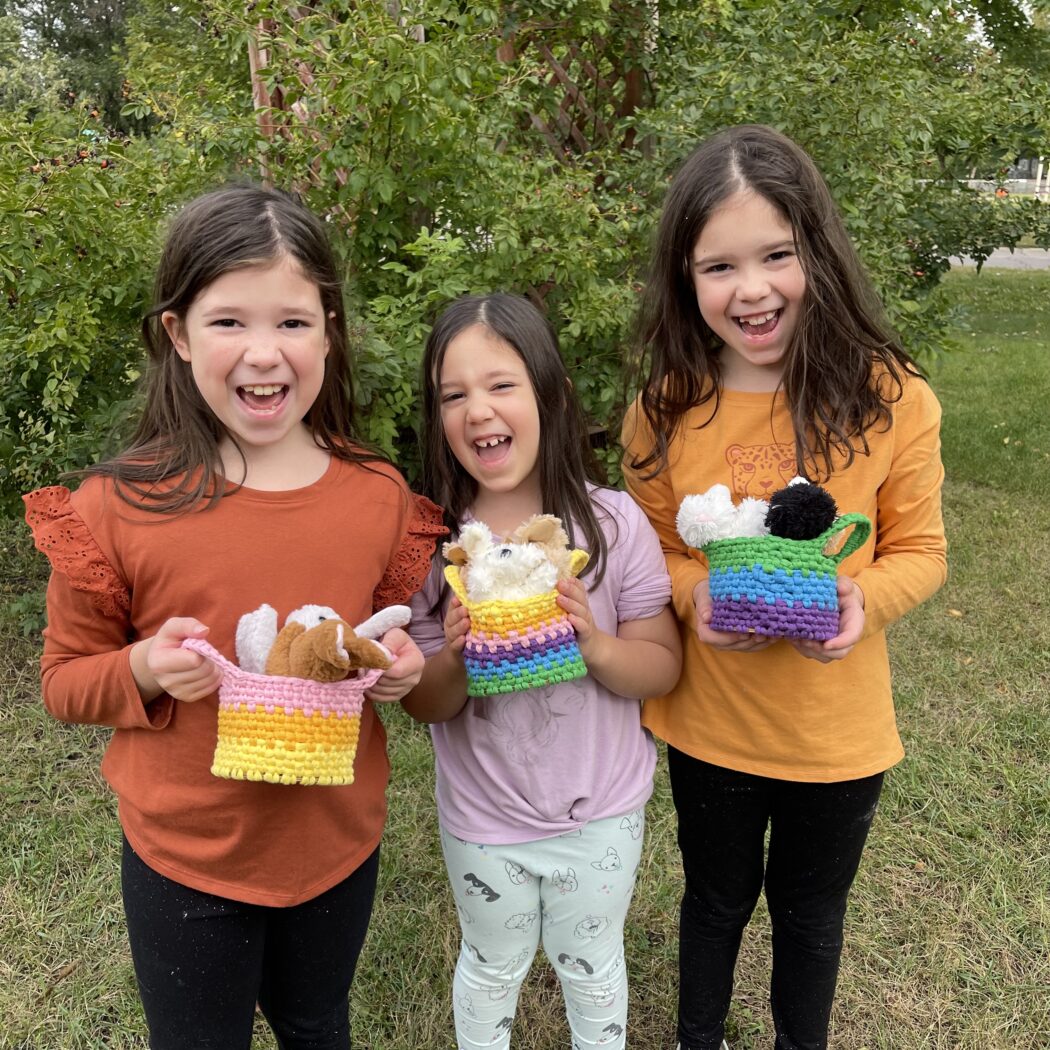 #HobbiiYarnReview #sponsored
❀ ❀ ❀ ❀ ❀
Share your makes! Tag #mayhemandmajestydesigns & mention @mayhemandmajesty on Instagram so I can easily see your projects.
Shop my library of patterns.
Follow @mayhemandmajesty on IG and Facebook 
Join our FB Group Mayhem & Majesty Makers for crochet community!
Sign Up for my newsletter so you never miss a new pattern coupon, giveaway or freebie.
❀ ❀ ❀ ❀ ❀
Please respect my creative rights! You are welcome to sell finished physical crochet items you make from my patterns online or locally. You MAY NOT create for sale or free any patterns which use my designs in any way (in whole or parts). This pattern cannot be resold, rewritten or shared in any way, in whole or in parts, including YouTube tutorials. Thank you!