Anchors Away!
The following pattern is written using my new block/panel interchangeable style and comes with TWO designs – an anchor and a boat. These can be mixed and matched in joinable blocks or in panels. You can also mix & match the two design within the same panel.
This pattern can be worked with any weight yarn and hook.
This pattern can be increased/decreased in multiples of 37 stitches across and 20 rows up to make any size blanket.

 

I recommend making a swatch (one full graph picture of either design, 37 sts x 20 rows) with your desired yarn and hook. Measure to decide how many repeats you need to get the blanket size you want AND to accurately determine your yarn amounts.
Pattern us written in Numerical Filet (including a helpful how-to guide on the last page of your pattern file to clarify any questions) & a graph of each design is included as well.
You may also like…
Sale!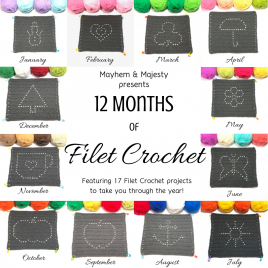 12 Months of Filet Crochet (2020)
12 Themes & 17 Patterns for 1 AWESOME year of themed projects!
2 Sampler Projects
15 Different Monthly projects (January, February, and July include two separate project patterns each).
The #2020filetcal has been meticulously reformatted and edited into a beautiful eBook - 12 Months of Filet Crochet - featuring 17 different projects to take you through a year. Purchased separately, all 12 themed monthly blankets (the 12 months are available separately, if you prefer) your total would come to over $60! ***Please note that all patterns are written in
Numerical Filet
with clear instructions on this new pattern writing technique. A graph is also included.***
Special Thanks to Emma Moss of @stitchedupbyemma for sharing her fabulous photos!
NOTE: In your purchase download, you will find a Low Res PDF file and a second file with links to download the High Res PDF and EPUB versions from Google Drive.
Add to cart