crochet butterfly blanket
Showing all 2 results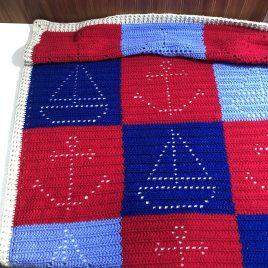 Anchors Away!
The following pattern is written using my new block/panel interchangeable style and comes with TWO designs - an anchor and a boat. These can be mixed and matched in joinable blocks or in panels. You can also mix & match the two design within the same panel.
This pattern can be worked with any weight yarn and hook.
This pattern can be increased/decreased in multiples of 37 stitches across and 20 rows up to make any size blanket.

 

I recommend making a swatch (one full graph picture of either design, 37 sts x 20 rows) with your desired yarn and hook. Measure to decide how many repeats you need to get the blanket size you want AND to accurately determine your yarn amounts.
Pattern us written in Numerical Filet (including a helpful how-to guide on the last page of your pattern file to clarify any questions) & a graph of each design is included as well.
not rated
$

5.75
Add to cart
Sale!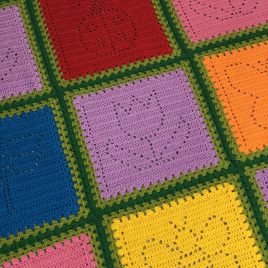 Jane's Garden Pattern Set eBook
Jane's Garden Pattern Pack
Let your creativity flow with this lovely garden-themed filet crochet design pack!
- Get all 6 Garden Designs in this e-book!
6 Designs included-
Bee
Ladybug
Butterfly
Dragonfly
Daisy
Tulip
6 designs = endless project options. Make a separate blanket of each design, or mix and match them in dozens of combinations and styles (granny bocks, traditional one-pice filet blanket, or color-blocked one-piece blankets - all pattern options are included)!
4 Options given for EACH pattern -
design blocks
joinable granny blocks
one piece blanket (either panels of the same design or mixing them up within a panel or panels)
color blocks (but still as a one-piece blanket!)
all graphs included
Fun Leafy Bordering-
the special leafy bordering for either a panel one-piece blanket OR the joined granny block blanket
Tester Photo Credits-
Jane's Garden Paneled Blanket (pattern included for this version) - @created.uniquely Jane's Garden as Bunting - @thelittlecrochetboutique Jane's Garden as a Cube Cushion - @tinyanaesthestist
Rated 5.00 out of 5
$

23.00
Add to cart