Filet Alphabet Letters, Numbers & Symbols Set
Create Personalized Buntings….and beyond!
Capital A-Z, 0-9, and various symbols, including an ampersand (&).
This comes with THREE (3) PDF files to download:
– ABCs
– 123s and symbols
– One PRINTABLE blank filet graph which is set at the correct ratio for filet crochet so you can design your own words to personalize your handmade items for family, friends and customers! (it is not digitally editable)
Option 1 – Bunting Tiles can be worked with any weight yarn and hook. This is what the numerical directions will complete.
Option 2 – Use my graph designs to personalize another filet project you're making, like a blanket. Add a name, initials, birthdate, or words to your creations. BLANK CHART included to create personalized blanket panels for your handmade items.
Categories: Abstract Designs, Filet Lettering
Tags: baby name bunting, crochet, crochet alphabet letters, crochet baby blanket, crochet banner, crochet bunting, crochet decor, Crochet Lettering, crochet numbers, crochet pattern, Filet alphabet, filet crochet, mayhem and majesty, nursery bunting, nursery decor, nursery name banner
Related products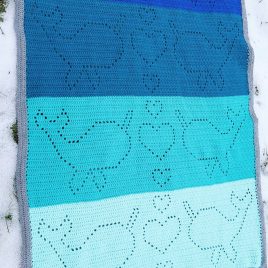 I Heart Narwhals – Pattern Set
4 Pattern Set! Narwhals are the Unicorns of the Sea! Create you're own adorable Narwhal blanket for yourself, or to sell in your handmade shop. It's sure to delight kids and adults of all ages! This pattern comes with patterns for FOUR different blanket patterns, all charts are included along with the numerical pattern instructions. All sizing tips and instructions are included. Pattern is written in numerical filet, which is quickly becoming the best filet reading and writing method out there! Clear instructions are given for this easy to understand pattern writing technique.
FOUR separate patterns included-
1. As shown with Narwhals facing hearts 2. As shown, but with an alternate Narwhals facing away from the hearts center panel 3. A blanket of just the Narwhals without hearts 4. Pattern to create joinable Narwhal blocks. Cream Narwhals were hooked by the amazing Amanda Klimper of @aklimper As written in the pattern using DK yarn this Cream Narwhal blanket measures about 35x36 inches. Blue hues Narwhal were hooked by the talented Toni Franklin of @Tonimaycrochet. She used worsted weight yarn and added forth panel of narwals for a nice big blanket! Purple & White Narwhals by Emma Moss of @stitchedupbyemma, she omitted the hearts on the out facing narwhal panels.
not rated
$

5.25
Add to cart