Filet Alphabet Letters, Numbers & Symbols Set
Create Personalized Buntings….and beyond!
Capital A-Z, 0-9, and various symbols, including an ampersand (&).
This comes with THREE (3) PDF files to download:
– ABCs
– 123s and symbols
– One PRINTABLE blank filet graph which is set at the correct ratio for filet crochet so you can design your own words to personalize your handmade items for family, friends and customers! (it is not digitally editable)
Option 1 – Bunting Tiles can be worked with any weight yarn and hook. This is what the numerical directions will complete.
Option 2 – Use my graph designs to personalize another filet project you're making, like a blanket. Add a name, initials, birthdate, or words to your creations. BLANK CHART included to create personalized blanket panels for your handmade items.
Categories: Abstract Designs, Filet Lettering
Tags: baby name bunting, crochet, crochet alphabet letters, crochet baby blanket, crochet banner, crochet bunting, crochet decor, Crochet Lettering, crochet numbers, crochet pattern, Filet alphabet, filet crochet, mayhem and majesty, nursery bunting, nursery decor, nursery name banner
Related products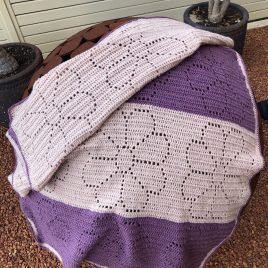 Crazy Daisy Blanket
The Crazy Daisy design is my favorite design I've made - EVER! This listing includes TWO pattern options- Choose from a paneled blanket OR Daisy filet blocks turned into Granny Squares. Pattern is written in Numerical Notation and also includes the graph. This pattern can be worked with any weight yarn and hook. Gauge is not important. This pattern can be increased/decreased in multiples of 49 stitches across and 27 rows up to make any size blanket. Paneled Blanket has a finished size of approximately 32 by 42 inches using DK yarn and a 4.5mm hook and the repeats noted. Granny Squared Blanket - flower square measures approx. 10 inches after sc border. With added 3-round Granny portion, square is about 12 inches. The 12-square blanket as shown here measures approx. 43 by 54 inches after joining and bordering.
not rated
$

5.75
Add to cart