Fancy a FREE impromptu summer CAL?
As many of you know, I made a promise to myself to not purchase ANY yarn in 2022. However, I was over-the-moon-excited when I was accepted to Hobbii's Creator program where I get to participate in monthly challenges and get free yarn while doing so.
July's challenge centers around the Tour de France bike race. The theme, ideas, and yarn colors were all pre-set. It was hard to work with, but I've some up with a filet blanket that hits the different themes and uses the provided colors.
If you'd like to make along in the same yarn & colors as me, here is the link for Hobbii's Kind Feather yarn and the colors you'll need are below. This is NOT an affiliate link – but it DOES track clicks to show how much "influence" I have 🤣 or something like that.
Important CAL Details
(all CAL posts are linked at the end of this post for those needing to find specific weeks to catch up)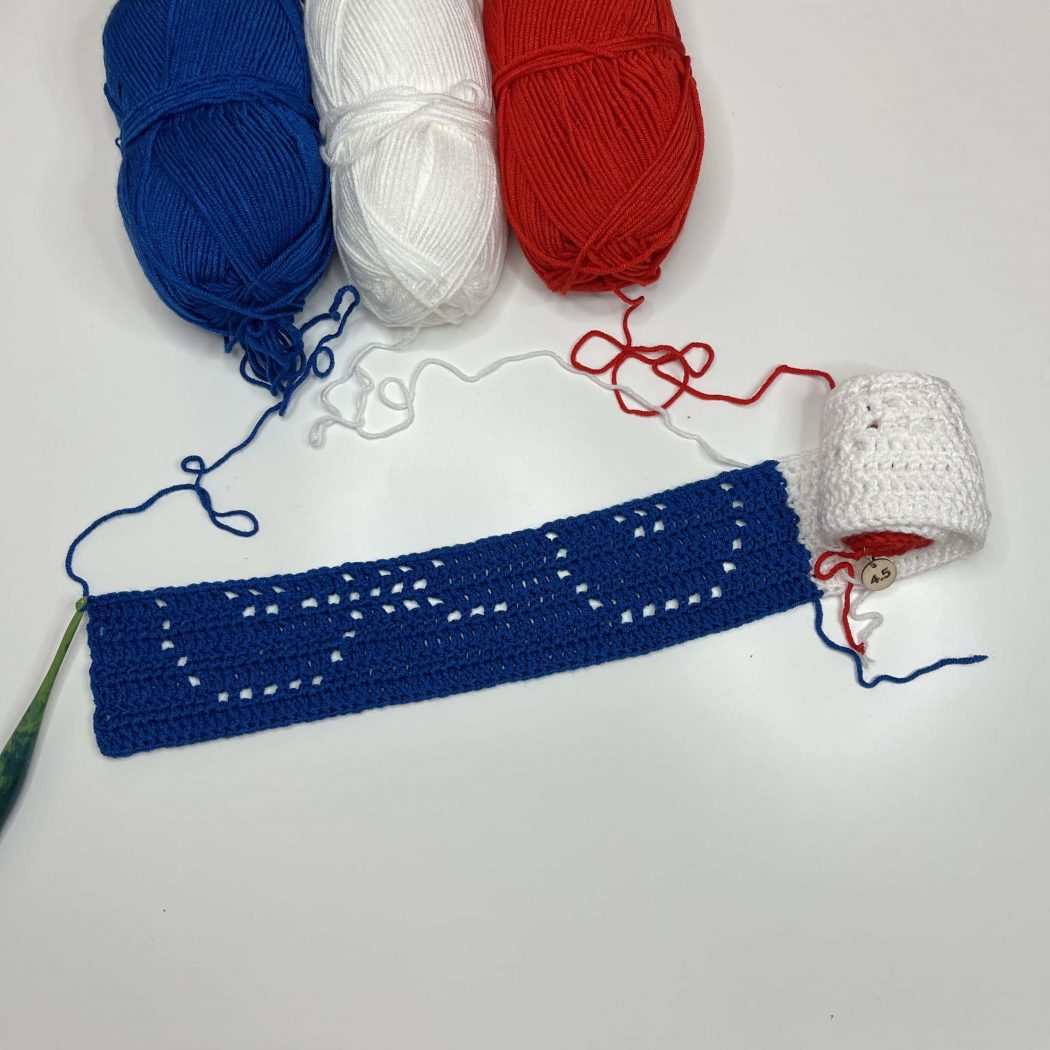 I'm not allowed to share all the themes yet…but I will say that even though the main theme is Tour de France, the designs I've included (while they work very well with the specific themes Hobbii set forth) are not "exclusive" to France.
The CAL will run FREE on my blog for 10 weeks, starting Friday, July 1st. Yes, the race ends July 24th – but making a whole blanket in a month is ambitious. The CAL will be broken up into bi-weekly installments over 10 weeks (Fridays & Mondays).

Each week will create a 17-21 row panel for the blanket.
The CAL's even weeks (weeks 2, 4, 6, and 8) will be "rest" weeks with just a few rows of simple texture stitches (no filet pattern) to aid in catch-up time. Even the racers get rest days! 😉
Week 10 will be the border week, which will echo the "rest" week stitches, for a wonderful finish!

Blanket Size – 181sts by 121 rows
Hooks – I'm using a 4.5mm with the Kind Feather for my filet rows and a 5.5mm for the rows on rest weeks – to keep both the filet and non-filet sections flat and even.
Color work – my original design will involve color blocking within each filet panel. This is super easy and I'll walk you through it as we go. But of course, you don't have to change colors unless you want to!
You can make your blanket in ANY colors you like and still enjoy the CAL. So long as you like bikes…and nature…and cafes.
Yarn Colors & Amounts – The listed colors are exclusive to the broad themes of France, Denmark, and the official colors for the Tour de France race. Or the colors Hobbii thought fit their theme ideas. It's a rather random-feeling assortment, in my opinion!
Kind Feather Yarn (100g ~ 257yds/325m)
4 balls White (01)
2 balls Navy Blue (15)
2 balls Yellow (05)
2 balls Red (07)
2 balls Dark Green (22)
1 ball Light Green (21)
1 ball Lavender (12)
1 ball Dark Purple (13)
1 ball Black (30)
I hope you'll join me on this little adventure!
If you're in the FB group, I -might- have shared a sneak peak of the entire design. There was nearly some controversy over the fact that I did NOT choose to include the Eiffel Tower 🫣 Though with the given colors, that would have been one weird colored tower. So I hope no one is TOO disappointed! 😇 I am only one panel in so far, but it's going to be AWESOME! This design will not be listed in my shop, as I won't have it finished/tested by July 1st. I do plan to list a bike pattern in the fall to add to my vehicles collection – featuring the bike from this blanket – so be on the look out for that.
Please don't forget to check out Hobbii's Kind Feather yarn if you'll be looking to purchase new yarn for this CAL. It has really great stitch definition, squish, and lots of yummy colors. Plus, I want Hobbii to be good and sure I'm "influential" haha.
One last thing – you can sign up for my RSS feed (aka – get an email when I post a new blog post) so you get notified when the Tour de France CAL rows are posted each week.
Hope you're having a lovely Monday!
~Becca
Links to Tour de France Filet CAL posts-