Welcome to the REST week. The racers get rests – crocheters should rest too! Ever hear of carpal tunnel or tennis elbow or arthritis?! 😩 I say this, but I am terrible at resting from crochet.
That said, I have found Wintergreen essential oil to be AWESOME in helping with wrist and joint pain in my hands. Cannabis essential oil is another great one for joint pain – though I am not too fond of the smell – but mixed with Wintergreen it's not too noticeable.
No, I don't belong to a "MLM" brand ("multi-level marketing" brand ) for oils. I get mine at a non-MLM called Eden's Garden. It's wonderfully pure and much less expensive than the popular MLM-based oil companies. I used to buy/sell an essential oil MLM brand – but I did my research and switched several years ago now.
ANYWAY! I got a little off topic…
This week will act as a catch-up week as well as add a few restful Moss Stitch (aka Linen Stitch) rows before the next filet design panel. I used three colors (black, lime green, and green) but you can use whatever colors you like, or even keep the same color the whole time.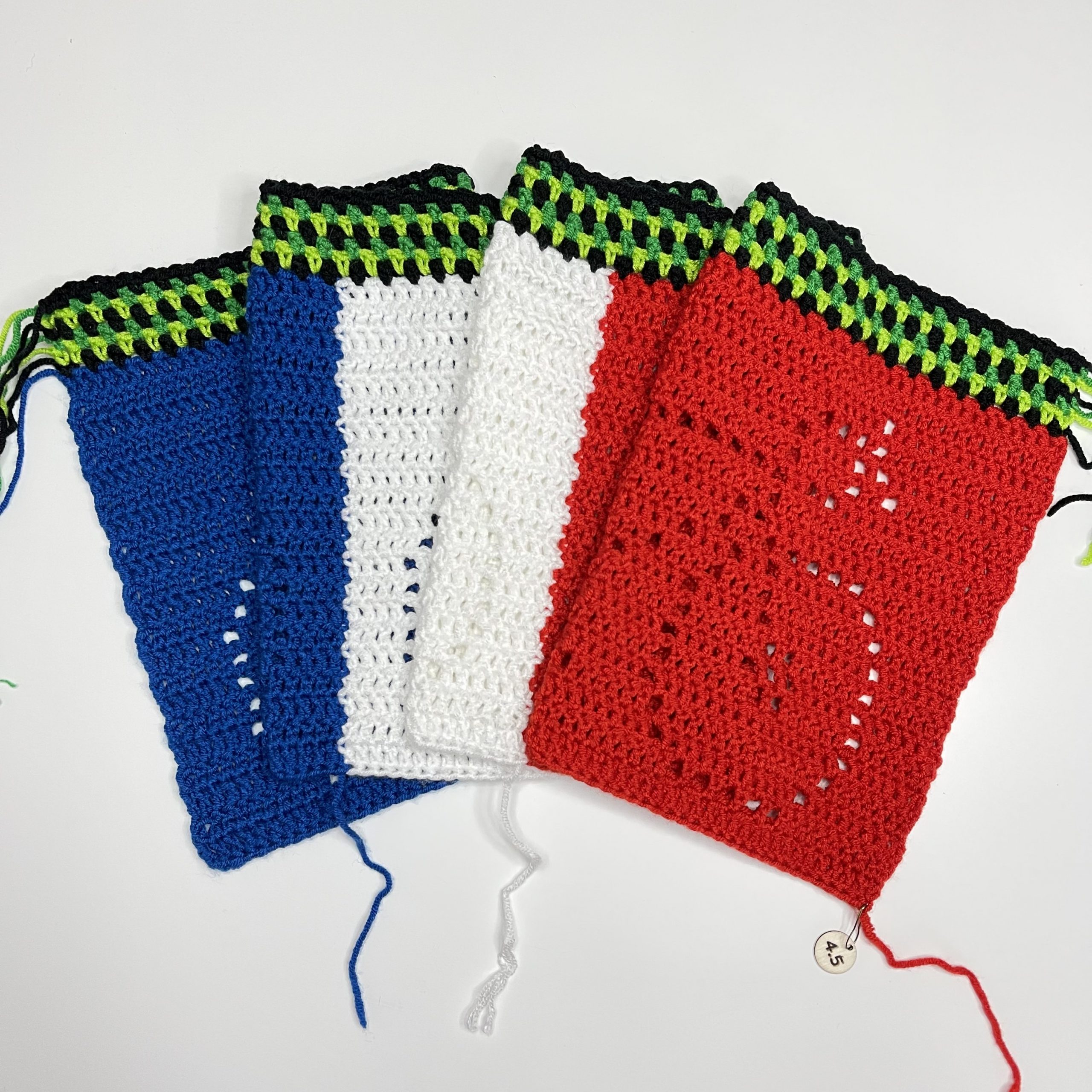 WAIT! Are you NEW to this CAL? Please be sure to read through all the important details for the Tour de France Filet CAL in this detailed post if you've just found this CAL – this is where I'll collect all the links to the parts, so those joining in after the original CAL dates can still easily locate all the parts to make an awesome Tour de France themed blanket.
Rest Week Rows-
It can be easy to miss (or add) a stitch while doing the Moss Stitch pattern. I suggest you check each row for the correct number of stitches before doing the next, or you might regret it when we get to the next Filet Panel…trust me…I know from experience 🫣
I join my new colors with a Standing Stitch – in this case a Standing SC. This counts as the first sc of the row.
All rows are works "RS facing – with your blue bike on the left (your starting tail for Panel 1 should be on your right).
Row 1: *sc, ch1, sk1 st* repeat between * across; ending with a sc in the last st (181 sts).
Row 2: sc *sc, ch1, sk1 st* repeat between * across to last 2 sts.; sc in the last 2 sts (181 sts).
Rows 3-6: repeat Rows 1-2
Row 7: repeat Row 1
That's it. There won't be a Monday post for this week's panel because these 7 rows are it for the Rest Week. So if you're all caught up – now is a GREAT time to sew in all your ends before the next filet section comes out next Friday. 😉 Ironic, but I say this as I sit here looking at my own blanket, which is currently finished through the next filet panel…and I still have allllll my ends to sew. Don't be like me. Sew your ends now! 🤣
Be sure to show off your CAL progress on IG using #TourdeFranceFiletCAL so I can see how it's going for you. You can also show off your CAL progress in the Mayhem Makers Facebook Group.
Don't forget to sign up for blog post emails if you'd like to get an email when each new part is released.
Happy Hooking,
~Becca
❀ ❀ ❀ ❀ ❀
Share your makes! Tag #mayhemandmajestydesigns & mention @mayhemandmajesty on Instagram so I can easily see your projects.
Shop my library of patterns.
Follow @mayhemandmajesty on IG and Facebook 
Join our FB Group Mayhem & Majesty Makers for crochet community!
Sign Up for my newsletter so you never miss a new pattern coupon, giveaway or freebie.
❀ ❀ ❀ ❀ ❀
Please respect my creative rights! You are welcome to sell finished physical crochet items you make from my patterns online or locally. You MAY NOT create for sale or free any patterns which use my designs in any way (in whole or parts). This pattern cannot be resold, rewritten or shared in any way, in whole or in parts, including YouTube tutorials. Thank you!