The Princess Blanket
Create this beautiful princess blanket for the princesses in your life!
Finished size using DK weight yarn is approximately 33×30 inches.
Featured blankets: variegated pastels by @offthehook_X, pinks/green/blue by @loopinstitches, and the creamy yellow by @md_mommie
All sizing tips and instructions are included.
Pattern is written in numerical filet, which is quickly becoming the best filet reading and writing method out there! Clear instructions are given for this easy to understand pattern writing technique.
CHARTS INCLUDED!
Categories: Book, TV, & Character Themes, Hearts!
Tags: baby blanket, baby girl blanket, crochet, crochet baby blanket, crochet blanket, crochet blanket pattern, crochet castle blanket, crochet crown blanket pattern, crochet pattern, crochet princess blanket pattern, filet crochet, mayhem and majesty, princess, princess blanket, princess crochet
Related products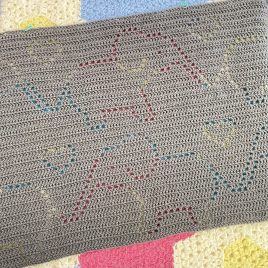 Elephant Love Blanket Duo
Elephant Love Duo includes
the original 2019 Elephant Love blanket
the NEW 2022 Elephant Love blanket (the elephants are a little bigger and a lot cuter!)
the NEW Just Elephants block pattern - great for color blocking in a one-piece (instructions included) or joinable blocks
the graphs for all versions
Additional Pattern Info-
The "Just Elephants" version of this pattern is better for BEGINNERS to Numerical Filet.
The "Elephant Love" blanket is an advanced pattern in terms of Numerical Filet because the pattern is NOT a simple block repeat. Please be sure you understand the Help Guide on page 4 before you start.
These patterns can be worked with any weight yarn and gauge is not important.
Yarn amounts are given for three different projects:

The NEW 2022 version of the Elephant Love Blanket using DK weight yarn with a finished size of approximately ~40x45 inches. 3 elephants wide by 5 high. Each panel is ~9 inches high.
one "Just Elephants" block - which can be used to calculate yardage for an "elephant only" one-piece blanket. Multiply the yarn for one block by the number of elephants you want in your blanket. One elephant repeat is ~16.5 x 11 inches using aran yarn and a 5mm hook.
10% yardage has been added to my measurements to help ensure you have enough yarn to finish your project.

"Elephant Love" can be increased/decreased in multiples of 55+61 stitches across and 23 rows up to make any size blanket.

 

"Just Elephants" can be increased in multiples of 61 sts by 23 rows.
New to Numerical Filet patterns? PLEASE! Read the Help Guide on PAGE 4 of this pattern!
Rated 4.00 out of 5
$

6.00
Add to cart