This month's Song Shawl is FREE! You'll find the pattern below. The song for the shawl is "November" by Gabrielle Aplin. I hope you are enjoying the Song Shawl CAL so far. If you prefer a printable version of the November Shawl it is available in the Song Shawl Pattern Set. If you missed all the squishy details about the Song Shawl CAL, taking place form September 2-023 to August 2024, then you'll want to read this post.
This pattern can be worked with any weight yarn and hook but I created the pattern using a hand dyed sock yarn (80% Superwash Merino + 20% Nylon) dyed by Northern Bee Studio in the 'Wanton' color way.
The fabric created from this pattern is meant to be soft, loose, and stretchy. If you choose to use DK yarn, then I would recommend a 6mm-6.5mm hook. Keep in mind that if you choose to block your work, it should be very stretchy and will grow in size during this process.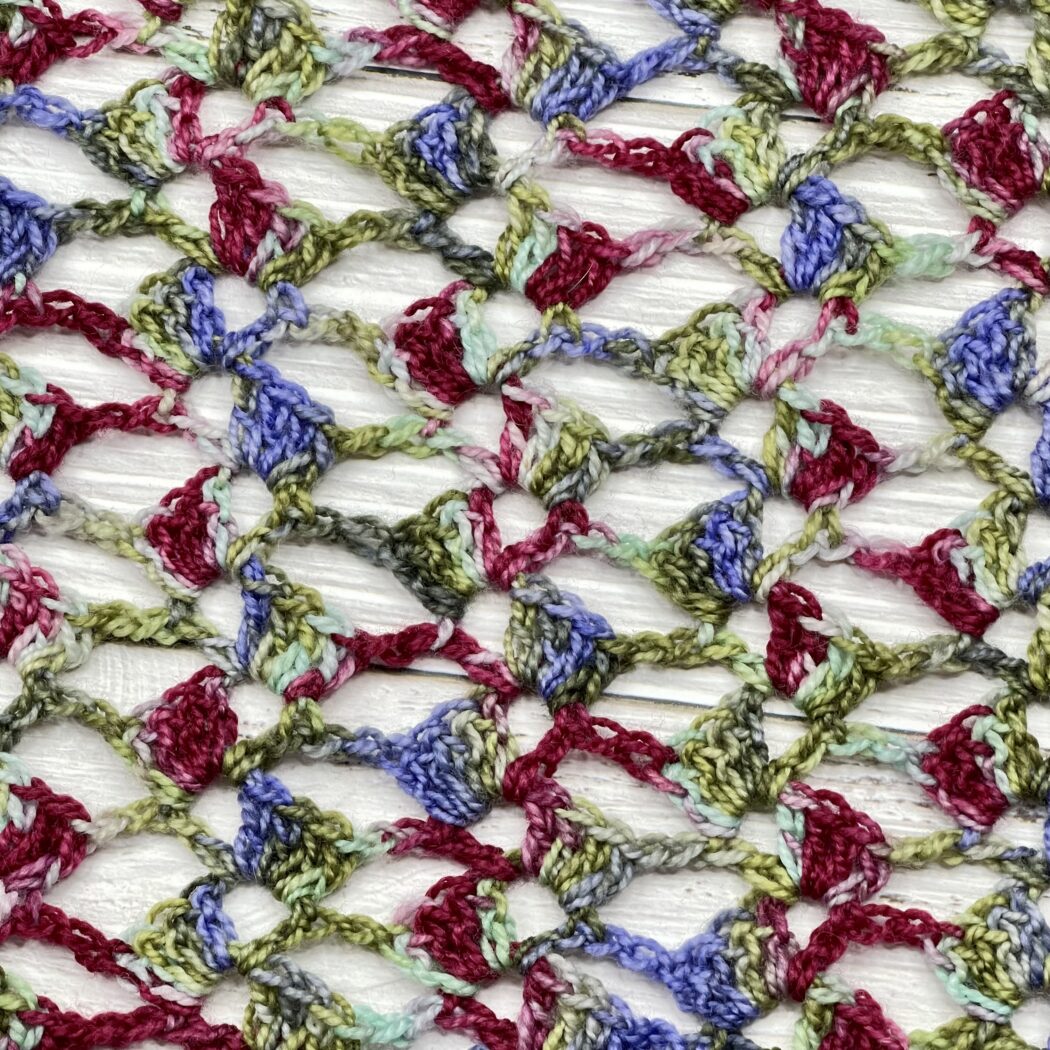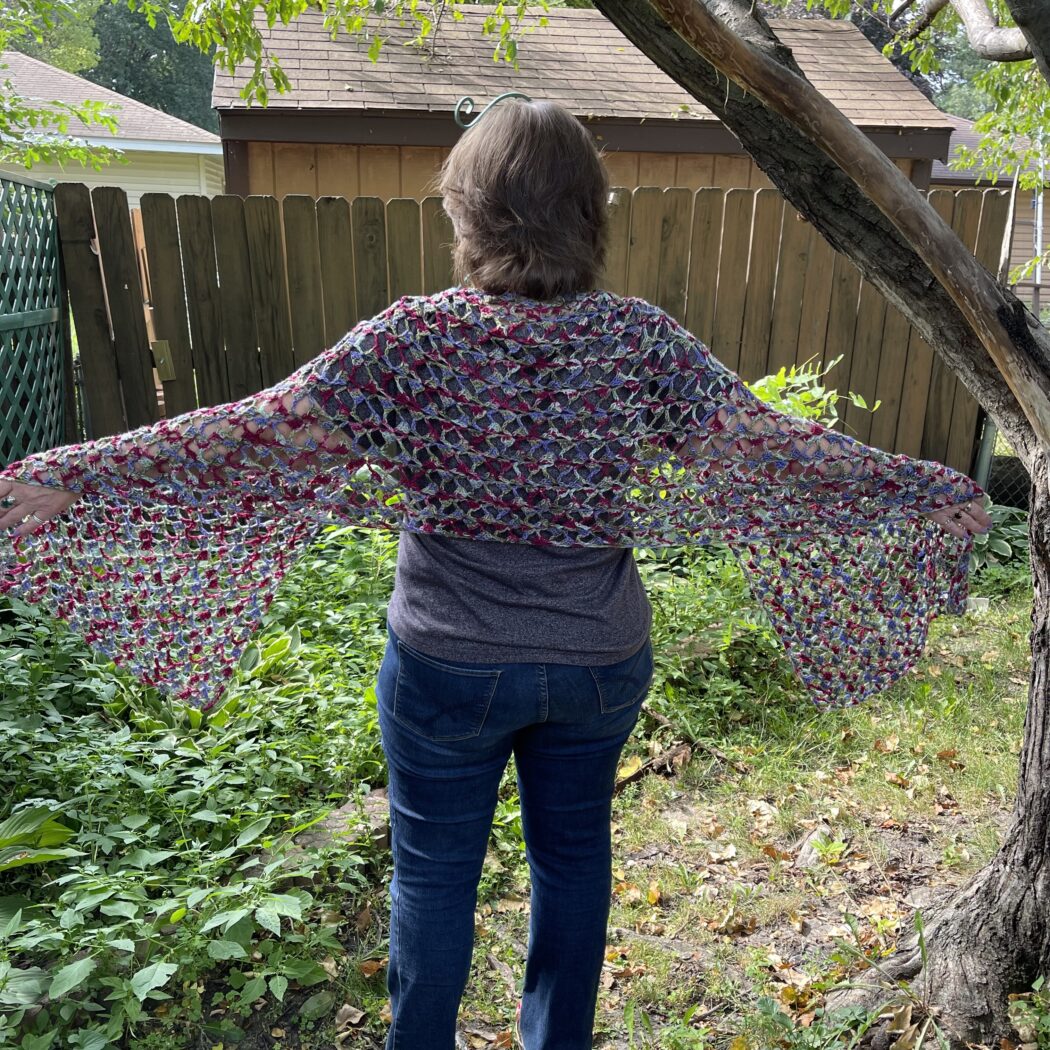 The base width of the pattern is 20 inches wide unblocked – and this changes to 25" blocked (stretching the width tight to its widest). The length will be a matter of personal preference. The yardage listed below should be plenty for all length preferences, as mine is over 7 feet at its unblocked length…which is awesome in my opinion (endless styling options at that size) but probably longer than most would prefer.
Supplies
800 yards (or 200g) in sock weight yarn
5mm Hook
Stitches – US Terms
ch – chain
sk – skip
dc – double crochet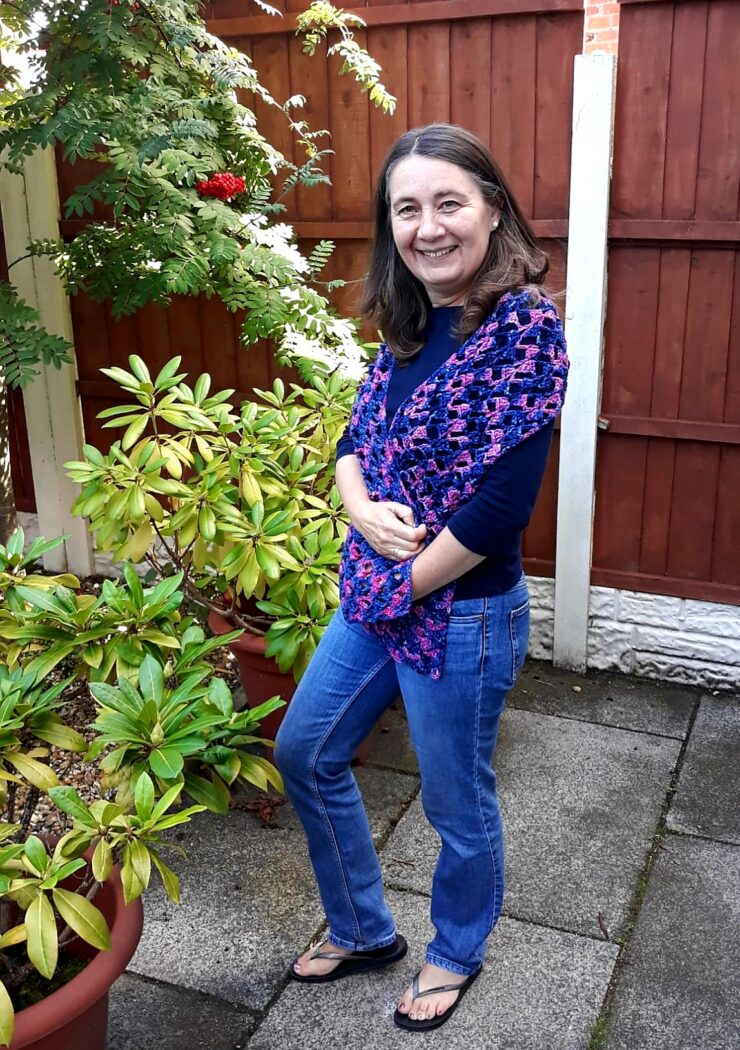 Chain 77 (or any multiple of 12 + 5 more chains)
Row 1: dc in 5th ch from hook (4 skipped chs count as 1st dc + ch1); *ch2, sk 5 chs, (4dc, ch2, dc) in next ch* rep between * across to last 6chs; ch2, sk 5chs, 4dc in last ch.
Row 2: ch4 + turn (ch4 = dc + 1 ch sp); dc in first dc; *ch2, sk next ch2 sp, (4dc, ch2, dc) in next ch2 sp* rep from * across to last 2 ch2 sps; ch2, sk next ch2 sp, 3dc in last ch1 sp, dc in last dc (this is the 3rd ch of the ch4 from the beginning ch/turning ch).
Repeat Row 2 until desired length is reached. Finished off & weave in ends.
❀ ❀ ❀ ❀ ❀
Share your makes! Tag #mayhemandmajestydesigns & mention @mayhemandmajesty on Instagram so I can easily see your projects.
Shop my library of patterns.
Follow @mayhemandmajesty on IG and Facebook 
Join our FB Group Mayhem & Majesty Makers for crochet community!
Sign Up for my newsletter so you never miss a new pattern coupon, giveaway or freebie.
❀ ❀ ❀ ❀ ❀
Please respect my creative rights! You are welcome to sell finished physical crochet items you make from my patterns online or locally. You MAY NOT create for sale or free any patterns which use my designs in any way (in whole or parts). This pattern cannot be resold, rewritten or shared in any way, in whole or in parts, including YouTube tutorials. Thank you!