Sorry if you were looking for this post early this morning. Some of you know I went on vacation (all by myself!) to visit my mom. Well, seems I picked up everyone's "favorite" virus on the plane and what I assumed to be bad allergies after I arrived (I woke up with a sore throat Friday) tuned into a fever and chills and it all hit me pretty hard Saturday night/Sunday morning. Monday my mom had me take a home test to verify what I had. Sure enough: it is indeed everyone's "favorite" virus.
God is good though – because I can't think of many other places I'd feel comfortable being sick besides with my mom!
I've pretty much been sleeping for the last three days. I had to delay my trip home until next week so as not to spread anything to anyone. And I should – honestly anyone who is sick shouldn't travel if they can help it – it's just polite (says the person who clearly contracted an illness on a plane or in an airport).
I may have lots of thoughts on the pandemic, but I have never once said it's not a real sickness. This is my third time around, too. The first was the worst (especially for my husband), the second time though, I only had a headache and a little (extra, haha) tiredness. This third time has been more like the first time, but I seem to be coming out of it easier.
So I'm here in Vancouver until next Monday now, which follows the guidelines for flying after first symptoms appear. Today I slept late, but I am feeling so much more myself. If you know Jesus – I'd appreciate your prayers for a speedy and complete recovery!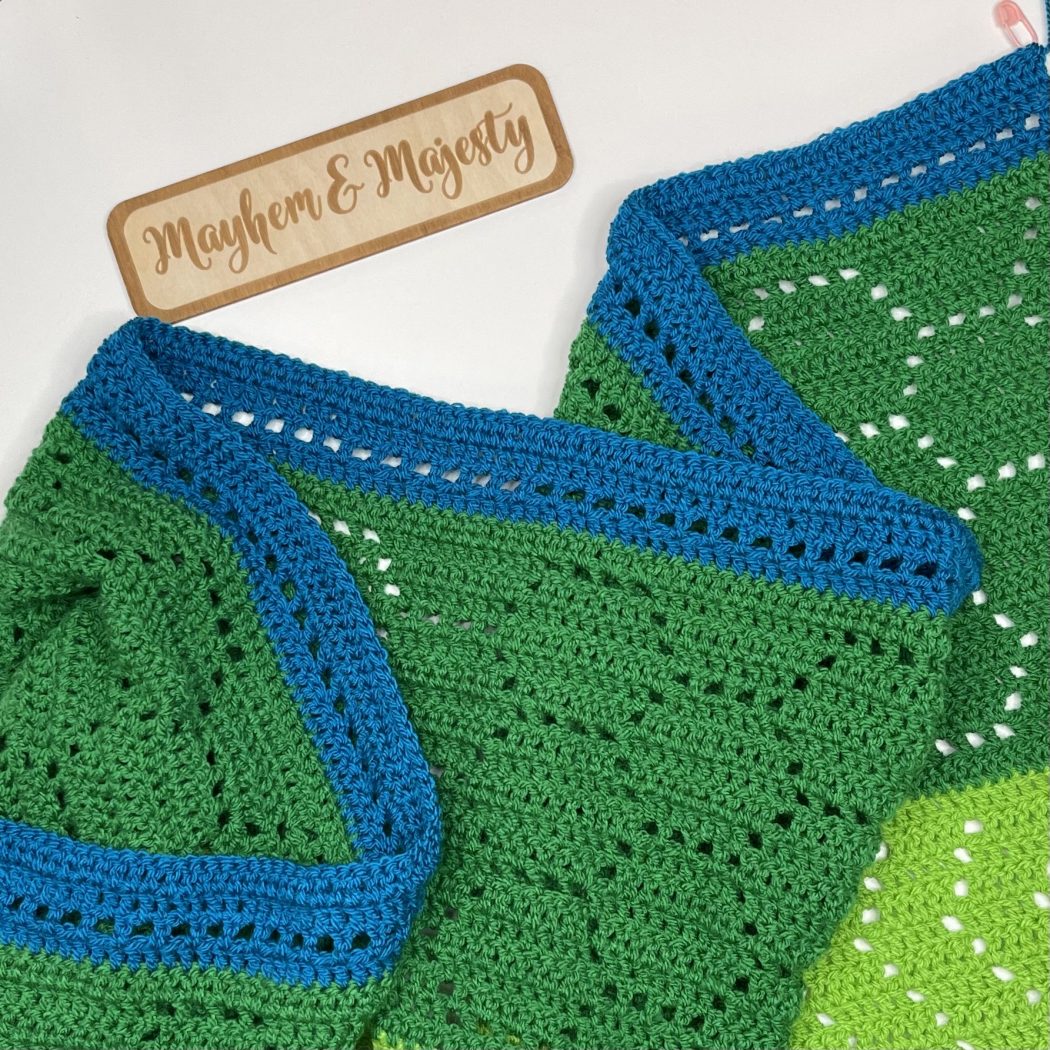 All that to say – here are this week's rows. Better late than never!
Lovely Lines CAL – Week 31
Start of Panel 7. This panel will encompass a lined design with the wording "Lovely Lines" to commemorate the CAL project. If this doesn't excite you, then just skip this panel.
Row 127: dc across – 229 sts
Row 128: 2 , ( 1 , ) all the way across ending on a dc
Rows 129-130 (2 rows): dc across – 229 sts
Just joining us? You can find all the details for the yarn amounts and supplies and such in this details post before you get started.
Be sure to show off your CAL rows each week on IG using #LovelyLines2022FiletCAL so I can see how it's going for you. You can also show off your CAL progress in the Mayhem Makers Facebook Group.
Happy Hooking,
~Becca
❀ ❀ ❀ ❀ ❀
Share your makes! Tag #mayhemandmajestydesigns & mention @mayhemandmajesty on Instagram so I can easily see your projects.
Shop my library of patterns.
Follow @mayhemandmajesty on IG and Facebook 
Join our FB Group Mayhem & Majesty Makers for crochet community!
Sign Up for my newsletter so you never miss a new pattern coupon, giveaway or freebie.
❀ ❀ ❀ ❀ ❀
Please respect my creative rights! You are welcome to sell finished physical crochet items you make from my patterns online or locally. You MAY NOT create for sale or free any patterns which use my designs in any way (in whole or parts). This pattern cannot be resold, rewritten or shared in any way, in whole or in parts, including YouTube tutorials. Thank you!