The #lovelylines2022filetCAL begins in 10 days! The best part is that you don't need to buy anything to join in for this CAL – not even yarn (unless of course you don't have a bin, shelf, closet, or room full of it already).
I don't know about you, but spending so much time stuck at home over that last two years has made online shopping a real issue for me! 😆 Things have been hard and unexpected the past couple years. Sometimes retail therapy makes things feel less frustrating. Especially when it's crafting supplies.
Lockdown? Oh well, Hobbii is selling their cake yarns for 50% off!
Got sick? I'm well enough to scroll, and look! LoveCrafts is having (yet another) yarn sale!
My kids are driving me nuts? And now here's this timely marketing email from Happy Planner – they're having a sticker sale…stickers make me happy!
Lockdown…again?! This sucks, but hey, my favorite indie dyer has a new monthly club to join!
My kids are driving me nuts…again, always and still? Amazon has SO MUCH washii tape!
Yeah. I really have let my spending run a little out of control the last couple years. I realized my spending issue doesn't really stem from the crazy changes in the world, but rather from having my own income that isn't especially ear-marked for anything.
I do plan to make my year more organized and thoughtful. I plan to be more thoughtful in how I spend my time, money, and brain-space. I'm doing this by being more organized in both by business and my personal life (and I'll use that ungodly collection of Happy Planner stickers I amassed over the last 2 years 🤣 double win).
With all that confessed, now you know why the 2022 Filet CAL is designed to be a stash-busting project – so none of us needs to buy any more yarn!
~ Lovely Lines 2022 Filet CAL Details ~
This CAL has been designed for DK weight yarn – but you can also use any weight you have in your stash. But please use all one weight for consistency! Yarn amounts are given below for a DK version which will make a nice twin bed size blanket.
Clues will be released here on my blog every Wednesday in 2022, beginning on January 5th and ending with the final border clue release on November 30th.
There will be a total of 46 weekly clues (189 rows x 229 sts) – at the pace of 4-5 rows per week. We'll spend weeks 47 & 48 working with the special border design – which is going to make a super fun finish to this CAL design!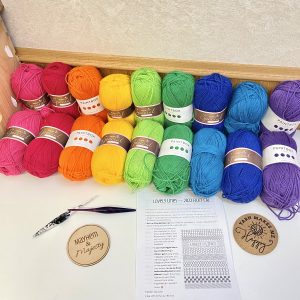 Necessary Supplies-
understanding of Numerical Filet Patterns – check out my guide here
approximately 473 yards DK yarn per panel (x9 panels) for the body and first round of bordering
316 yards DK yarn for the main border
4mm hook
access to the internet to follow the pattern each week
Optional Supplies-
I really hope you'll join in on this year's filet CAL. This will be the third year and I am SUPER excited for the design.
So go bust into that stash and pick your colors! I'll see you back here next week on Wednesday.
❀ ❀ ❀ ❀ ❀
Share your makes! Tag #mayhemandmajestydesigns & mention @mayhemandmajesty on Instagram so I can easily see your projects.
Shop my library of patterns.
Follow @mayhemandmajesty on IG and Facebook 
Join our FB Group Mayhem & Majesty Makers for crochet community!
Sign Up for my newsletter so you never miss a new pattern coupon, giveaway or freebie.
❀ ❀ ❀ ❀ ❀
Please respect my creative rights! You are welcome to sell finished physical crochet items you make from my patterns online or locally. You MAY NOT create for sale or free any patterns which use my designs in any way (in whole or parts). This pattern cannot be resold, rewritten or shared in any way, in whole or in parts, including YouTube tutorials. Thank you!