If you're just finding this CAL you can find all the details for the yarn amounts and supplies and such in this details post.
I realized as I put in the picture below, that I forgot to take it with the pretty rainbow of yarn balls. Since I've already crocheted past this clue, there's nothing to do about it – hopefully the differentness won't bother you as much as it is bothering ME right now 😫
We played "musical rooms" in our house back in November last year and now my craft room is in a very small room upstairs. So of course, it's laid out completely different than when I was commandeering half the basement 😆 and so I think it threw off my photographing groove. I do have better natural light up here though, so that's a nice change!
This week's clue sees the end of the checkered panel. If you've enjoyed this design, you can get it separately in my shop as the Checkmate Blanket formulated for easy repeats of any number to make whatever size blanket, scarf, or wrap you desire!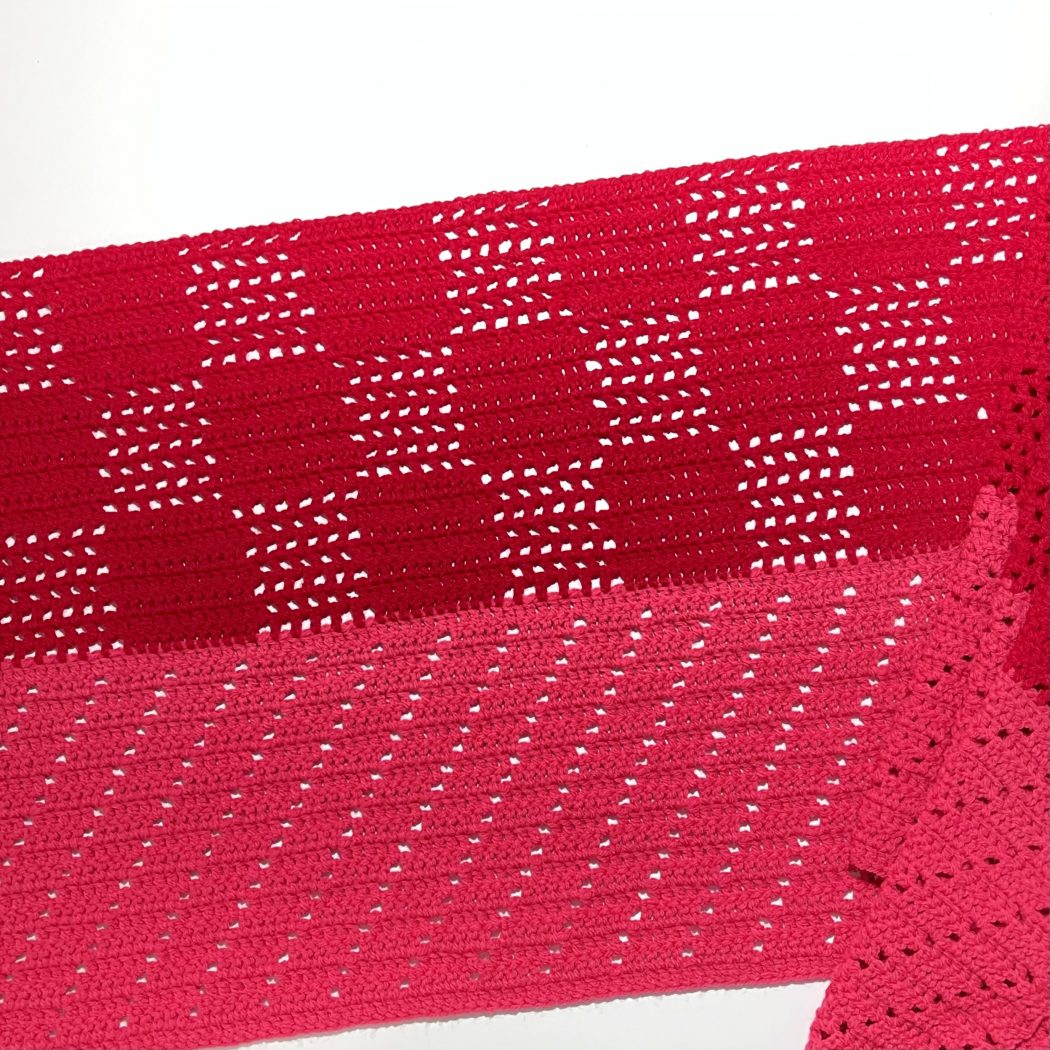 Lovely Lines CAL – Week 10
Row 38: 10 , ( 1 , ) x5 then [ 11 , ( 1 , ) x5 ] x9 then 10
Row 39: 11 , ( 1 , ) x4 then [ 13 , ( 1 , ) x4 ] x9 then 11
Rows 40-41: repeat rows 38-39
Row 42: repeat row 38
End of Panel 2
Be sure to show off your CAL rows each week on IG using #LovelyLines2022FiletCAL so I can see how it's going for you. You can also show off your CAL progress in the Mayhem Makers Facebook Group.
Happy Hooking,
~Becca
❀ ❀ ❀ ❀ ❀
Share your makes! Tag #mayhemandmajestydesigns & mention @mayhemandmajesty on Instagram so I can easily see your projects.
Shop my library of patterns.
Follow @mayhemandmajesty on IG and Facebook 
Join our FB Group Mayhem & Majesty Makers for crochet community!
Sign Up for my newsletter so you never miss a new pattern coupon, giveaway or freebie.
❀ ❀ ❀ ❀ ❀
Please respect my creative rights! You are welcome to sell finished physical crochet items you make from my patterns online or locally. You MAY NOT create for sale or free any patterns which use my designs in any way (in whole or parts). This pattern cannot be resold, rewritten or shared in any way, in whole or in parts, including YouTube tutorials. Thank you!