Well, it's that back-to school time. Maybe you've already started? We enjoyed meeting our kids' new teachers for the year at open house last night (with another open house for the middle schooler tonight). It got me thinking about all the fun little goodies I'd like to bless our teachers with this school year. I had fun last year sending them little surprises for each holiday season. Well, ready or not, Christmas – and all the other winter holiday celebrations – are just a few months away. (Yikes, I know.)
Or hey – if you haven't begun school yet, you still have time to bust these little babies out before Labor Day as a back-to-school teacher surprise. They take about 10 minutes each. How fast can you single crochet?! I'm mad fast.
A cup cozy makes a fabulous teacher gift, all you need to do is put it in a little cellophane bag with some chocolates. Boom! Merry Christmas, teachers. You can also add a coffee shop gift card for an extra special treat.
This size cozy also happens to fit and work great on the stainless steal cups we use at home. It's helpful for little hands (and big ones, too) when drinks are super cold and have lots of condensation on the outside.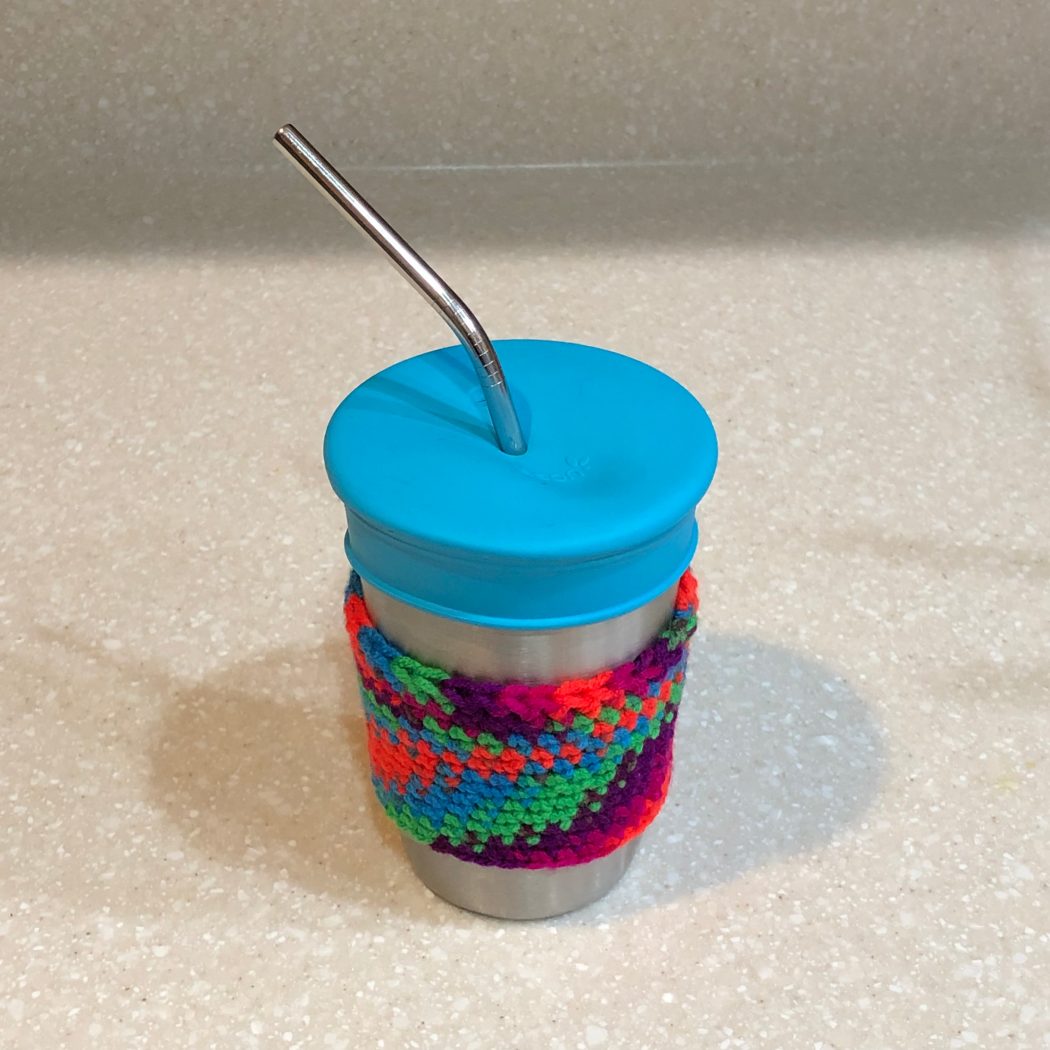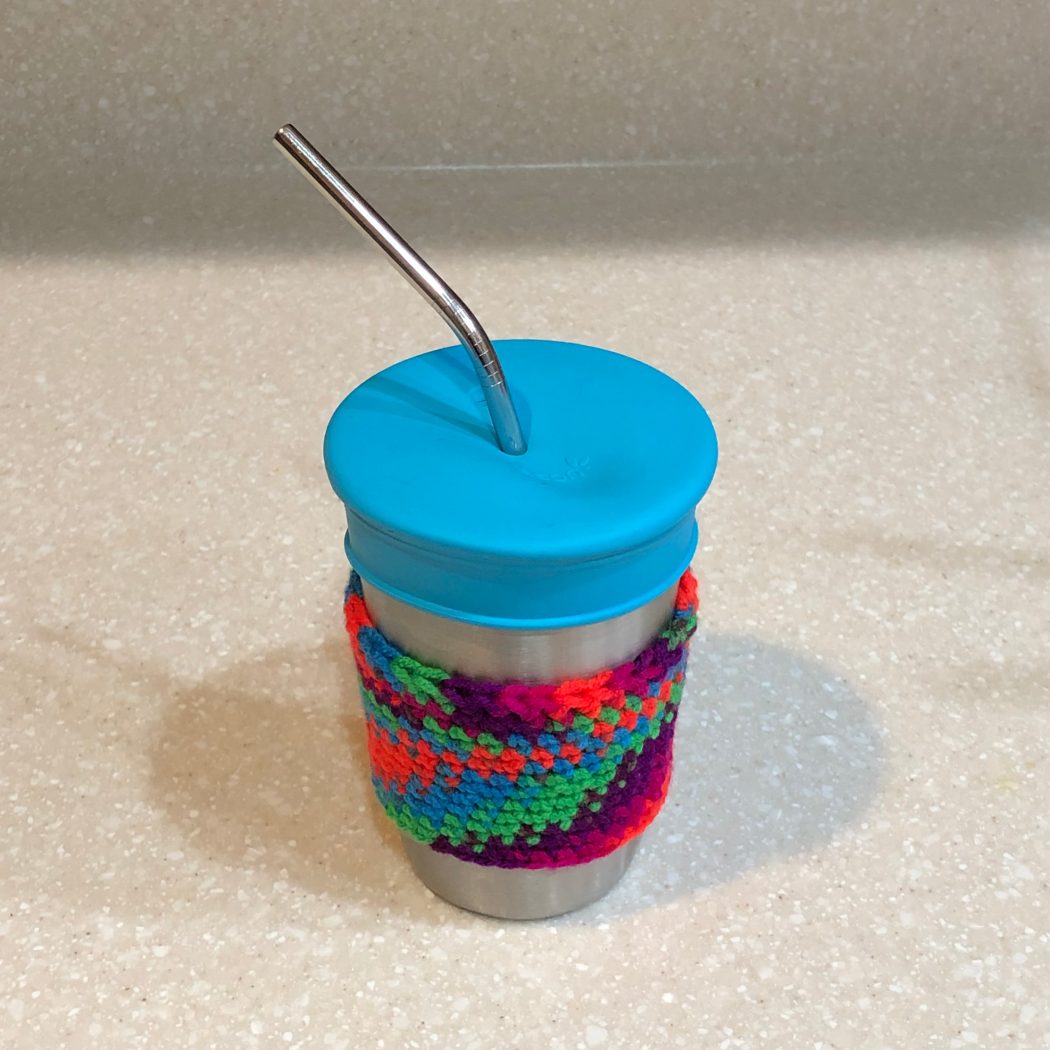 So, let's make a cozy! They are super simple and work up super fast. The only new thing you may learn is FSC, or foundation single crochet. This revolutionary little stitch knocks out both the starting chain and the first row of your work when a pattern calls for a long chain and then a row of sc, hdc or dc.
Check out a Foundation Single Crochet tutorial from Lion Brand Yarn here.
Row 1: FSC 37 and, being careful not to twist your work, sl st to the first sc to make a ring.

Row 2-12: Ch1, sc in same st as joining. Sc around, joining with a sl st to your first st of the round. (37 sts)
Sew in your ends and, BOOM! Cup cozy complete.
Now you can go bust out a dozen and have your teacher Christmas/Kwanza/Hanukkah (aka "winter holiday") gifts well underway.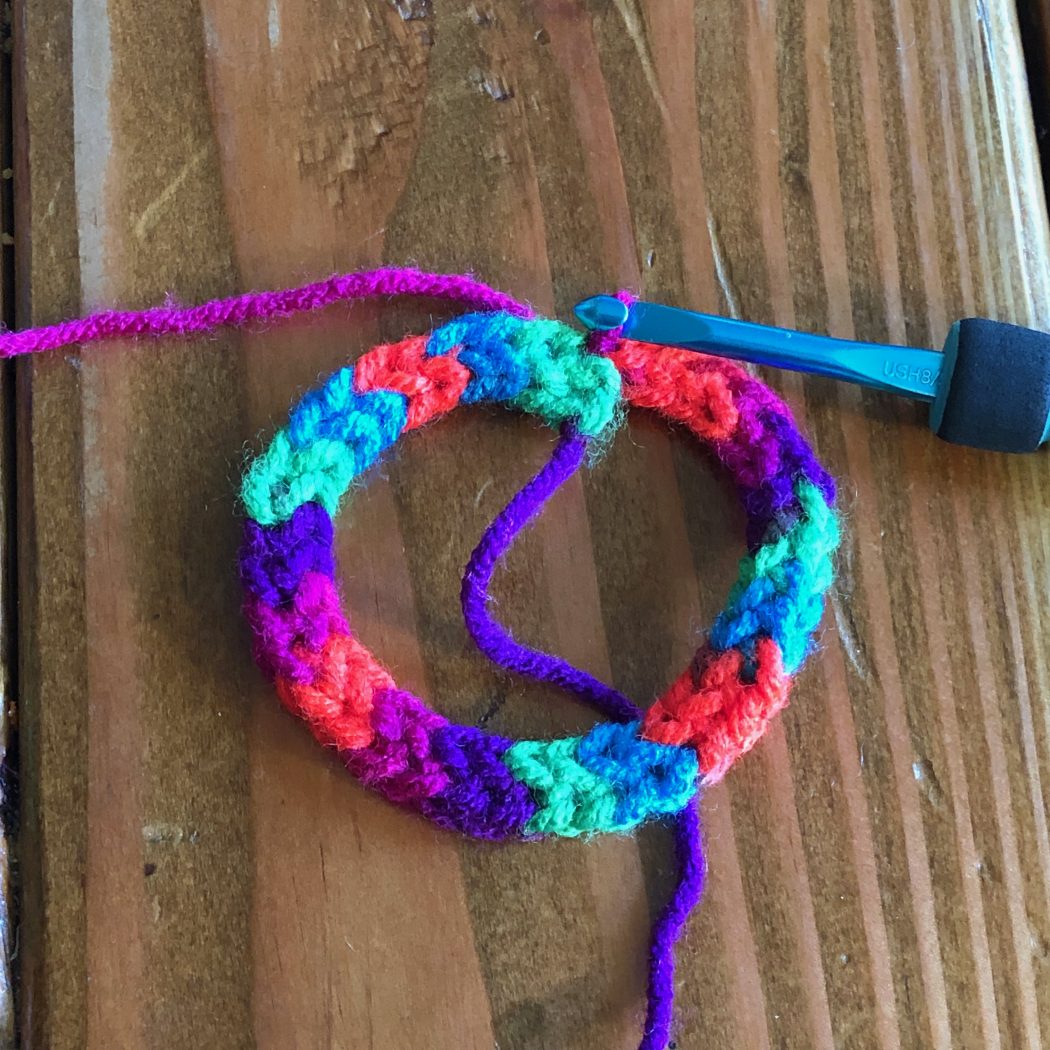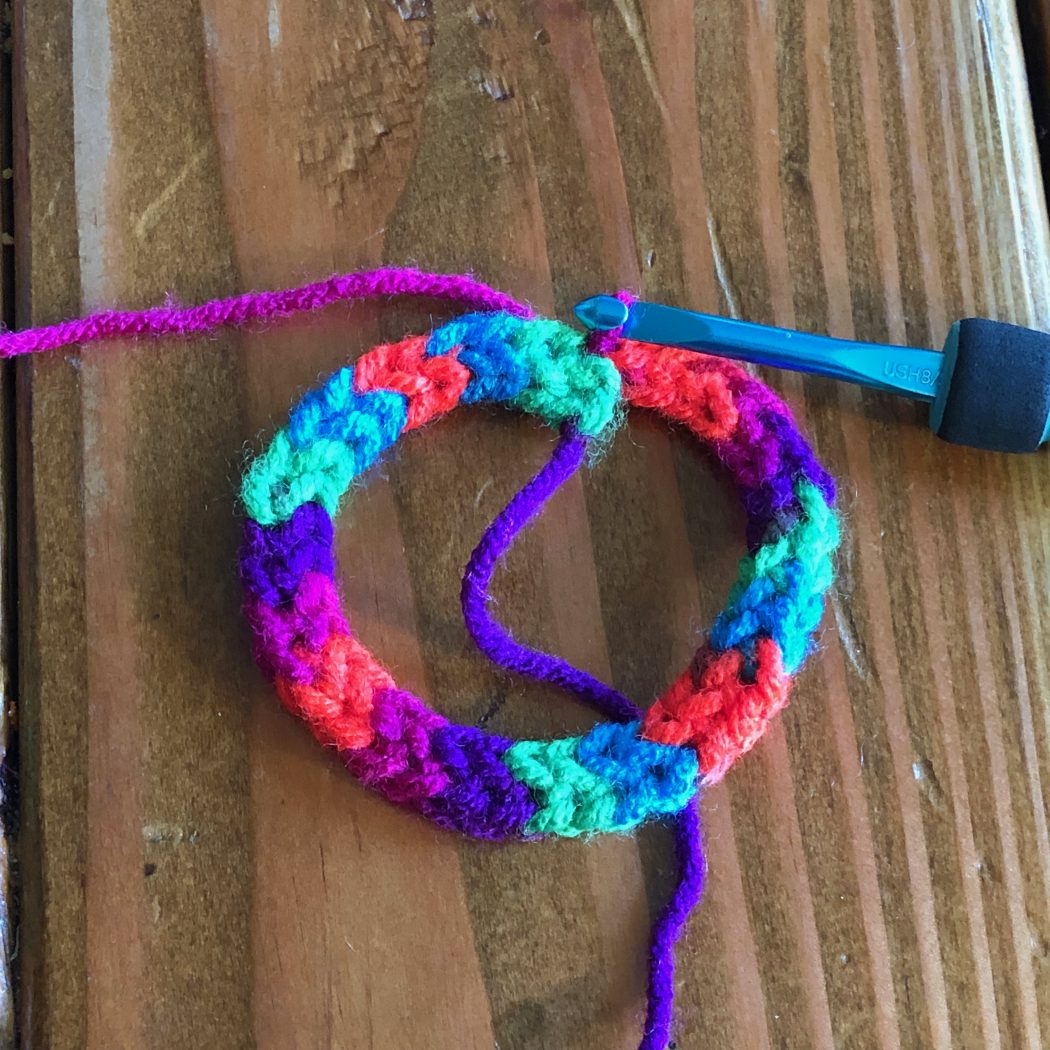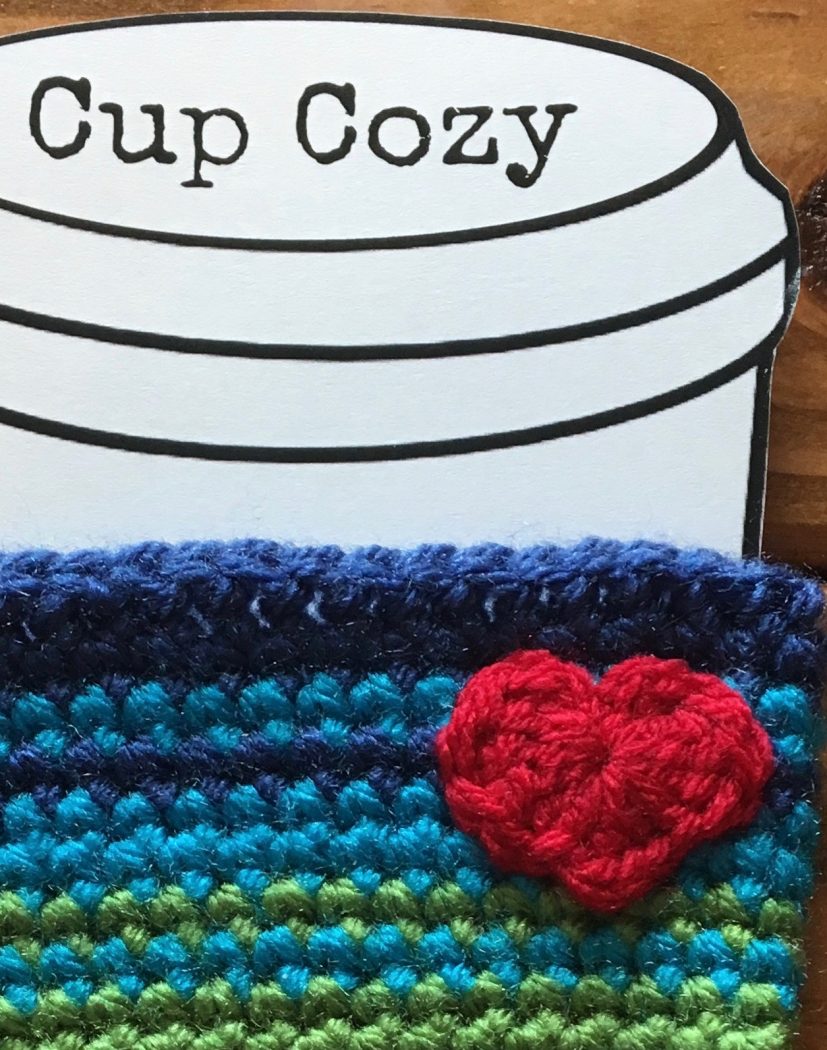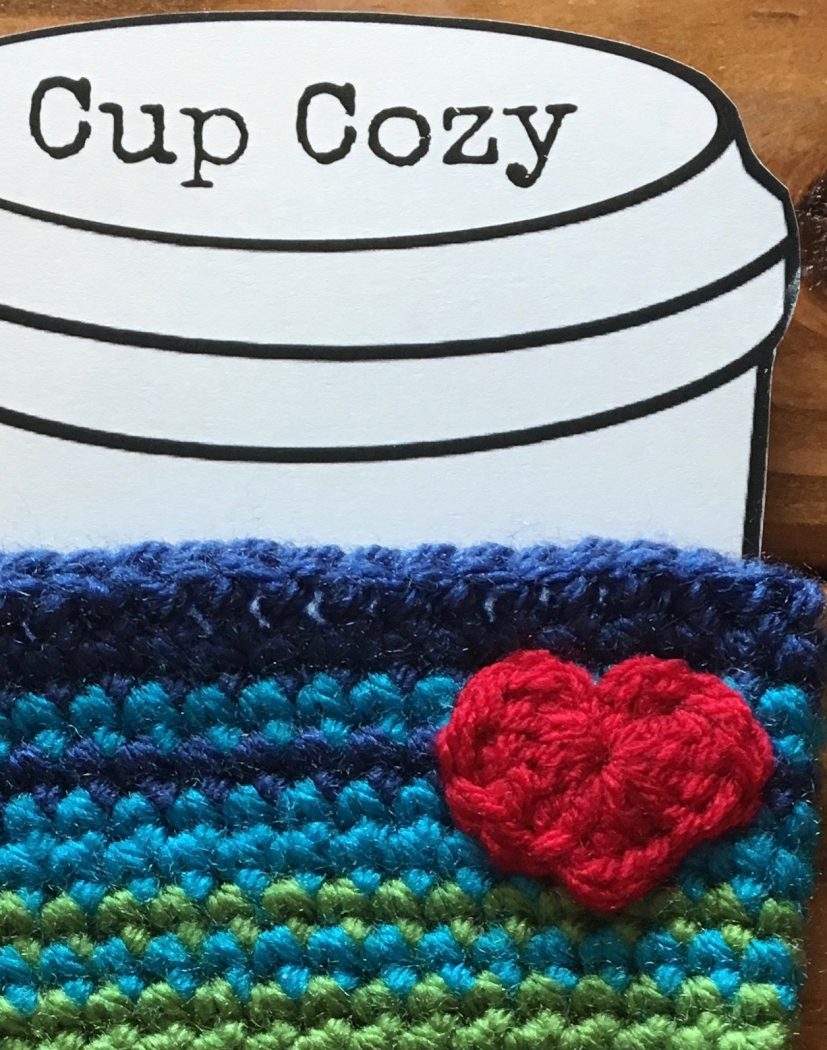 Want to add a little extra LOVE? Here a quick little heart you can bust out to sew to the cozy. I'll call it the "Magic Heart" (haha):
Using the magic circle technique, ch2 and make into the ring: dc, 3tr, dc, hdc, ch1, tr, ch1, hdc, dc, 3tr, dc. Join to starting dc with a sl st. Pull the magic ring tight.
MAGIC HEART!
Here too, is a completely blank cup file (2 cups on a page) for you to download (in Pages or in Word format) and easily customize (use text boxes you can move around and place where you need on the cup). I recommend including washing instructions on the cozy card somewhere (I like to do it in the center so it's under where the cozy sits). Print these cozy cup cards out on card stock, cut them out, and slip the on the cozy for a perfect little gift.
Happy hooking, hooker peeps!
❀ ❀ ❀ ❀ ❀
Share your makes! Tag #mayhemandmajestydesigns & mention @mayhemandmajesty on Instagram so I can easily see your projects.
Shop my library of patterns.
Follow @mayhemandmajesty on IG and Facebook 
Join our FB Group Mayhem & Majesty Makers for crochet community!
Sign Up for my newsletter so you never miss a new pattern coupon, giveaway or freebie.
❀ ❀ ❀ ❀ ❀
Please respect my creative rights! You are welcome to sell finished physical crochet items you make from my patterns online or locally. You MAY NOT create for sale or free any patterns which use my designs in any way (in whole or parts). This pattern cannot be resold, rewritten or shared in any way, in whole or in parts, including YouTube tutorials. Thank you!
-Becca