View cart
"Happy Hippo Blanket" has been added to your cart.
Little Lion Blanket
Pattern can be worked with any weight yarn and hook.
Pattern can be worked in traditional filet blanket panels or as granny squared filet blocks
The base designs is 55 sts wide by 30 rows.
Graphs included.
This design is part of the Safari Friends Pattern Pack E-Book!
Featured Tester Photos-
Little Lion Granny Block close up by Janelle @nelliescrochetniche
Little Lion Block (with stuffed lion prop) feature by Debby @debbyshaaksels
Category: Animal Blankets
Tags: baby lion blanket pattern, baby lion crochet blanket, crochet, crochet blanket, crochet blanket pattern, crochet lion blanket, crochet pattern, filet crochet, granny squares, little lion blanket, mayhem and majesty, safari baby, safari blanket, safari friends blanket, safari nursery
Related products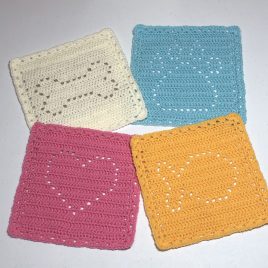 I Love My Pet Pattern Pack
4 separate deigns for 60% off!
I Love My Pet - 4 interchangeable designs - 2 ways (blocks or panels) - 9 unique design combos - ENDLESS project possibilities!
This pattern can be worked with any weight yarn and hook.
Each of the 4 designs is 33 sts wide by 18 rows.
Patterns are given as single repeats so you can combine them to your liking across a panel or make joinable blocks.
You can combine designs in a panel however you wish, but I've included SOME popular panel options (paw & heart / paw & bone / paw & fish).
Featured Tester Photos-
Joined Grey & Red Granny Block example hooked by Wendy Howell @67WendyHowell
Paneled Blanket example hooked by Kaye @Kfrogga
Rated 5.00 out of 5
$

5.75
Add to cart