safari blanket
Showing all 5 results
Sale!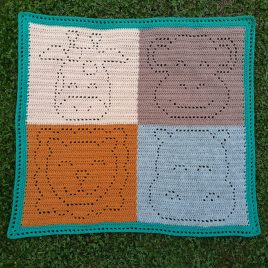 Safari Friends 4-Pattern Set
Mix & Match Animals: the Safari Friends Pattern Pack
These patterns can ALSO be found in the Mix & Match Animals eBook where you'll find all 20 Mix & Match animals in a lovely eBook for only $2.50 per pattern!
This pattern can be worked with any weight yarn and hook, but finished sizes and generous yarn amounts are provided for DK yarn.
Yarn amounts and sizing are given for both joinable blocks and a one-piece baby blanket (2 animals wide by 2 animals high).
This pattern can be increased in multiples of 55 sts and 30 rows to make any size blanket.
New to Numerical Filet patterns? Please read the Help Guide on PAGE 4 of this pattern!
Supplies Needed
One Joinable Granny Block ~14" SQ
~213 yards (66g) DK yarn
4mm Hook
Stitch Markers
One-piece Blanket ~ 28" SQ
~680 yards (211g) DK yarn
~214 yards (66g) for the Simple Border
4mm Hook
Stitch Markers
Featured Tester Photos-
please see picture captions for photo credits
Add to cart