Here's a run down of the last three weeks of the CAL:
Border Week One (this week): sc edging & end sewing
Border Week Two: Ladder Border (3 rounds)
Border Week 3: I'm introducing a totally NEW design for M&M blanket borders: the Bobble Pom-Pom Edging!
Be sure to show off your CAL on IG using #LovelyLines2022FiletCAL so I can see how it's going for you. You can also show off your CAL progress in the Mayhem Makers Facebook Group.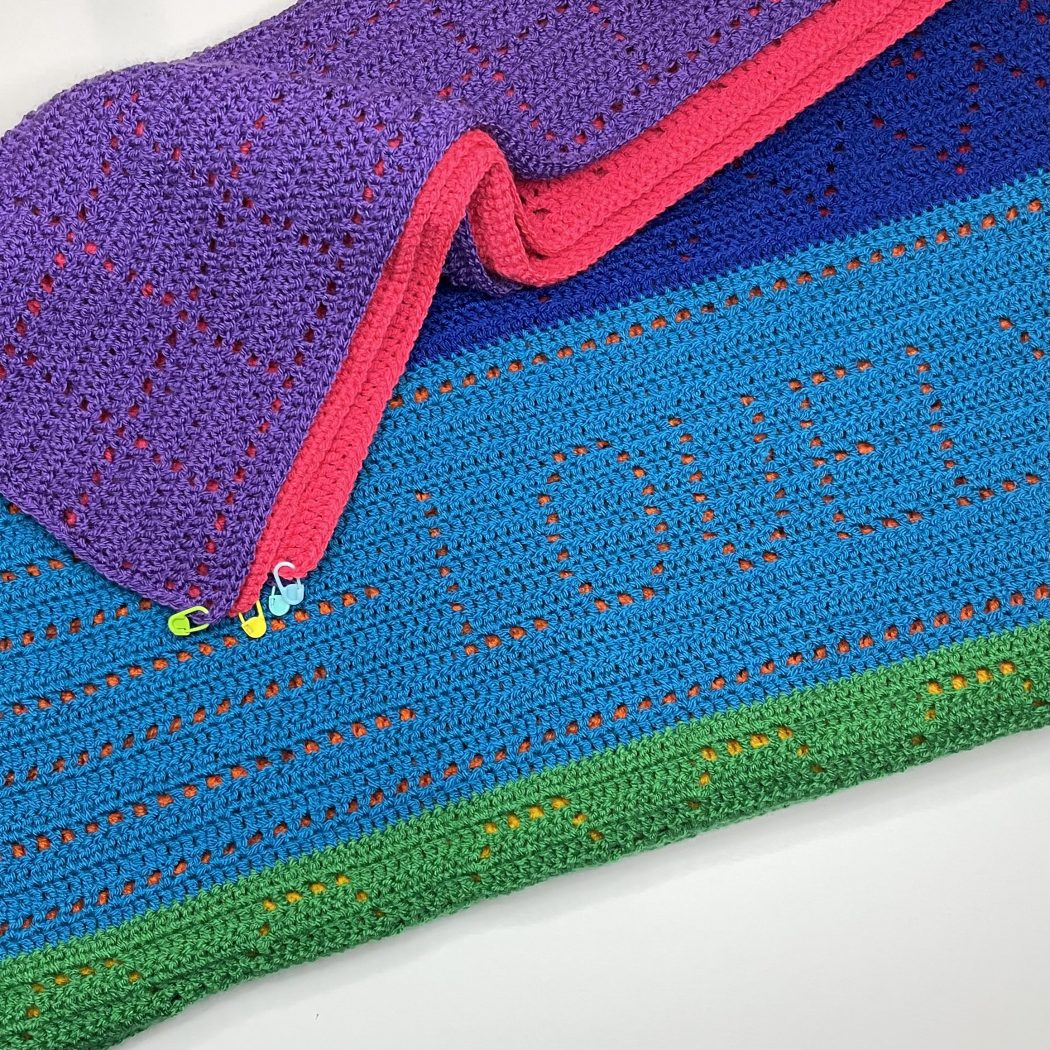 Lovely Lines CAL – Border Week 1 (Week 46)
If you used a different color for each panel, I suggest you change colors to match each panel around the perimeter during round 1.
If you used cake yarn or changed colors every few rows, pick a nice contrasting color for rounds 1-4 of the border (white, black or grey will probably work best). Then you can go back to the cake or color changing for the pom-pom portion of the border if you wish.
Rnd 1: with RS facing (you can read the "Lovely Lines" panel) Join border color in the top right st of the last row. Make 2sc in the very first st (first sc is corner), then sc across. 2sc into the last st (last sc is corner). 2sc around each dc post (or row) down the side. 2sc into the first st along the bottom of the work (first sc is corner). Sc across, 2sc in last st (last sc is corner). 2sc around each dc post (or row) up the side. Join with a slst to your first sc. Finish off color.
Top/Bottom: 229 sc
Sides: 378 sc (2 sc around the post of the dc at the end of each row)
Corners: 1 sc
Sew in all your ends, too!
Just joining us? You can find all the details for the yarn amounts and supplies and such in this details post before you get started.
Happy Hooking,
~Becca
❀ ❀ ❀ ❀ ❀
Share your makes! Tag #mayhemandmajestydesigns & mention @mayhemandmajesty on Instagram so I can easily see your projects.
Shop my library of patterns.
Follow @mayhemandmajesty on IG and Facebook 
Join our FB Group Mayhem & Majesty Makers for crochet community!
Sign Up for my newsletter so you never miss a new pattern coupon, giveaway or freebie.
❀ ❀ ❀ ❀ ❀
Please respect my creative rights! You are welcome to sell finished physical crochet items you make from my patterns online or locally. You MAY NOT create for sale or free any patterns which use my designs in any way (in whole or parts). This pattern cannot be resold, rewritten or shared in any way, in whole or in parts, including YouTube tutorials. Thank you!