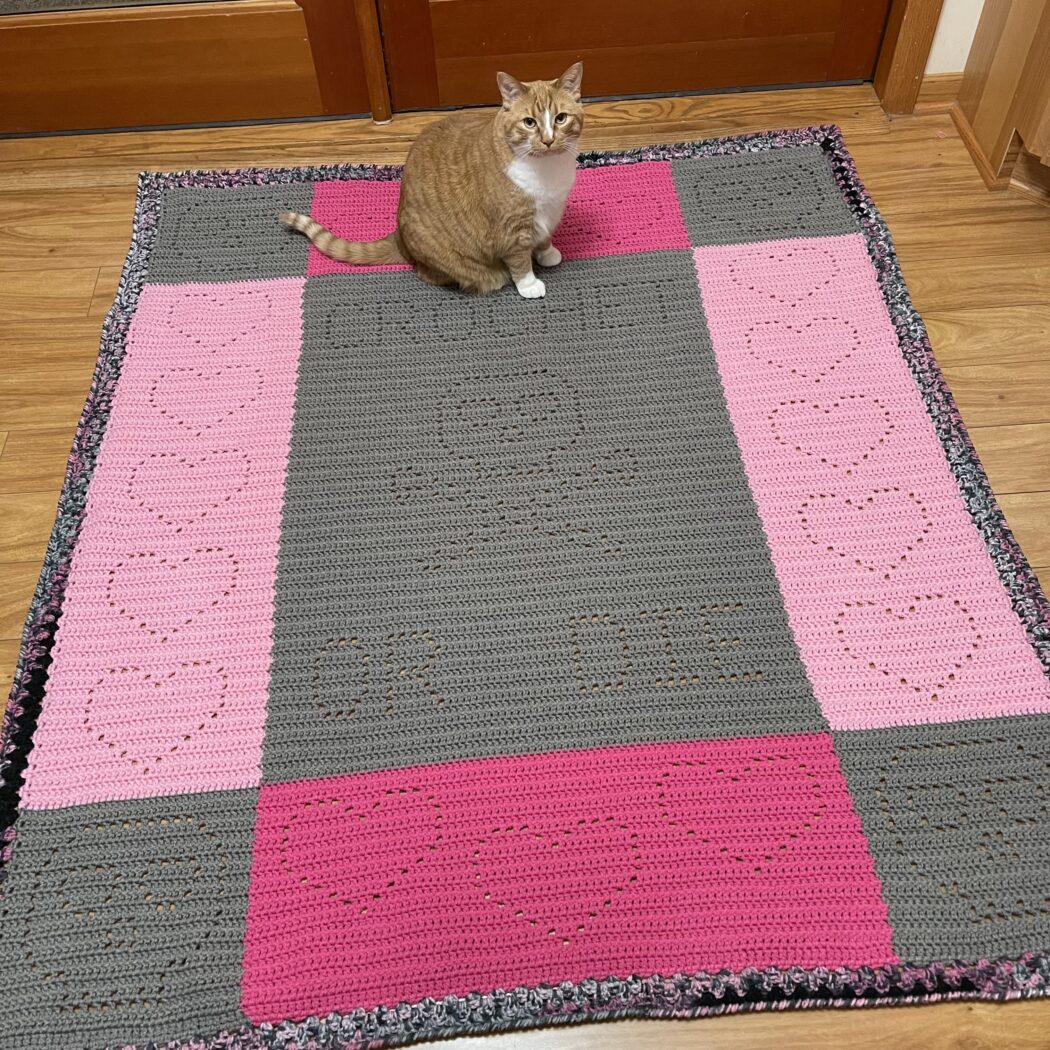 I think this is my most favorite design I have ever created…and with over 100 designs, that's saying something!
The Crochet or Die blanket pattern was inspired by the awesome stickers made by Lisa of Green Fox Farms. Lisa was fine with my turning the pirate-y crochet sticker into a filet pattern, which made my day.
Lisa sells crochet & knitting themed stickers, hoodies, tanks (and more!) in her Etsy shop. She custom-made this Crochet or Die pink hoodie for me and I LIVE in it…when it's not 80 degrees out 😆 when it's hot like it is now…I wear my Crochet or Die tank I got from Lisa last summer 😎
Be sure to follow Green Fox Farms on Instagram or Facebook so you know when her hoodie pre-orders open next. I don't know if this custom one will make it into her next hoodie preorder run or not..but I have a STRONG feeling it will. 😉 If you just can't wait, then you can message her on Etsy, I'm sure she'd be happy to make one for you.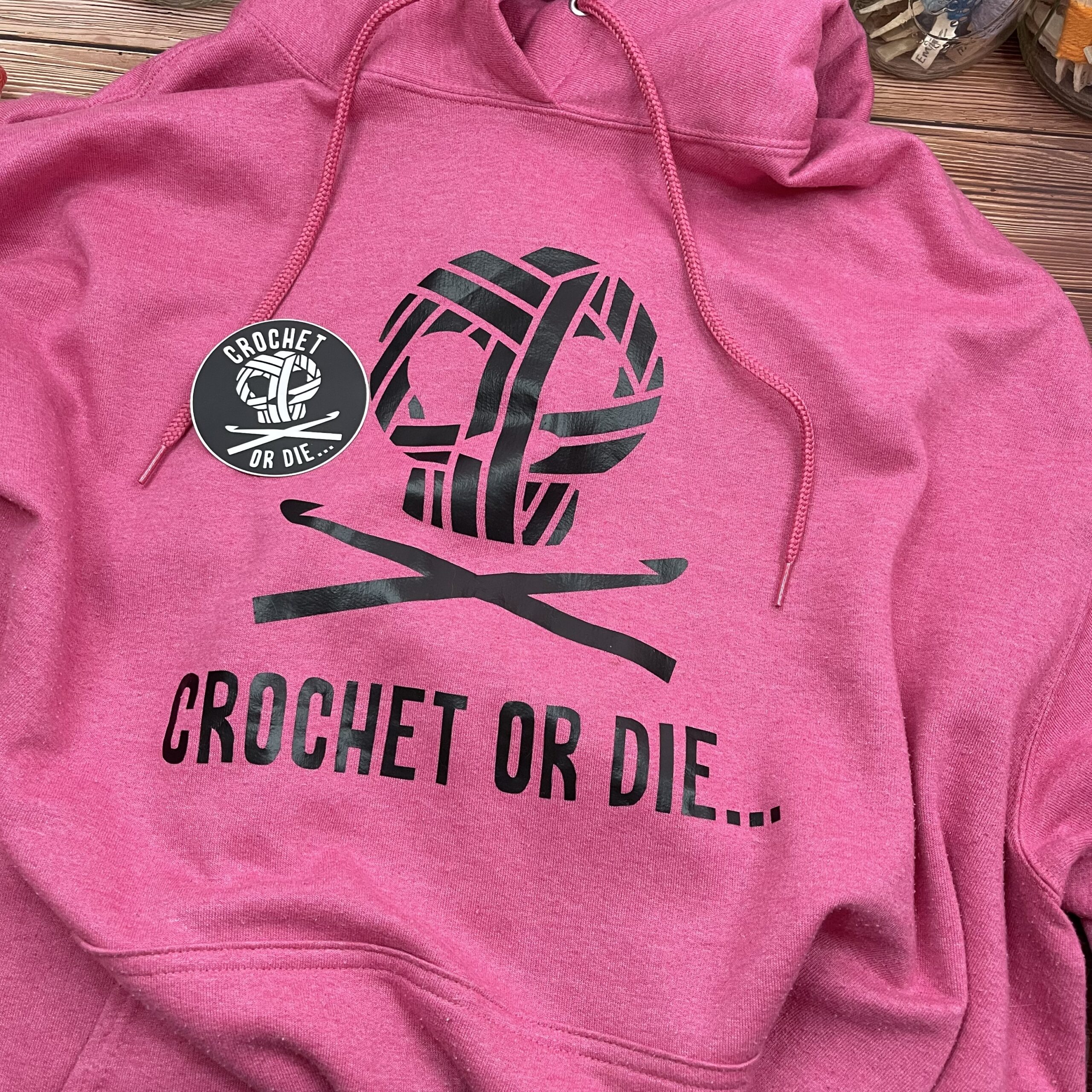 Alright…on to the showcase! Below you can see all the cool version my testers created for their Crochet or Die blankets – including a couple modified versions (at the end) which will blow you away!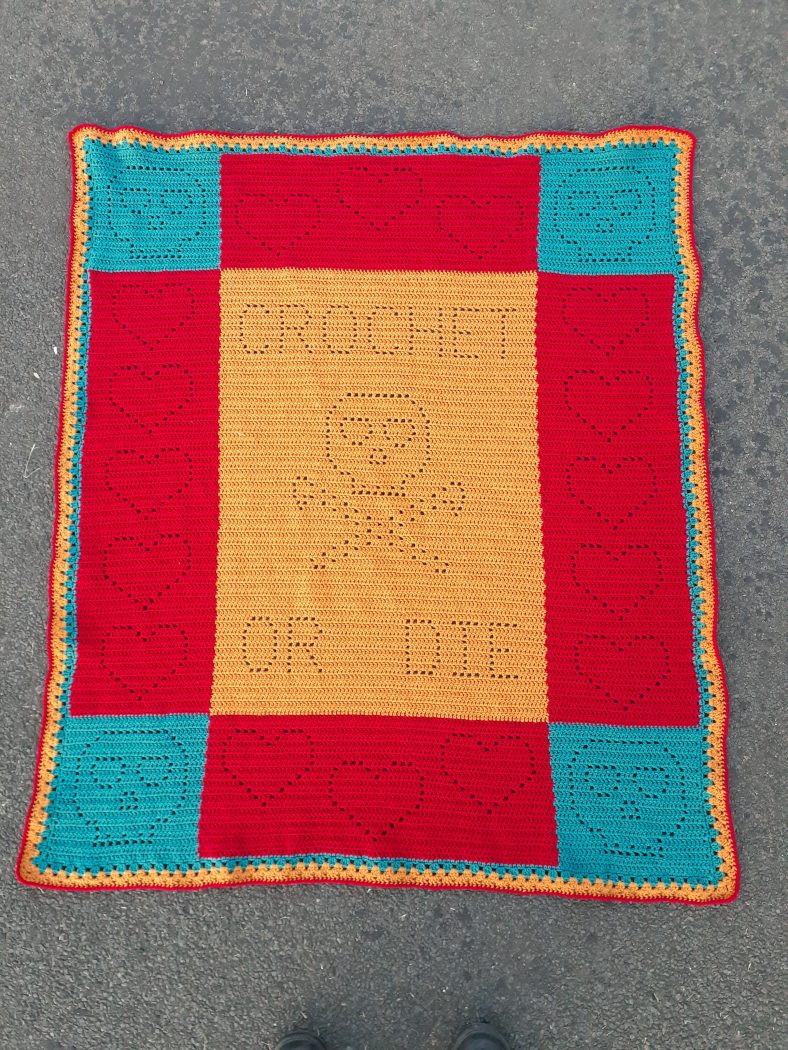 Stitched by: Sharon Dodd
Yarn: 4 Season's Marvel 8ply Acrylic in Mallatd, Claret, and Gold
Hook: 4.5mm
Finished Size: 45 x 52 inches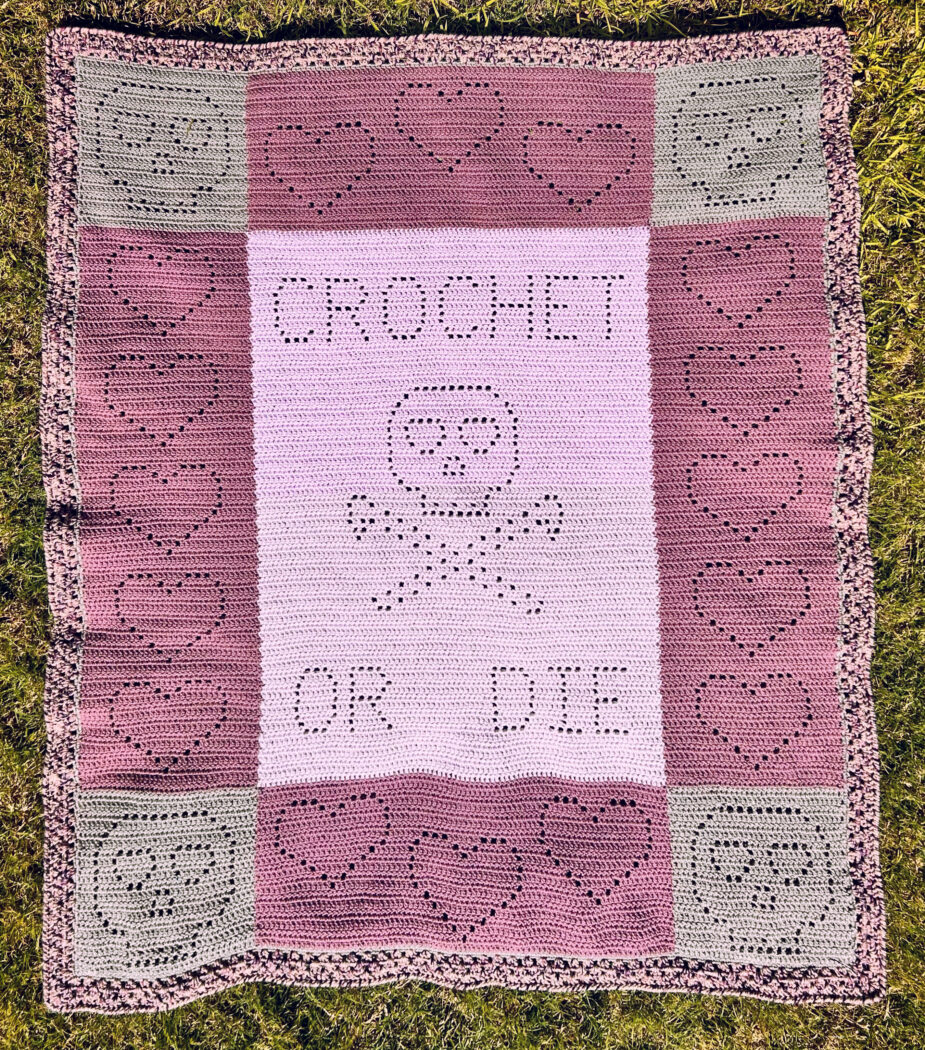 Stitched by: Jeannette Register
Yarn: I Love This Yarn (worsted) in Graybeard and Orchard & Impeccable (worsted) in Plum and Purple Bark
Hook: 5mm
Finished Size: 54 x 64 inches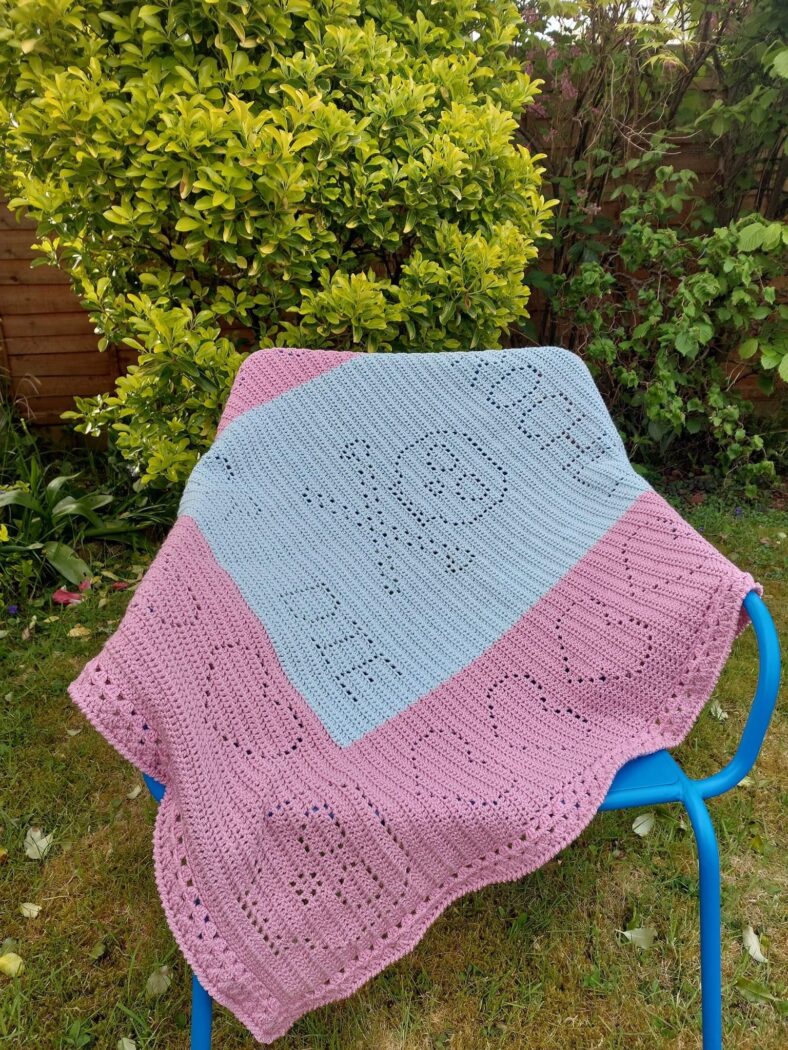 Stitched by: Claire Pringle
Yarn: Stylecraft Special DK in Pale Rose & Duck Egg
Hook: 4mm
Finished Size: 40 x 46 inches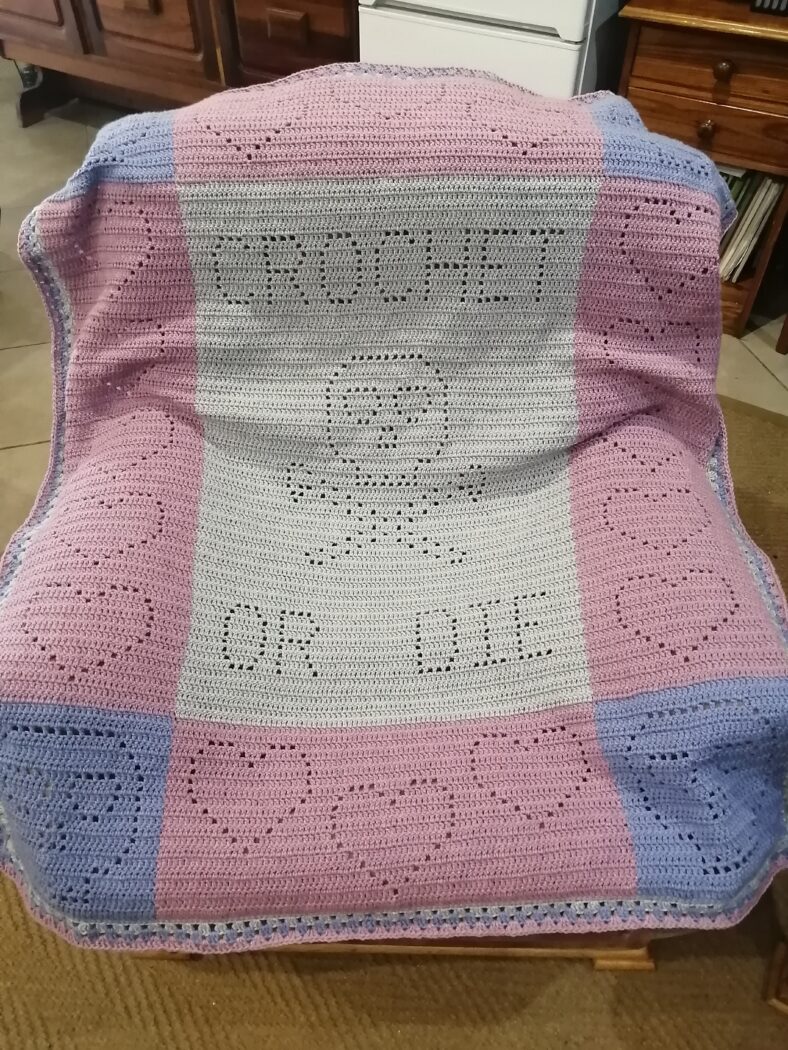 Stitched by: Desmond Hopkins
Yarn: Elle Charity DK in Mauve, Thistle, and Concrete
Hook: 4mm
Finished Size: 43 x 52 inches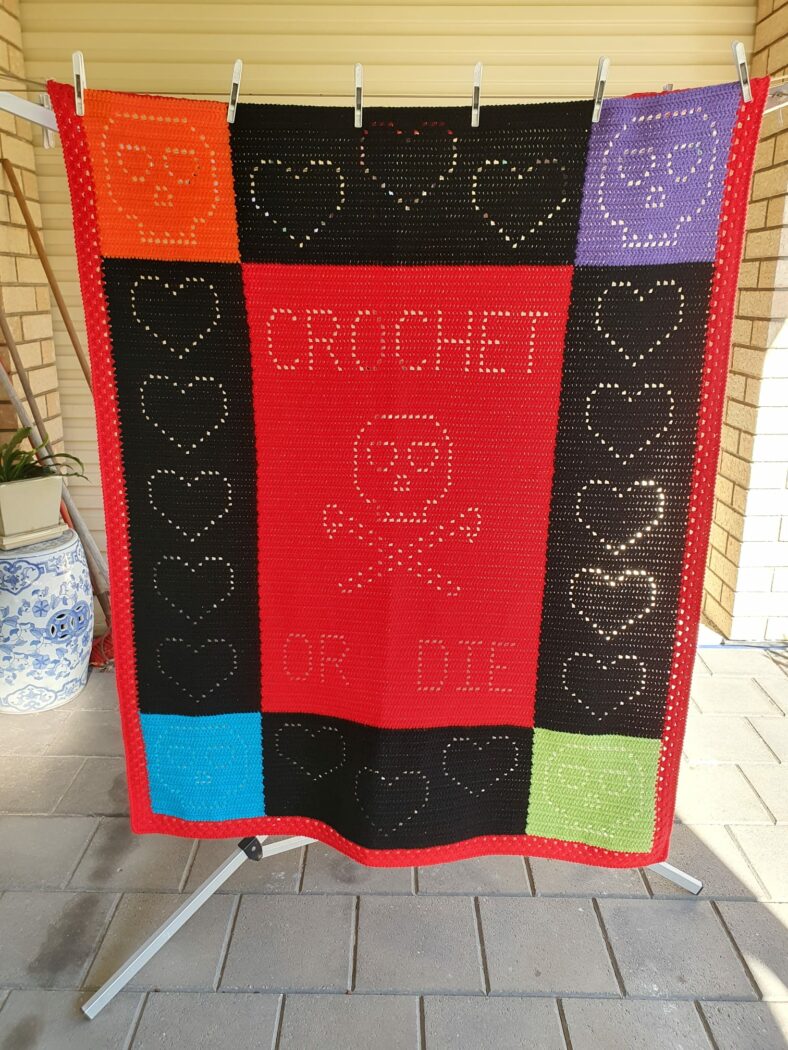 Stitched by: Wendy Howell
Yarn: Carnival 8ply acrylic in black, red, orange, purple, green and blue
Hook: 4mm
Finished Size: 93 x 213 cm
Stitched by: Anita Hards
Yarn: Deramores anti-pilling DK in Grey, Vanilla, Jade, Ruby Rose, and Sky
Hook: 4mm, Clover Amour
Finished Size: 40 x 52 inches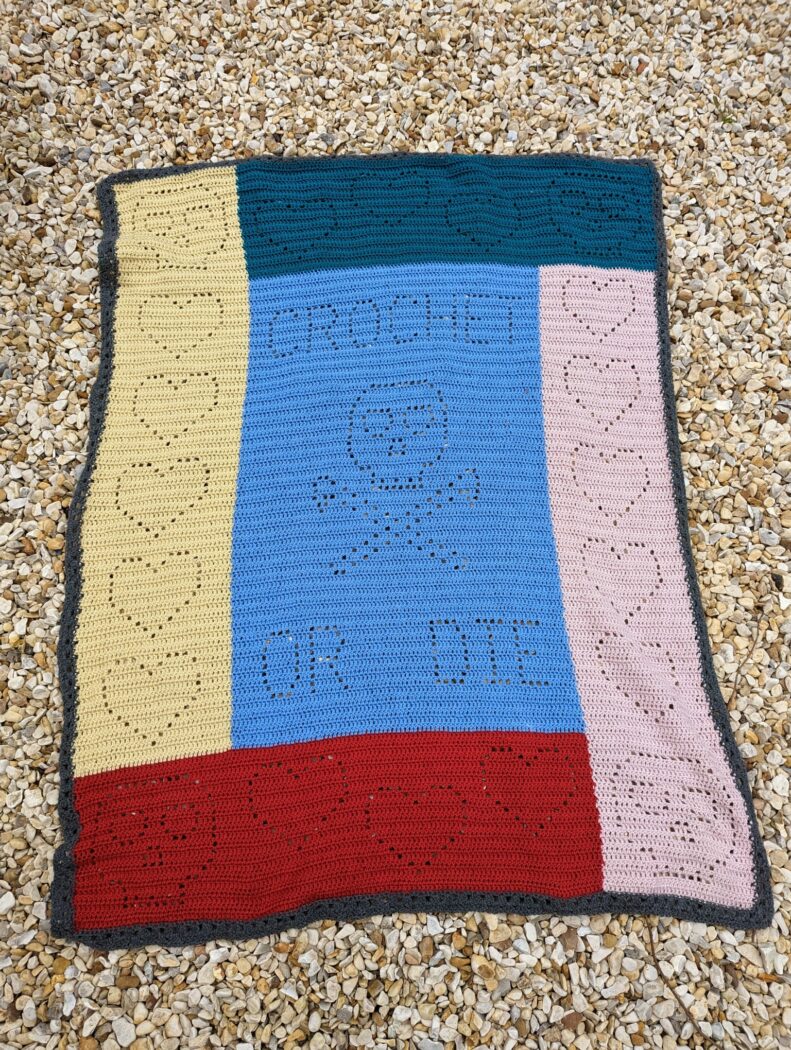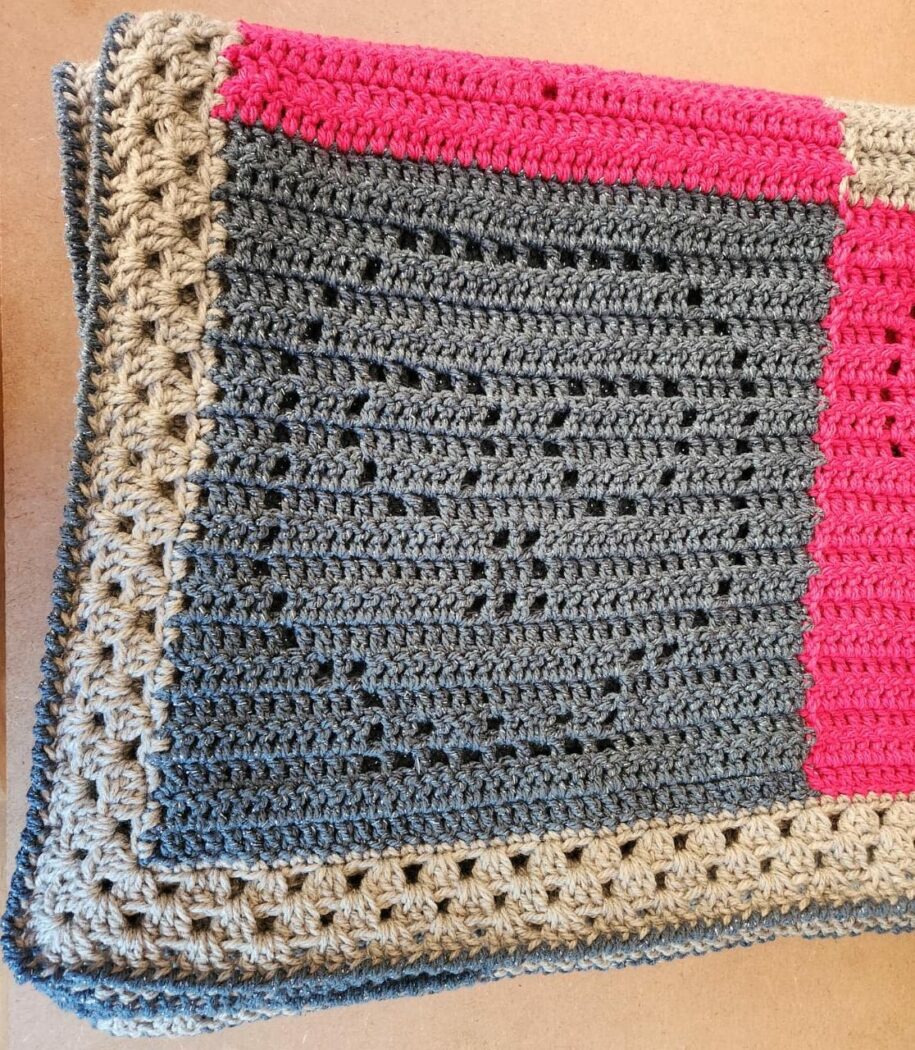 Stitched by: Marcelle Willemse
Yarn: Charity DK in Fuchsia & Silver Grey + Lollipop Twinkle in Jeans (sparkle yarn!)
Hook: 5mm
Finished Size: 53 x 63 inches
💥 Tests with Modifications to the pattern 😱
These came out awesome! Just note that these crocheters used their own skills to modify what is in the pattern. See modification notes to learn what they did and how.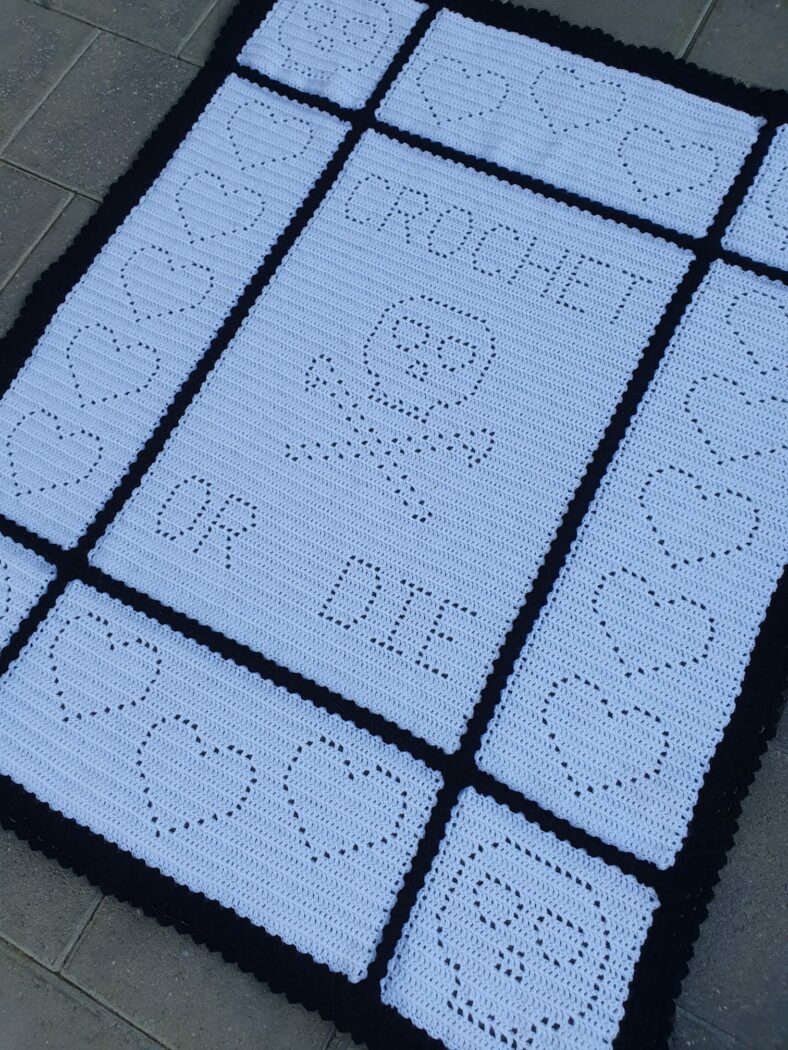 Stitched by Wendy Howell
Wendy did a SECOND blanket in the time of the test period (she's super fast) and did THE most awesome thing ever: she turned the design into joinable granny blocks! Below is the "granny-ing" formula she used for each different block type.
Initial SC Edging – Use the same "2sc, 1sc, 2sc" (5-stitch pattern) described for the regular blanket sc edging – including the 2sc into the 1st & last st on the top/bottom to create the corner sts.
Granny-ing Formula – Corner clusters (3dc, ch1, 3dc) are not noted in the formula below, but would be made into each corner sc stitch.
Skull Blocks
Top/Btm: GCD, 9 x GC, GCD
Sides: 11 x GC
Center Heart Blocks
Top/Btm: GCD, 25 x GC, GCD
Sides: 11 x GC
Side Heart Blocks
Top/Btm: CGD, 9 x GC, GCD
Sides: GCD, 38 x GC
Crochet or Die Block – be sure to turn so the right side is facing -you can read the words- before adding the sc edging to this block!
Top/Btm: GCD, 26 x GC, GCD
Sides: GCD, 38 x GC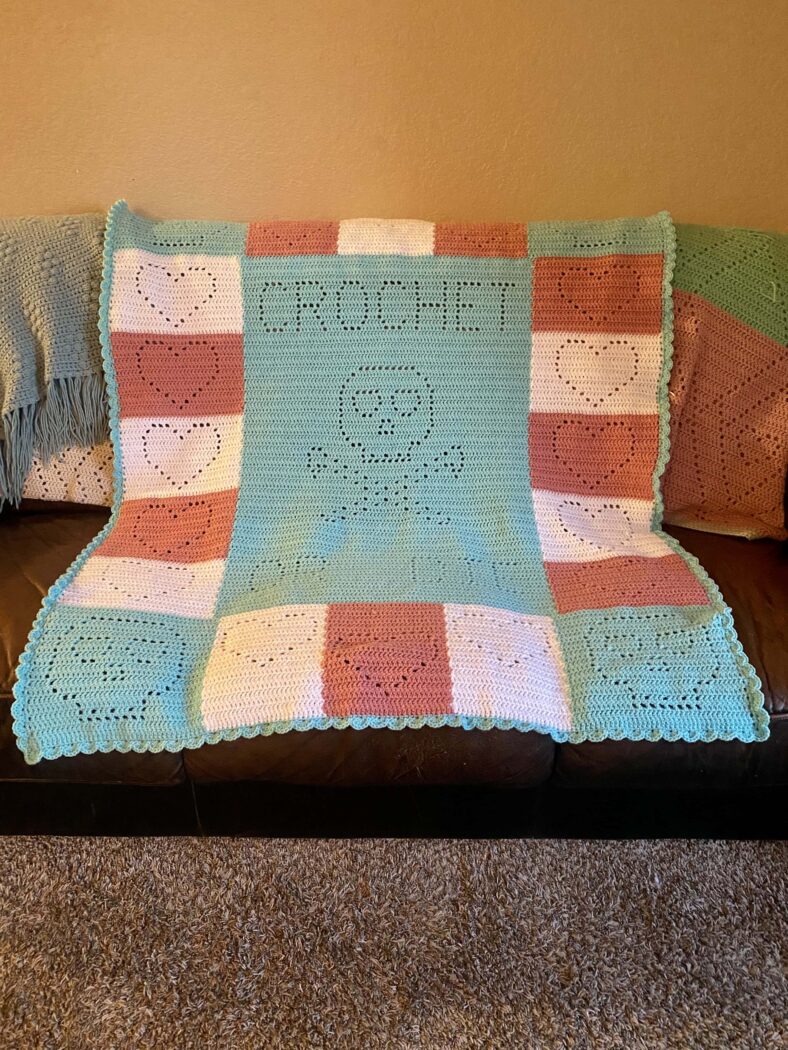 Stitched by: Nikki Robertson
Nikki changed colors at every heart in each panel containing hearts. This is not marked off in the pattern, but you could easily consult the graph to decide where to make different color changes than I put into the pattern originally! Nikki also did a lovely shell border.
Yarn: Pink, blue: worsted weight Big Twist ; White: worsted weight RHSS
Hook: 5mm
Finished Size: 43 x 54 inches
Weren't these GREAT?! I hope you're inspired to go hook up your own version of Crochet or Die, and I sincerely hope you'll share you pictures with me – because that is the coolest part of my job: seeing what you make! I don't currently have a way for pictures to upload on reviews, but you can email them to Becca at mayhemandmajesty dot com.
~Becca