The Beethoven Blanket
The Beethoven blanket is sure to delight music lovers of all ages! 
Pattern features three different treble clef rhythm panels in 4/4 time.
Blanket can be created with any weight yarn and hook.
Using DK and a 4.5mm hook, finished size measures approximately 44×51 inches.
Featured Tester Photos-
Red Beethoven by Laura Anderson @thecraftycow4
Blue & White Beethoven by Vicky @handcraftedbytwicky
Related products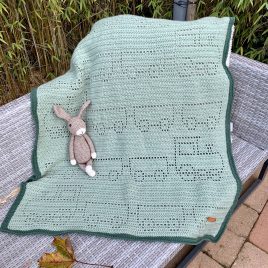 All Aboard! Blanket
CHOO! CHOO! All Aboard!
Hook up this cute train blanket using the yarn and the colors of your choice. Pattern is given in both numerical notation and a graph is included as well. Blanket featured was hooked by the amazing Debby Jenniskens who you can find on IG and Facebook as @debbyshaaksels
This pattern can be worked with any weight yarn and gauge is not important. Yarn amounts are given for the blanket pictured using DK weight yarn, a 4.5mm hook and the specified repeats with a finished size of approximately 36x43 inches.
This pattern can be increased/decreased in multiples of 32 + 41 more stitches across and 19 rows up to make any size blanket.
I recommend making a swatch (one full graph picture) with your desired yarn and hook. Measure to decide how many repeats you need to get the blanket size you want.
Yarn amounts are APPROXIMATE as personal tensions vary.
Rated 5.00 out of 5
$

5.25
Add to cart