The Beethoven Blanket
The Beethoven blanket is sure to delight music lovers of all ages! 
Pattern features three different treble clef rhythm panels in 4/4 time.
Blanket can be created with any weight yarn and hook.
Using DK and a 4.5mm hook, finished size measures approximately 44×51 inches.
Featured Tester Photos-
Red Beethoven by Laura Anderson @thecraftycow4
Blue & White Beethoven by Vicky @handcraftedbytwicky
Related products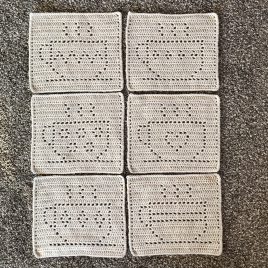 Cozy Tea Time Throw
Hook up these cute tea cups in panels or as joinable blocks to create a joinable blanket, posters, all hangings, cushions - the possibilities are endless!
INCLUDES 7 TEA CUP DESIGNS!
- Big flower - striped - zig zag - polka dots - diamonds - tiny flowers AND - a BONUS heart tea cup design, which was a free pattern published in @CrochetZine Issue 20, February 2020 Solid panled blanket featured was hooked by Ally Joy of @ohjoy.crochet Joined blocks design was hooked by Crystal Forrester of @peridotandpolkadots
This blanket can be EASILY sized up or down and can be made with any weight yarn and hook size preferred. Directions for sizing are included.
Pattern is written in numerical filet, which is quickly becoming the best filet reading and writing method out there. Clear instructions are given for this easy to understand pattern writing technique, and a graph is included as well.
This pattern can be worked with any weight yarn & desired hook.

 

Following the throw pattern as written in panels, throw will measure about 40 by 50 inches.

 

Blanket can be increased/decreased in multiples of 42 stitches across and 21 rows up to make any size blanket. Make a swatch (one tea cup, 42 sts x 21 rows) with your desired yarn and hook. Measure your block and decide how many repeats you need to get the width and length you want.
For joinable blocks - work each tea cup separately, doing round one of the border to complete the square. Join with desired method - all squares will have 42 sc per side with 1sc for the corners. Blocks measure about 7.5x8.5 inches in DK with a 4.5mm hook.

 
Rated 5.00 out of 5
$

6.00
Add to cart