Dump Truck Blanket
Fall in love with the new Dump Truck design! A sure hit will all the little construction site fans.
Hook up your own Dump Truck Blanket blanket using the yarn and the colors of your choice.
Pattern is given in both numerical notation and a graph is included as well.
Blankets featured were hooked by my fabulous tester Debby (see photos for additional credit into).
This pattern can be worked with any weight yarn. This pattern can be increased in multiples of 71 stitches across and 22 rows up to make any size blanket.
Category: Vehicle Themes
Tags: baby blanket, boy blanket, construction machine, construction machine blanket, construction site nursery, crochet, crochet baby blanket, crochet blanket, crochet blanket pattern, crochet construction machine, crochet dump truck, crochet pattern, crochet tractor blanket, dump truck, dump truck blanket, filet crochet, mayhem and majesty, under construction, vehicle blanket
Related products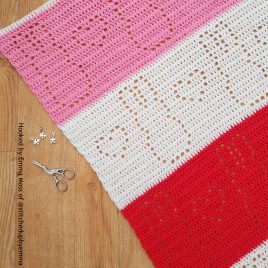 Some Bunny Loves You Blanket
Hook up this sweet bunny and hearts blanket for a perfect baby shower gift or to sell in your shop and at craft fairs.
Pattern is written in numerical filet, which is quickly becoming the best filet reading and writing method out there! Clear instructions are given and pattern graph is included as well.
This pattern can be worked with any weight yarn and gauge is not important. Yarn amounts are given for a blanket using DK yarn and making the number of repeats noted in the pattern directions for a finished size of approximately 32x45 inches.
This pattern can be increased or decreased in multiples of 30 + 21 more stitches across and 19 rows up to make any size blanket.
I recommend making a swatch (see page 8 for a quick bunny swatch pattern) with your desired yarn and hook. Measure to decide how many repeats you need to get the blanket size you want.
CHART INCLUDED!!!
This blanket pictured was hooked by the talented Emma Moss of @stitchedupbyemma. Need extra help along the way? Just ask!
not rated
$

5.75
Add to cart