Awareness Designs
Showing all 2 results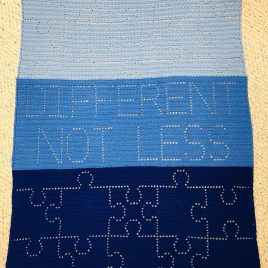 Different Not Less
Different NOT Less - a pattern design close to my heart and my oldest is autistic. He's different (for sure, lol!) but he is never less, and always AWESOME. I hope you'll enjoy hooking up this design for a kiddo in your life who is rocking their own brand of awesome!
This pattern can be worked with any weight yarn and hook.
Finished size of approximately 35x46 inches using DK yarn and a 4mm hook.
Finished size of approximately 51x66 inches using worsted/aran and a 5.5mm hook.
Other blankets crocheted & photographed by- Primary Colors - Ashley Blues & White - Vicky Blue, Turquoise, Yellow, Red - Shelia
not rated
$

5.50
Add to cart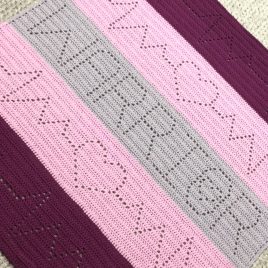 Heart Warrior Blanket
Heart Warrior Blanket - a Pattern Pack 4 a cause!
Did you know that 1 in 100 children are born with Congenital Heart Disease? My daughter is one of those 1 in 100 - so this cause is especially close to my heart (no pun intended).
50% of the proceeds of every purchase is donated to The Children's Heart Foundation, year round. Each February, 100% of this pattern's proceeds are donated to The Children's Heart Foundation in special honor of Heart Health Awareness Month. You can learn more about the CHF at
childrensheartfoundation.org
This Pattern pack comes with 6 panels you can arrange however you like
or use all 6 in one blanket. Some examples of different arrangements are included so you know which order to crochet your panels in if you want to replicate the shown blanket arrangement.
Size changes depending on how many panels you chose to do -
you can get a more
square blanket
(5 panels - tested with DK weight, a 4mm hook, and getting a size of 35" x 37") or a
rectangular blanket
(7 panels - tested with Worsted, 5.5mm hook, with a size of 48" x 57"). Yarn weight, hook size, and tension will also change your size - and you can create a smaller blanket by using DK yarn or a larger one by using aran/worded weight.
Sample blankets were crocheted by
myself (Warrior - purples) and my testers: Vicky (Fight Strong - grey), Carla (Fight Warrior Strong - rainbow), Amanda (Warrior Strong - red), Laura (Fight Warrior Strong - peach & turquoise), and Julia (Warrior - coral).
not rated
$

5.50
Add to cart