koala blanket
Showing the single result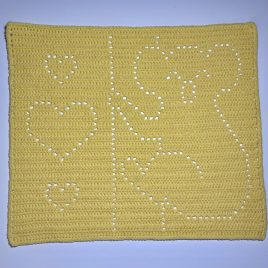 I Heart Koalas Blanket
I Heart Koalas
NEW! 2022 Update includes a face option for the Koala and updated bordering directions ands one-piece blanket options.
Create adorable cushions, blankets, and wall hangings with this precious koala design!
This pattern can be worked with any weight yarn and hook, but amounts and sizes have been given for worsted weight (I used Lion Brand's "Pound of Love") and a 4.5mm hook.
Yarn amounts & sizes are given for one joinable block with sc bordering with a finished size of 21 x 18 inches. To calculate for a one-pice, multiply the block amount by how many koalas (full pattern repeats) will be in your one-piece blanket. Please see example one-piece blanket on page 4.
This pattern can be increased in multiples of 83 sts across and 39 rows to make any size one-piece blanket.
New to Numerical Filet patterns? PLEASE! Read the Help Guide on PAGE 3 of this pattern!
Yarn & Supplies for one block (one full pattern repeat)
334 yards worsted weight yarn
20 yards for sc bordering
4.5mm Hook
Stitch Markers
Yarn Needle
Wall Hanging Example Hooked by Allyson of @allym5 Cushion Example Hooked by @nelliescrochetniche Questions along the way? Just ask!
not rated
$

6.00
Add to cart