cupcakes
Showing all 2 results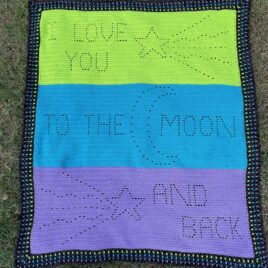 I Love You to the Moon & Back
Pattern Notes
This pattern can be worked with any weight yarn and hook but the finished size is approximately:

Blanket Body (w/o any border): 45x54 inches
Block Stitch Border: adds 6 inches total
Granny Lace Border: adds 3 inches total- this border only needs 200 yards of yarn
Block + Lace Border: adds 9 inches total - this will need more than the listed amount for your Border Main Color).

New to Mayhem & Majesty filet patterns? Please read the Help Guide on page 4 of this pattern before attempting to begin.
Mayhem & Majesty pattern veteran? Please make sure to read the pattern in full as some techniques or stitch patterns may have changed since your last project. ❤︎
Supplies
Example on cover uses
2 rolls each
of Hobby Lobby I Love This Yarn
(or any Worsted Weight yarn ~ 665 yards per color)
Amethyst
Turquoise
Limelight
Border Main Color: Black Sparkle
5mm Hook
Stitch Markers
$

6.00
Add to cart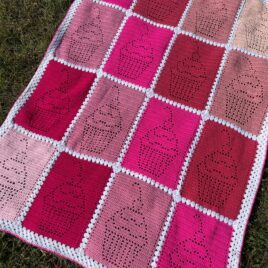 Hello Cupcake!
Pattern Notes
This pattern can be worked with any weight yarn and hook but the finished size for the blanket shown on the cover is approximately 45x57 inches using the yarn & hook listed in the supplies below for the Granny Block Blanket.
Tester Showcase - check out this blog post for a bunch of color ideas and lovely Hello Cupcake! blanket examples stitched by my amazing testers.
New to Mayhem & Majesty filet patterns? Please read the Help Guide on page 5 of this pattern before attempting to begin.
Mayhem & Majesty pattern veteran? Please make sure to read the pattern in full as some techniques or stitch patterns may have changed since your last project. ❤︎
4x4 (16 blocks) Cupcake Granny Block Blanket - DK Yarn - 45x57 inches - (shown on cover)
1 Cupcake Block (9.5 x 13.5 inches): 130 yards
Joining + Border: 620 yards total
Final Crab Stitch Border Edging: 50 yards
4mm Hook
Stitch Markers
3x3 (9 Cupcakes) One-piece Blanket - DK Yarn
Blanket Body + Initial SC Edging (3x3 cupcakes): 1,102 yards total
Each cupcake is 122 yards - you can use this amount to calculate yarn needs for a larger blanket or to color block the cupcakes.
Border (3x3 size): 322 yards
4mm Hook
Stitch Markers
$

6.00
Add to cart