Ready to try your hand at numerical filet crochet in a bigger project? First make sure you learn how to read numerical filet. This fish pattern is very simple and fast. Make a cute washcloth, or a whole blanket! What you can do with a filet crochet design is truly limitless.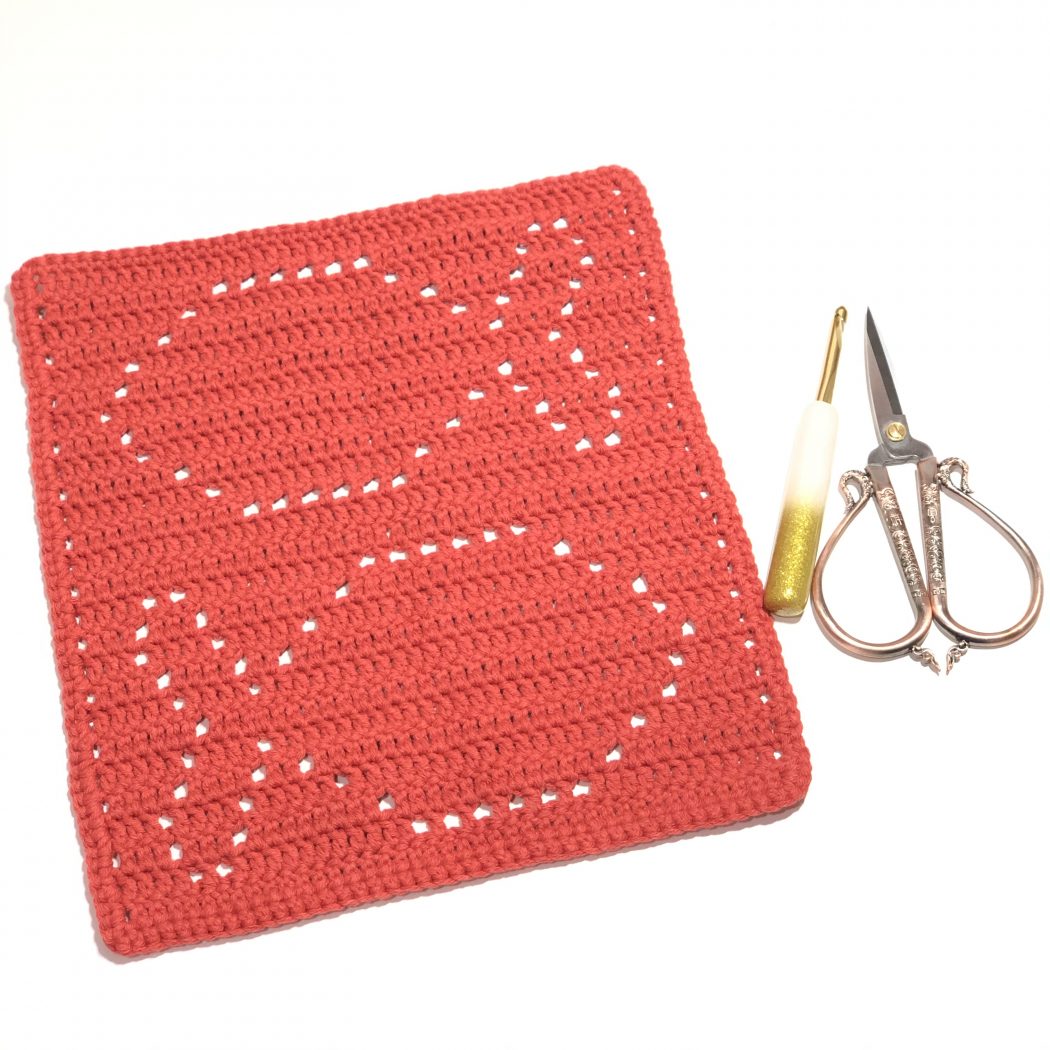 Yarn & Supplies
Stitch markers are vital in numerical filet. They mark your repeated and non-repeated sections to make counting fast and easy. For this project we only have a simple repeat – no additional stitches outside of the repeated pattern. This is the simplest form my patterns take and a great place to begin learning numerical filet.
4-7 balls DK yarn (depending on how many colors you want)
4.5mm hook
Stitch Markers
Yarn Needle
Terms & Stitches Used (US Terms)
st(s) – stitch(es)
ch – chain
sk – skip
dc – double crochet
sc – single crochet
sl st – slip stitch
rep – repeat
FDC
Crab Stitch (aka reverse single crochet)
Special Stitches
FDC – Foundation Double Crochet – A good tutorial by Gleeful Things: https://www.youtube.com/watch?v=5t691HnQpBM 
This pattern uses a multiple of 42 stitches. Every 42 stitches is the width of one fish (plus 4 stitches of padding on each side of the fish). This means you can stitch any multiple of 42 until you like the width of your project.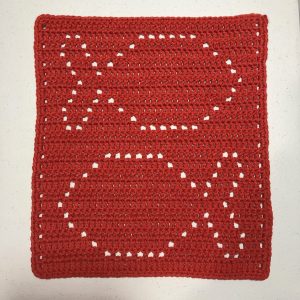 Gone Fishing Washcloth
Washcloth- For a washcloth, simply FDC 42 (or ch43, dc in 3rd ch from hook, ch2 at the beginning counts as your first dc) for a one fish width. Then do Rows 1-13 twice. Do only round 1 of the blanket border to finish it off (your stitch counts will obviously be less per side, but the method is exactly the same).
Gone Fishing Blanket
Following the directed number of repeats below will create a baby blanket size blanket. It is three fish wide. But remember – you can change it to make any width blanket you desire, just work in multiples of 42. For a little bigger toddler or crib size, do four fish wide and seven fish high.
Place stitch markers during Row 1 in stitches 42 and 84. Each time you come to a marker, you should have just reached the end of a repeat. Move the marker into that last stitch of the repeat you just finished, and then start the next one.
Row 1: FDC 126; in repeats just dc across (126 sts).
Alternately, chain 127 and dc in 3rd ch from hook and in each across. The ch2 at the beginning counts as a dc – 126 sts.
Row 2: (12, 1, 1, 1, 1, 1, 11, 1, 5) x3
Row 3: (4, 3, 8, 13, 10) x3
Row 4: (8, 17, 5, 4, 4) x3
Row 5: (5, 4, 2, 21, 6) x3
Row 6: (5, 24, 4, 6) x3
Row 7: (7, 29, 4) x3
Row 8: repeat Row 6
Row 9: repeat Row 5
Row 10: repeat Row 4
Row 11: repeat Row 3
Row 12: repeat Row 2
Row 13: Dc across (126 sts)
Because this is pattern is a simple repeat, it doesn't require you to re-place your stitch markers during repeats of Row 1.
Rows 14-84: Repeat Rows 1-13 five more times (6 rows of fish) or to desired length. Change colors as desired.
Border
Border Hint- If you used multiple colors, I recommend changing colors as you do Rnd 1 of the border. It makes for more ends, but gives a much cleaner looking finish. Then change to the desired border color for the rest of the border rounds.
Rnd 1: Change colors if desired and sc around entire blanket doing 2 sc in each dc (or row) down the side, one sc in the corners, then sc across the top/bottom of your blanket, then 2 sc in each row back up the other side. Join with a slip stitch to your first sc.
Each Side: 182 sc
Corners: 1 sc
Top/Bottom: 132 sc
Rnd 2: Ch 1, sc in joining st and in each st around, doing 3 sc into each corner stitch. Sl st to first sc.
Rnd 3: Ch 2, dc next st and in each st around, doing 5 dc sts into each corner sc st. Sl st to top of starting ch2.
Rnd 4: Ch 1 and Crab Stitch in each stitch around, no increases for corners. Sl st to starting st and finish off. Weave in all your ends.
Simple enough, right? You can make so many things using this design. Bunting, wall hangings, tote bags, sweaters! Show me your Gone Fishing projects using #mayhemandmajestydesigns and #gonefishingblanket on Instagram.
Happy Hooking!
-Becca