sloth baby blanket
Showing the single result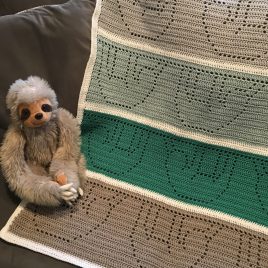 Sammy Sloth Blanket
Sammy Sloth is the perfect blanket to hook up this year because sloths are really IN! Make him for your next baby shower gift or to sell in your handmade shop. This pattern is easily sized up or down to create any size blanket and how to do this is included. This pattern is written in numerical filet, which is quickly becoming the best filet reading and writing method out there! Clear instructions are given for this easy to understand pattern writing technique. A graph of the pattern is also included for those who prefer that method. Pictured blanket was hooked by Janelle of @nelliescrochetniche, Kaitlin @ohheykaitcreates, and Jennifer @supernova.stitches
This pattern can be worked with any weight yarn and gauge is not important.

 

Yarn amounts are given DK weight yarn with a finished size of approximately 32x34 inches when making the number of repeats specified in the pattern.

 

This pattern can be decreased or increased in multiples of 46 stitches across and 21 rows up to make any size blanket.
I recommend making a swatch (one full graph picture, 46 sts x 21 rows) in your desired yarn and then measure and decide how many repeats you need to get the blanket size you want.
Personal tension varies! Please make a swatch to accurately determine your size and yarn amounts.
not rated
$

6.00
Add to cart