pet crochet
Showing the single result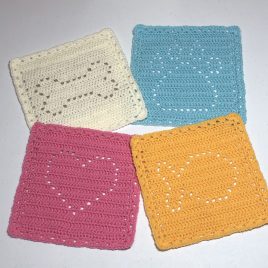 I Love My Pet Pattern Pack
4 separate deigns for 60% off!
I Love My Pet - 4 interchangeable designs - 2 ways (blocks or panels) - 9 unique design combos - ENDLESS project possibilities!
This pattern can be worked with any weight yarn and hook.
Each of the 4 designs is 33 sts wide by 18 rows.
Patterns are given as single repeats so you can combine them to your liking across a panel or make joinable blocks.
You can combine designs in a panel however you wish, but I've included SOME popular panel options (paw & heart / paw & bone / paw & fish).
Featured Tester Photos-
Joined Grey & Red Granny Block example hooked by Wendy Howell @67WendyHowell
Paneled Blanket example hooked by Kaye @Kfrogga
$

6.00
Add to cart