easter egg
Showing the single result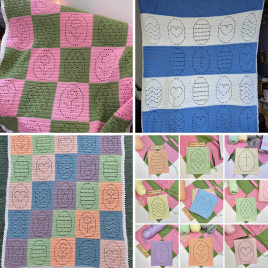 Eggcellent 3 Blanket Set + 8 Eggs to Mix & Match!
These patterns can be worked with any weight yarn and hook but yarn amounts and sizing are given for Worsted Weight (4-weight) yarn and a 5mm hook. 10% extra yardage has been added to my personal amounts to help ensure you have enough yarn to complete the projects.
The finished size for the 3 "as-written" one-piece blankets is approximately 47x52 inches (119.5x132cm). For a smaller blanket, use DK yarn & a 4mm hook. These blankets are just BEGGING to be color-blocked (see page 3 for instructions on this super simple technique), but you can do them however you like.
DIY one-piece blankets! Directions for DIY one-piece are on page 17.
Prefer joinable block blankets? Granny Blocks begin on page 18.
New to Mayhem & Majesty filet patterns? Please read the Help Guide on page 4 of this pattern before attempting to begin.
One-piece Blanket Supplies
BLANKET BODY (worsted weight yarn)
One Color - 2,125 yards (1,944m)
Colored by panel - 425 yards (389m) per panel
Colored by Egg - 85 yards (78m) per egg
5mm Hook for the body
BORDER (worsted weight yarn)
355 yards (325m) for the Granny Lace Border
Stitch Markers
$

12.00
Add to cart