crochet ladybug
Showing the single result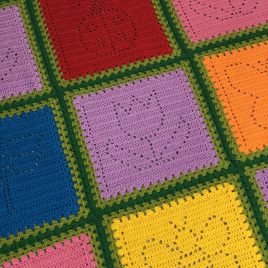 Jane's Garden
Jane's Garden Pattern Pack
Let your creativity flow with this lovely garden-themed filet crochet design pack!
- Get all 6 Garden Designs in this e-book!
6 Designs included-
Bee
Ladybug
Butterfly
Dragonfly
Daisy
Tulip
6 designs = endless project options. Make a separate blanket of each design, or mix and match them in dozens of combinations and styles (granny bocks, traditional one-pice filet blanket, or color-blocked one-piece blankets - all pattern options are included)!
4 Options given for EACH pattern -
design blocks
joinable granny blocks
one piece blanket (either panels of the same design or mixing them up within a panel or panels)
color blocks (but still as a one-piece blanket!)
all graphs included
Fun Leafy Bordering-
the special leafy bordering for either a panel one-piece blanket OR the joined granny block blanket
Tester Photo Credits-
Jane's Garden Paneled Blanket (pattern included for this version) - @created.uniquely Jane's Garden as Bunting - @thelittlecrochetboutique Jane's Garden as a Cube Cushion - @tinyanaesthestist
$

12.00
Add to cart