View cart
"Cowabunga Blanket" has been added to your cart.
Little Lion Blanket
Pattern can be worked with any weight yarn and hook.
Pattern can be worked in traditional filet blanket panels or as granny squared filet blocks
The base designs is 55 sts wide by 30 rows.
Graphs included.
This design is part of the Safari Friends Pattern Pack E-Book!
Featured Tester Photos-
Little Lion Granny Block close up by Janelle @nelliescrochetniche
Little Lion Block (with stuffed lion prop) feature by Debby @debbyshaaksels
Category: Animal Blankets
Tags: baby lion blanket pattern, baby lion crochet blanket, crochet, crochet blanket, crochet blanket pattern, crochet lion blanket, crochet pattern, filet crochet, granny squares, little lion blanket, mayhem and majesty, safari baby, safari blanket, safari friends blanket, safari nursery
Related products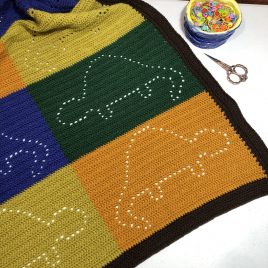 Prehistoric Blanket
Hook up these prehistoric creatures in a traditional one-piece filet blanket or in my new signature joinable granny filet blocks style!
This pattern can be worked with any weight yarn and hook.
Yarn amounts are for a blanket with a finished size of approximately 28x34 inches using DK yarn and a 4.5mm hook.

 

My Color Recipe: Stylecraft Special DK in Gold, Lime, Bottle, Lobelia and Dark Brown.
This pattern can be increased/decreased in multiples of 61 stitches across and 23 rows up to make any size blanket.

 
Fun Fact: Dimetrodons aren't actualy a dinosaur at all!
Now, just so we're very clear, I DO NOT subscribe to the theory of evolution, I'm a die hard Creationist, but in that scientific theory, these creatures are supposed to have come long before the dinosaurs, in the Permian period. You cna thank my son for this info - he's a walking Prehistoric fact book! Science is very cool, just a wee bit off the mark sometimes. But I think we can still enjoy all the interesting conjectures!
I hope you enjoy making this prehistoric pattern as much as me!
not rated
$

5.75
Add to cart