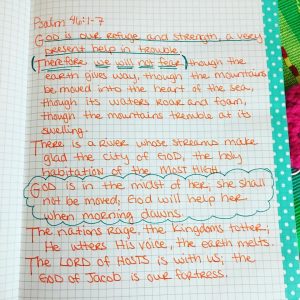 I know Psalm 46 isn't actually speaking of ME (as I'm not the city of God)…
However, God does dwell in me through His Spirit, so I think I can rightfully claim the promise that
"God is in the midst of her; she shall not be moved; God will help her when morning dawns."
Because this is true!
And boy, I need help today (and everyday)!
Powerful reminders as I go into another day as a mama of five headstrong and beautifully unique children.
Becca
Want to join in with the Heidi St. John's Scripture Writing Challenge? It's such a blessing to be writing the Word with women all over the globe! Nothing can makee us stronger as moms than to be in His Word each day, meditating over the words as we write them out. You can head over to her Scripture Writing Challenge and sign up for her monthly verse list via email (it's all free).