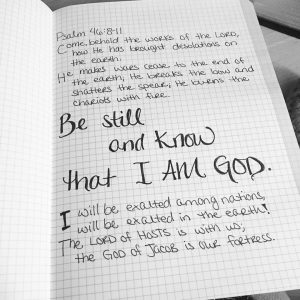 [pullquote align=center]
Be still and know that I AM GOD. Psalm 46:10
[/pullquote]
I haven't been sleeping well the past few days. So many people with thoughts on my life and my kids. It is hard to sort through all the noise and advice with faith and not fear. I'd greatly appreciate your prayers this morning over Micah's diagnostic assessments for autism.
Yes, I'm sure I know the outcome…but as with his brother, the naming of the thing somehow brings more stress.
Maybe because of all the influx of opinions and advice on routes to take. Also because now that we are officially a "special needs" family, I feel more judged by friends and strangers alike over what I do and how I do it. Especially in homeschooling. Part of me wonders why I wanted a diagnosis at all…because so much of me knows we are already doing the best for them, regardless what the latest research says about this drug or that therapy.
God empower me by Your Spirit with sound wisdom and discernment!
Becca
Want to join in with the Heidi St. John's Scripture Writing Challenge? It's such a blessing to be writing the Word with women all over the globe! Nothing can makee us stronger as moms than to be in His Word each day, meditating over the words as we write them out. You can head over to her Scripture Writing Challenge and sign up for her monthly verse list via email (it's all free).