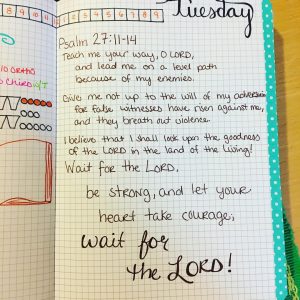 [pullquote align=center]
Wait for the Lord, be strong, and let your heart take courage, wait for the Lord!" Psalm 27:14
[/pullquote]
I so badly want to control my life and the people and circumstances within it – to take charge and move forward towards my goals in the fastest and most efficient way possible.
But trying to control my life fails to let God be God.
Too often I find I've taken my eyes off Him and looked to the world or other people (albeit wise people) for answers He's already supplied to me through His living and active Word.
Why? Because I'm not always fond of His answers.
Becca
Want to join in with the Heidi St. John's Scripture Writing Challenge? It's such a blessing to be writing the Word with women all over the globe! Nothing can makee us stronger as moms than to be in His Word each day, meditating over the words as we write them out. You can head over to her Scripture Writing Challenge and sign up for her monthly verse list via email (it's all free).